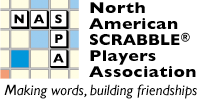 Go to: Commentary Games Players Photos Reports Standings
Back to NSC 2010 Live Coverage
NSC 2010 Commentary: Round 9
[ ]
Go to: Before the Tournament, Round 1, Round 2, Round 3, Round 4, Round 8, Round 9, Round 10, Round 11, Round 12, Round 13, Round 14, Round 15, Round 16, Round 17, Round 18, Round 19, Round 20, Round 21, Round 22, Round 23, Round 24, Round 25, Round 26, Round 27, After the Tournament.
---
Round 9
This friendly face looks at me past my two laptops. It is Mark Stolvitsky, the headmaster at Levine Academy, a local private school here in Dallas. He's brought his children here on a field trip. His son seems moderately interested, but his daughter less so. Mark is a SCRABBLE player and this event is interesting him a lot. By the size of the Word Gear bag in his hand, I take it he picked up some fun bits while perusing their table! I tell him of local clubs and encourage them to look around. I show them the live coverage on one of the laptops and Mark's son pointed out Bradley Robbins (Windham, NH) and asked how old he was. I assured him that the room has several younger players!
This round division 4 is all aflutter because the Vanech family members square off. At one point, Tristan Vanech (Venice, CA) called the director over to rule on procedure. Bob Vanech (Venice, CA) is embarrassed. He played a phony bingo. His son held him, and then after a minute Bob drew replacement tiles (all as he should). A few seconds later, Tristan decided to challenge and the bingo was ruled unacceptable. The director was asked to rule on those replacement tiles. Judy read from the rule book that both players could see them before they went into the bag. Their conversation while Judy hunted for the rule. Bob, "You are such a punk." Tristan, "You signed the release for me to be here." Bob, "I could rescind it any time, you know." All this totally joking, I must add. Tristan was holding OVERBID on his rack and he wanted the spot his dad had used, I think. I see DEOAATX go back on Bob's rack. I missed his phony, sorry. Anyway, about two seconds after the tiles came off the board, Bob hit the clock in an overly dramatic way.
Joe Gatz (Yukon, OK) is beaming. At table 14 in division 4, he's just scored 514-338 un a game with Harriett Berkelhammer (Pompano Beach, FL). This is his best tournament game ever. I see his four bingos: NATIONaL 76, ORIENTED 70, YAWNERS 82, and PAGELESS* 74. She got down ZAIRES for 41 and REX for 42. She was trying!
Chris Schneider (Dallas, TX) has a real job in sports news. He flags me down to point out a monster play I might have missed. On a board in progress, Mason Shambach (Battle Creek, MI) vs. Stephen Sneed (Fort Worth, TX), I see ?ATERNITIES. An 11-letter word! I have to wait a long time to discover that it was Mason's win, in the end, 398-374 and the blank was an M. His cluster of buddies gathered around and all eyes were on the 11. In mock surprise, Matt Canik (Austin, TX) said, "You had RETINA + a blank and that's the best you could do?" This made everyone at the table laugh uproariously. Perhaps the best line of the event was delivered by Alan Stern (Shadow Hills, CA). Well within the rules of the game, Stephen played the anagram of CFKU, which sorta jumped out. He took the ribbing and then said, "I had AEUBCFK, what was I supposed to do?" And Alan said, "Look for the L?" Now, the SCRABBLE elite got it right away. Being on the slow train, I had to work that one out, which I'll let you do. The "word" isn't acceptable in any dictionary, but it is still pretty funny. That Alan is so quick!
Scott Jackson (Minneapolis, MN) who is only just beginning to forgive me for only knowing his first name (there are 18 Scotts here!), tells me of a big win against Nawapadol Sayavesa (Thailand) this round, 387-352. He says he still has a negative spread since he'd been hit earlier by the bus driven by Mike Baron (Corrales, NM). As we were chatting, he said, "Don't forget to mention that I'm single, looking, and I like long walks on the beach." I started to write that down and he said, "don't you dare write that." And I said, "Oh, I so dare." I will put in an unsolicited plug for this guy: he's cute and nice!
Eliza Gallagher (Pendleton, SC) walks over and asks me if I ever get the feeling that someone is watching out for me. I ponder the question. She goes on to tell me about holding ADEFGS?. Her opponent was taking a bit to play so Eliza's elastic mind started wrapping around the possibilities. She decided that the universe would be in a perfect position if only her opponent put out an I or an L. Lo and behold, the clouds parted, the sun shone down, the angels started to sing, and down went HUIC. Eliza played GADFlIES for 80 points. It was just one of those moments.
Gene Tyszka (Mississauga ON) is a flirt. Okay, so there, I flat out said it. He calls me over to see his game against the aptly named Susan Love (Milwaukee, WI). He refers to her as his girlfriend and she blushes. We all know he is married, but hey, he enjoys his SCRABBLE with her! He played the audacious phony APTER*, which she left on the board, because it let her play PROLApSE for a 140-point triple-triple! Her win, 445-261! Way to go, Sue! As I walked away he said, "Yup, she whipped me!"
The Vanech family game has come to an end. I ask who is the better player. Bob said, pointing to Tristan, "he is, but I won this game." awwwww, sweet! Before the game, Bob said to himself, "If I win, I lose. And, if I lose, I lose." He outbingoed with dEfEATED for 71, catching his son with QHCRSL for a mere 40 points. Ouch. It was 401-338.
Pamina Deutsch (Corrales, NM) had a bye this round. She stopped by my desk and I turned my second laptop around so she could watch her husband Mike Baron (Corrales, NM), play the annotated board 1 game in division 1. She was so excited and she stood transfixed. It was hard, too, because toward the end of the game, there was some confusion on a play. I mean, I think there was a challenge or a play put down and picked up and then when Nigel Richards (Malaysia) played HIARNETS*, neither of them noticed! And this outrageous phony stayed on the board (outrageous, because, even I know that is bad!). Please check out this game in the annotated game section. Looking over the annotators sheets (they type into laptops live, but also write onto paper in case we lose power (and we do) and the game needs to be entered in later), I see "HIARNETS was an actual play and not a typo." Nigel's win, 408-363.