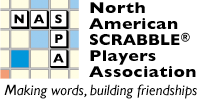 Go to: Commentary Games Players Photos Reports Standings
Back to NSC 2010 Live Coverage
NSC 2010 Commentary: Round 1
[ ]
Go to: Before the Tournament, Round 1, Round 2, Round 3, Round 4, Round 8, Round 9, Round 10, Round 11, Round 12, Round 13, Round 14, Round 15, Round 16, Round 17, Round 18, Round 19, Round 20, Round 21, Round 22, Round 23, Round 24, Round 25, Round 26, Round 27, After the Tournament.
---
Round 1
Players slowly filled the playing room this morning, and the excitement was thick in the air. Chris Cree (Dallas, TX) greeted the players from the podium and introduced the NSC Master of Ceremonies, Alan Stern. Of his comments, the one I wrote down was his heartfelt thanks to Edward De Guzman (San Francisco, CA) for earning a 771 in a tournament game this year. For 17 years, Alan was on the losing end of Mr. 770 (Mark Landsberg) with his famous win. Now it is someone else's turn to have the high win/loss record! Event director Mary Rhoades told the players to read the announcement sheet and that she would strive to have no announcements before sessions began. And then the now famous "you may begin" was uttered and the 2010 NSC was under way.
Division 3's Dallas Johnson (assisted this year by his wife, Sue Grogan-Johnson) slipped me my first note of the tournament. It says, "Round 1 bingos in div 3 include HIDEOUS and DINNERS in a game between Bruce Shuman (Wilmington, NC) and Jeff Cooley (Jacksonville, FL). Let's hope that it is only over the board!"
Division 5's leader, Dan Stock delicately let me know that a standard phony anagram of STRAFTER/FRATERS/RAFTERS was played in his division. I'll let you anagram that one for yourselves!
John J. Chew, Jr., the event web master and NASPA codirector has this year figured out a way to pass off all of his work! He's got a crackerjack team of data inputters: Chris Wiegand (wife of the famous Dave Wiegand (Portland, OR)), Joel Sherman (of the NSC/WSC champion stratosphere), and Tim Crotty (super spouse to Lila Crotty (Metairie, LA). They are splitting up the room's five divisions and John is not anticipating needing to enter any results himself this time around. This, of course means, his time will be freed up to help me id photos and the like. A person can dream, right?
The NSA's Executive Director, John D. Williams, Jr., and Katie Schultz are here doing press for Hasbro. Additionally, the dynamic sister duo of Theresa Bubb and Patty Hocker are running a burdened Word Gear table. Of their wares they say that they have a new woman's shirt that reads WORD and a green aluminum water bottle that reads H2O. If you can't check them out here, do visit their web site at: http://wordgear.com.
In division 2, Scott Garner (Memphis, TN) had a 542 game this round!
Kathi Cann (Leitchfield, KY) has a comment to make about the air conditioning in this ballroom. She is wearing a not small afghan! Air currents being what they are, I find the central pod tables to be overly warm!
Mark Kenas (Madison, WI) has found his overalls so all is right in the world. I noticed a strap out was twisted and told him and he said, "Well, it is more complicated than that. You see, the buckle is half broken and at any moment my pants could just fall down, so stay tuned." Mark specializes in saying the most unexpected things. On the plus side, he gave up smoking about six months ago, so go Mark!
Division 1 is already excelling today and we are only in the first game. At the same table, Kevin Rickhoff (Saugus, CA) defeated Will Anderson (Croton, NY), 556-445. Their neighbors, fighting tooth and nail, ended in a 448 tie! Congrats to Cheryl Tyler (Lubbock, TX) and Nathan Benedict (Tucson, AZ).
Division 1 director, John Robertson, said, "Well, I had my first 'director' call of the day this round and it was at table 1. I marched on over and was disillusioned to find that it was an overdraw ruling." I think he was looking for more complication!