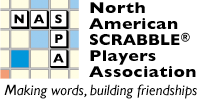 Go to: Commentary Games Players Photos Reports Standings
Back to NSC 2010 Live Coverage
NSC 2010 Commentary: Round 13
[ ]
Go to: Before the Tournament, Round 1, Round 2, Round 3, Round 4, Round 8, Round 9, Round 10, Round 11, Round 12, Round 13, Round 14, Round 15, Round 16, Round 17, Round 18, Round 19, Round 20, Round 21, Round 22, Round 23, Round 24, Round 25, Round 26, Round 27, After the Tournament.
---
Round 13
John Robertson approaches at the beginning of this round and tells me about a player in division 1 who wanted to trade three tiles. Expert put three tiles face down, drew three new tiles, put those face down, and then got confused on which were the new ones. This expert then tossed the new ones into the bag and was left with the same exact rack from the start. John said, "This gives hope to those that aspire to be in division 1!"
Eliza Gallagher (Pendleton, SC) has played a 9. She is excited. SADDENING was played through the AD for 64 points!
On board 1 in division 4, I see REESTING and ALEURON. Richard Spence (Tucson, AZ) and Richard Strick (Santa Monica, CA) are closely focusing on the end game.
Trevor Sealy (Oshawa ON) and Denise Mahnken (Long Beach, NY) are sitting at a squared off board. I wanted to ask if they'd just played when Denise looked up and said, "You so missed it girl, Heather McCall (Toronto ON) rode that bull like no one's business!" Feeling like I'd just stepped into an ongoing play, I looked at her quizzically and she said, "Last night! you know, we went out to the rodeo!" So, I guess Risa Horowitz (Richmond Hill ON), Tim Anglin (Toronto ON), Robb Griffith (Marshall Islands), Gerianne Abriano (Staten Island, NY), Sam Hollington (St. Catharines ON), Chris Bonin (Toronto ON), Heather, and Denise found themselves at the rodeo. Chris, Denise, and Sam ended up with new cowboy hats and Heather was the mechanical bull riding superstar of the group. I asked Denise how her bull riding went and she said, "My jeans were way too tight to ride that thing. I had to look good!"
A Jeff Cooley (Jacksonville, FL) vs. Daniel Citron (Chicago, IL) game has wrapped up and is was Daniel's win, 451-405. I see NITERIE, UNMoLDS, and LATRIAS on their board. Jeff was gnashing his teeth a bit over missing a play that would have won him the game. If he'd played ROOSING, they both think he would have taken the win.
Brenda Casey (Guilford, CT) had an exciting game this round with Heather Steffy (Cleveland, OH). She came from 100 behind to "win," but a recount determined that they had tied, 362-362!
The first woman on table 1 in division 1 is Dielle Saldanha (Richmond BC). She has won all her games so far today. So, this round, she and Orry Swift (Dayton, TX) squared off. It was a hotly contested game and it was only determined at the very end with Orry winning, 408-384.
Scott Appel (Trenton, NJ) defeated Cecilia Le (Boston, MA) this round. I see pANICKED down the triple, IDEATION, RESIDENTS, and EqUALISE on their board.