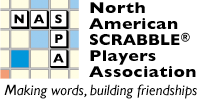 Go to: Commentary Games Players Photos Reports Standings
Back to NSC 2010 Live Coverage
NSC 2010 Commentary: Round 24
[ ]
Go to: Before the Tournament, Round 1, Round 2, Round 3, Round 4, Round 8, Round 9, Round 10, Round 11, Round 12, Round 13, Round 14, Round 15, Round 16, Round 17, Round 18, Round 19, Round 20, Round 21, Round 22, Round 23, Round 24, Round 25, Round 26, Round 27, After the Tournament.
---
Round 24
On a Mike Lean (Greenbelt, MD) vs. Doug Szymkowiak (North Ridgeville, OH) board: ORIENTAL, STE?NITE, and INDORSEE.
Trevor Sealy (Oshawa ON) vs. Jason Randolph (San Antonio, TX) board: MISRATES, PENLITES, and ASTERIA.
Denise Mahnken (Long Beach, NY) vs. Chora B Eilertsen (Coal Harbour, Vancouver Island BC): BEACONS, GROuPERS, and SPENDeRS.
Betsey Wood (Concord, MA) vs. Richard Strick (Santa Monica, CA): rAINOUT, AERIEST, ALlOTED, and UNLEARNT.
Judy Cole (Concord, MA) had a monster win this round against Anna Miransky (Toronto ON), 553-379. Of her four bingos, three were a bingo-bango-bongo: BEMOANS for 83, LINGERED through the first E for 76, and DAMNEDER from the first D on the triple for 86 (this last one drew a challenge). She later got down SORTING for 77 to frost the cake of her great game. Anna, no slouch, got down DITTIES for 73 and STOLIDER for 70. I like that word!
Oliver Roeder (Austin, TX) vs. Mona Larsen (Glenmont, NY). A beautiful board, a lot of great plays, and then a recount that only changed on the VERY LAST PLAY, which gave him the one-point win, 440-439. What a hard-fought game, Mona, and I feel your pain. Oliver played: SLAVERED and COOLEST and Mona played DUStIER, ATtAINER, and INTEGRAL.
Heather Steffy (Cleveland, OH) and Chuck Riordan (Des Moines, IA) had a pretty board, too. I see her INCISES and his REPORTeD and PINDARIC*. He launched into a speech of sorts on his objection to that word not being in our dictionary since it is in every other dictionary in the world, so he played it just on principle! His win, 441-363.
Board 1, division 3: Daniel Citron (Chicago, IL) had a 536-419 win against Tijan Jeng (Baltimore, MD). I see INCITERS, sUPERING, NATURED, and TSOURIS (Daniel said it was from Yiddish, and then Bruce Shuman (Wilmington, NC) stopped by and said it was "troubles.").
A second recount in division 3, this time between Wesley Eddings (Bryan, TX) and George Asaka (Omaha, NE). This one held up to be a 498-496 win for Wes. I see George's CEINTURE, RESILED, and QuARRELS for 101 from the Q. Wes played GITTErNS for 77, ORANGIER for 77, and ALATION for 64. Each player had a last play bingo. Wes went over a minute on his clock yet still managed the win with the 10-point time penalty. Nail biting stuff!