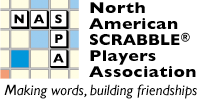 Go to: Commentary Games Players Photos Reports Standings
Back to NSC 2010 Live Coverage
NSC 2010 Commentary: After the Tournament
[ ]
Go to: Before the Tournament, Round 1, Round 2, Round 3, Round 4, Round 8, Round 9, Round 10, Round 11, Round 12, Round 13, Round 14, Round 15, Round 16, Round 17, Round 18, Round 19, Round 20, Round 21, Round 22, Round 23, Round 24, Round 25, Round 26, Round 27, After the Tournament.
---
Bob Schoenman's Protiles honors Rose Kreiswirth's memory. Rose was an expert SCRABBLE player for over 30 years and cherished the game for its educational values. An accomplished player, Rose was as well known for her sense of fairness and her congeniality as she was for her competitiveness. The Rose Award is awarded each year at the National SCRABBLE Championship to a female player who, in the opinion of the judges, best exemplifies the fierce competitiveness and compassion that we remember Rose for. Thank you, Bob and Andi Schoenman!
This year's award committee writes: "We are pleased to name Lilla Sinanan (Stoney Creek ON) as this year's recipient of the Rose Ward. Lilla is a fierce competitor despite her otherwise calm and easy-going nature. She exhibits good sportsmanship and a good sense of humor whether her game results in a win or a loss. She is gracious and is very respectful of her opponents. Lilla also very encouraging to other players. Lilla's spirit and passion for the game are emblematic of what this award stands for."