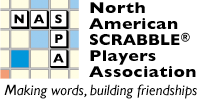 Go to: Commentary Games Players Photos Reports Standings
Back to NSC 2010 Live Coverage
NSC 2010 Commentary: Round 15
[ ]
Go to: Before the Tournament, Round 1, Round 2, Round 3, Round 4, Round 8, Round 9, Round 10, Round 11, Round 12, Round 13, Round 14, Round 15, Round 16, Round 17, Round 18, Round 19, Round 20, Round 21, Round 22, Round 23, Round 24, Round 25, Round 26, Round 27, After the Tournament.
---
Round 15
And a good morning it is! Over breakfast this morning, Brian Cappelletto (Chicago, IL) mentioned that he was playing Nigel Richards (Malaysia) this morning at table 1. He looked confident and it turns out, he won, 414-374.
On a Rafi Stern (Seattle, WA) vs. Dave Wiegand (Portland, OR) board, Rafi points out Dave's bingo bongo of VARIANTS for 62 and EXPERTLy through the L for 98. The latter "hurt" I think he said. INSANER for 69 and ECARTES for 90 were Rafi's plays. Unusual for him these days, but Rafi lost, 342-467. They have the same w/l record now! A good reporter would know what that is, but, well...
Chris Canik (Austin, TX) is running around in stocking feet. Not all that unusual, but the reason might be. He lost his shoes. Being underage and not much of a drinker, there isn't a clear explanation why, but it has something to do with visiting the Vanech room, playing on the landing, going to some other room and shoes being lost/left behind. His mother, Cara, working in division 2 is having one of those proud parent moments and she just shakes her head.
I search out the stockinged one and find him just wrapping up a game with Nancee Mancel (Albuquerque, NM), who asks me to consider visiting a board sometime this championship where she actually won the game. It shouldn't be hard, she is perpetually at board 1 or near, but her luck has been bad I guess on my visits. I see Chris' TWISTED and Nancee's SiNGLEd on their board. 404-311 for Chris.
I found our second British player, Jayne Boniface (Centennial, CO). She played Flora Taylor (Hillsborough, NC) this round and commented that Flora was doing fantastically.
Ted Barrett (JQXZ, NJ) had a good game this round vs. Paul Rickhoff (Saugus, CA). I see ZEST for 38, OSTIOLE for 67, FACIA for 28, and AMIR/COOER (drew a challenge, too) for Ted and Paul's RANTERS for 73. Ted's win, 435-321.
We held the director's meeting last night which was followed by a reception with appetizers and an open bar! The meeting was held in a conference room about 1/4 of a mile from the playing room and was attended by about 60 directors. Ted Gest (Washington, DC) led the meeting and topics like tournament/club software, attracting new players, and club tournament event registration changes. Some of the issues that will be touched upon in tonight's Town Hall meeting were discussed, such as ways to involve the membership more in NASPA and financial accountability. Precise notes were taken and will be posted shortly. The highlight of the meeting was presenting three brand spanking new directors with their "full director" NASPA certificates. A very surprised trio: Josephine Flowers (West Memphis, AR), Judy Cole (Concord, MA), and Conrad Bassett-Bouchard (Moraga, CA) received their certificates and our appreciation for their apprenticeships and for joining the team!