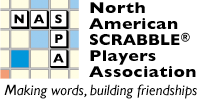 Go to: Commentary Games Players Photos Reports Standings
Back to NSC 2010 Live Coverage
NSC 2010 Commentary: Round 14
[ ]
Go to: Before the Tournament, Round 1, Round 2, Round 3, Round 4, Round 8, Round 9, Round 10, Round 11, Round 12, Round 13, Round 14, Round 15, Round 16, Round 17, Round 18, Round 19, Round 20, Round 21, Round 22, Round 23, Round 24, Round 25, Round 26, Round 27, After the Tournament.
---
Round 14
A note on my keyboard says, "Division 5 through 13 rounds. There are three players at 10-3, separated by only 25 spread points: Nancy Bratcher (Lavon, TX) at +572, Marla Riff (Boynton Beach, FL) at +565, and Flora Taylor (Hillsborough, NC) at +547.
I watch EARINGS which hooks to make SKIN go down in a Cathy Poole (Winston-Salem, NC) vs. Katherine Rybak (Evansville, IN) game. Katherine does not like it one bit and challenges and learns a new word! I see SLIPING on their board.
At table 1, division 4, Mandy Hollman (Statham, GA) is playing Richard Spence (Tucson, AZ). I see InTAKES, DREADING, and REINTEND*.
Division 3's top table features Mark Rosenberg (Atlantic City, NJ) vs. Keil Shults (Corinth, TX). While they are up to take a challenge, I glean that Mark has played EUGeNIAS for 68 and THORPES for 80. Not sure who played TINEIDS.
Mike Lean (Greenbelt, MD) vs. Denise Mahnken (Long Beach, NY). She is just shaking her head and saying "uh-uh." She's had a bad string of losses today. This game was a 454-357 win for Mike, a new face on our scene. This is his 7th tournament so far, but his first nationals. On their board, I see her ALIENATE through the first E for Denise and STEADING. Mike played PAGEANT one turn and then on the next SQUAW/PAGEANTS on the triple for a bunch. He also got down RIVALeD. I have a feeling we'll be seeing more of him.
At table 1 in division 5, Nancy Bratcher (Lavon, TX) and John Lauck (Hermiston, OR) are excited about how their game started this round. She opened with EXITED for 44 and he replied with MATURES for 90 which created ME/AX/TI/UT/RE/ED; one beautiful parallel play! On her next turn, she front extended her first play to REEXITED for 48 and later got down ALiASES for 66 and QUEEN for 48. John played sLIPPER and won this game, 451-337. Nancy's delight at a game well played reminds me why I love this game so much. One does not have to win to experience joy and satisfaction; investing and trying your hardest brings success that is just as satisfying and affirming!
Scott Garner (Memphis, TN) beat up on Lila Crotty (Metairie, LA) this round, 422-348. The funny thing, though, is my notes are all about her! She played ERASURE through the U as a nonbingo, but the letters interlaced to create WHIGS/MOR/AGE. It really was a gorgeously nestled play and a wicked hard find. She also got down the double-double CUrSiNGS.
So, a little event happened in division 2 this round. Scott Garner (Memphis, TN) and Cecilia Le (Boston, MA) were in a tense game. It came down to the wire. Holding L and R, Cecilia attempted to beat the clock to go out with LAR, played through an A (I think these were the tiles). She played the tiles properly, but when she went to hit the clock, a bit of air conditioning condensation caused the R to stick to her finger and in the course of moving to hit the clock (which she did hit and it did stop at 00:00, putting her NOT into overtime), the R fell off her finger and landed elsewhere. Scott called the director over to rule. Based on another similar event at a Canadian event last year, director John Robertson ruled that Cecilia's clock had to be put back on and her turn had to be completed with the clock on. So, it was and so she did place the tiles properly and she did fall a bit into overtime and she did lose 10 points off her score. In the end, this time penalty did not affect who won the game (phew). Later on, Rules Committee head Jan Dixon (Newark, DE) was heard to say that another ruling could have applied, but in the end, John did what he thought was right, and that is what directing is all about.
Joel Sherman, taking a break from the studying and heat of division 1 play, is working with us this year. It has been a joy to have him around, both for his sense of humor, his word knowledge ("Sherrie, it is female peacock, you don't know that?"), and his anagramming skills ("What, you don't know the anagrams of GIRASOLE?"). He just slipped me a note, "Fifty percent of the players in the top 6 of division 2 are named Scott." Tell me about it....
A bit of older news. We have an 1100ish brave soul playing up into division 1. The people's player is Scott Hawkins (Effingham, IL) of the baby blue eyes fame. He has had some interesting upsets there so far, including a defeat of Keith Smith (Austin, TX), 378-371. To win this game, he had to find a bingo ending in Z and he did: DEUTZIA! Way to go, Scott!