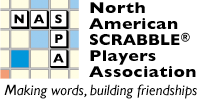 Go to: Commentary Games Players Photos Reports Standings
Back to NSC 2010 Live Coverage
NSC 2010 Commentary: Round 26
[ ]
Go to: Before the Tournament, Round 1, Round 2, Round 3, Round 4, Round 8, Round 9, Round 10, Round 11, Round 12, Round 13, Round 14, Round 15, Round 16, Round 17, Round 18, Round 19, Round 20, Round 21, Round 22, Round 23, Round 24, Round 25, Round 26, Round 27, After the Tournament.
---
Round 26
Laurie Cohen (Tempe, AZ), who defeated Nigel Richards (Malaysia) before lunch, squared off for a rematch this round and it was her turn to lose. It is the ol' "the tile gods give and the tile gods take!"
Dave Wiegand (Portland, OR) had a 55-397 win over Cecilia Le (Boston, MA) this round. I see her SIEnITE for 76 and his dECOyERS for 86, KANTELE for 82, TRIGONAL for 70, and AZOTISED for 132. I recall being impressed that she earned very nearly 400 points despite his runaway train game.
Two bingos for Orry Swift (Dayton, TX), EDGELESS and HOUNDER and a bingo bongo for Nigel Peltier (Seattle, WA), OMENTaL and ANTIHERO. Nigel's win, 419-375.
I hear Bradley Whitmarsh (Attleboro, MA) giggle as he looks at his completed game with Mark Przybyszewski (Depew, NY). It was one of those games where "all the fun stuff happened at the end." Brad, ahead by 60 with 15 tiles left in the bag, saw JApERIeS go down for Mark. He replied with LINIEST on the triple. A lucky draw for Mark and he was able to get down MOVEMENT to the T. Had Mark not binged out, Bradley was poised to play WAITRON, but instead he ate those tiles an lost by a mere 10 points, 461-471. Good going Mark!
Heads bent forward, smoke coming out of their ears, the game between Brian Cappelletto (Chicago, IL) and Scott Appel (Trenton, NJ) ended with Brian shaking his head, looking down, and contemplating if there was anything he could have done to make that game work better for him. I see fun plays like WIKIUP, TWERP, MAVIE, and RIOJA. Bingos: SEDERUNT, SLATTED, ANTiSEAR, JENNIEs. Brian pushes some tiles around, asks a few quiet questions, and then says, "I had to hope I get the E, S, or ? to pull out a win." Scott's game, 441-377.
IONIUMS, TRIJET, COmAKER, PEONIES, UNfELTED, ENTRANCE: fun plays from a Sam Rosin (Bernardsville, NJ) vs. John OLaughlin (Boston, MA) game.
Jim Kramer (Roseville, MN), with some pride, tells me of his 100-point phony: CURFEWED*. He thinks Sammy Okosagah (Baltimore, MD) took it because he had a bingo back. Sammy won that game, 490-388. Later Jim tells me that Sammy made a gorgeous play in their game: GOSSIPRY for 80 points.
A total of 17 seconds left on their combined clock, Eric Tran (Calgary AB) and Pakorn Nemitrmansuk (Thailand) are enjoying having played each other too much. Eric admits to learning a new word, TEENTSIER, played by Pakorn for 70. Pakorn, mocking that he was hurt, said, "he doesn't trust me, he challenged my play despite me being able to play TENTIER elsewhere." Eric nodded in agreement and admitted he regretted the challenge and that he was not thinking clearly. Both say the other is a far better player, but the score doesn't lie. A 434-412 win for the Thai.
Scott Pianowski (Berkley, MI) misses his dog, Fenway. From a Boston suburb, Scott is now living it up in Michigan with a dog that likes wood. I say this because Scott has been using a deluxe wooden rack that has been slightly gnawed on one end by Fenway. He says it makes him feel closer to the dog. In honor of Fenway, he tried the audacious phony DOGPATCH* in his last game.
Dan Stock, division 5 director and tableau czar made me my own tableau that he put up on the big board during lunch. Joel Sherman wasn't sure it was a good idea to drink my "wee," but I think he is just lacking imagination! Thanks Dan!
Fifteen minutes before game play began, I asked the 21 and under crew to meet by the big board. Not able to get enough time off to play in the event, NASPA member/director Jeremy Cahnman flew in yesterday and grew suddenly confused with what "21 and under" actually meant. Not to say he is old, but he is only 21 in his mind and I had to shoe him out of the middle of the young throng. He successfully hid behind the tall Matt Canik (Austin, TX) for a few minutes but I detected the ruse and made him leave, but not before he cracked everyone up. This year's youngest player is Bradley Robbins (Windham, NH) and he and 19 others gathered up by the new magnetic big board for the photo!
Before his game began, Nawapadol Sayavesa (Thailand) made John Chew load a youtube video of a newscast of the King's Cup, a tournament John had directed in Thailand earlier this year. In the video, John is featured a few times in quick glimpses and then once for a long lingering shot and the camera panned over his electronic "scoreboard", too.
Robin Gates, clad in a Texas Ranger jersey, made announcements before game play this afternoon. She had arranged for several shuttles to take players to the Texas Rangers vs. Yankees game. Other shuttles were available to take players to a poker gaming facility. I think we all owe Robin a debt of gratitude for her efforts. She made sure we all gained 10 pounds with her restaurant recommendations!
The National SCRABBLE Association has been cleaning out its coffers of old photos they've kept over the years. Katie Schultz has had a basket of giveaways on her desk and over lunch she decided to spread some of them out on tables in the foyer. The collective oohs and ahhs! "Look at Adam Logan as a kid!" Hey! Who is this?" "Well, it's Ron Tiekert, of course!" I grabbed a few shots for Ben Greenwood, Adam Logan, and Jere Mead, who were unable to attend this year. A walk down memory lane, indeed.
From the "we need a nap department," comes division 2 director Bryan Pepper and his assistant, Cara Canik. They carefully go over the scores entered into the computer by their data wrangler, Chris Wiegand each round. For some reason, they were so punch drunk that when Cara read one score as "380ish" during an exercise where precision is called for, it just cracked them up, repeatedly. She ran out of the room, laughing controllably several times. She'd get herself under control and then come back in, take one look at Bryan, and burst out laughing again. Thinking they were finally okay again, they sat back down to resume, but it lasted about 5 seconds.