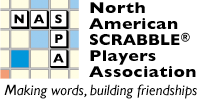 Go to: Commentary Games Players Photos Reports Standings
Back to NSC 2010 Live Coverage
NSC 2010 Commentary: Round 10
[ ]
Go to: Before the Tournament, Round 1, Round 2, Round 3, Round 4, Round 8, Round 9, Round 10, Round 11, Round 12, Round 13, Round 14, Round 15, Round 16, Round 17, Round 18, Round 19, Round 20, Round 21, Round 22, Round 23, Round 24, Round 25, Round 26, Round 27, After the Tournament.
---
Round 10
Eliza Gallagher (Pendleton, SC) comes up to chat. She's just won a game, 429-349. However, what she wants to talk about is that moment when you get so transfixed that you miss the forest for the trees. Playing Stefan Huber (Tampa, FL), with him up by about 100 points, he played BEG and empties the bag. He now holds EQUIPED. She knows this. She's tracked, she's counted, she's checked the bag. Holding ?DEIORT, she then proceeds to spend six entire minutes searching for a bingo that won't give him a giant Q play for his next turn. Only when her clock was just about to run out does it occur to her that SHE IS GOING OUT and doesn't need to worry about his rack because he's never going to get to play from it. Duh. We've all been there, Eliza, you are in good company!
I walk by Bryan Pepper, division 2 leader, and I overhear Scott Garner (Memphis, TN) mention that he had a monster game this round against Paul Avrin (New York, NY), winning, 491-280.
I hear "challenge" from the middle of the room. Board 1, the annotated game, still gets a human word judge, so John Robertson takes the challenge. Rafi Stern (Seattle, WA) is challenging SLANDERER, played by Mike Baron (Corrales, NM). The play is ruled acceptable. Mike wins that game, 409-377.
Scott Jackson (Minneapolis, MN) is standing and peering down at his completed game with Marty Gabriel (Charleston, IL). Scott points out Marty's early play of XEroSES for 74. He said, "five power tiles in one play!" Marty also played TORULAE for 61 and RATTING for 74. Scott played the pretty QUERIST for 113. Lucas Freeman (Delaplane, VA) walks by and notices me pointing to Marty's nonbingo but cool FURCATE. He asks, does it take a BI?
Two gals are battling: Robin Pollock Daniel (Toronto ON) vs. Cecilia Le (Boston, MA). Handwriting is small, but I think I see PAINCHES, ADENYLS, OVERfIT, and ONGOING for 80 for Robin. BLINTzES is Cecilia's. Her last rack IFFRRWY, Cecilia takes a long time to ponder and hangs her sole vowel after an L, creating LI for hardly any points. She did it to block Robin's certain bingo. Both of them sorta exclaim, groan, giggle in response to this play. A 513-332 win for Robin a few minutes later.
Chris Williams (Vancouver BC) is looking stylish in his hat as he plays Patricia Barrett (Houston, TX). I'm just about to lean in and check out their game when I see Jim Kramer (Roseville, MN) and Tony Leah (Ajax ON) up to their armpits in a post-game analysis. Suddenly Tony groans and leans back, his head in his hands. I venture over gingerly to see that Tony now realizes that he missed INVERTIN, which would have given him the win. I see Tony's three bingos in four plays: EMEROIDS, SAUCILY, and AIRSPEED. At this point, it is 285-136 in Tony's favor. Jim begins to claw back, getting down TOTALISE, FINAGLER, and rESHOED (which Jim points out is a new addition to our dictionary--used to only be RESHOD). Jim wins, 442-418, and he's now 6-4. I did suggest he pull the dagger out of Tony's heart before he turned in his winning slip.