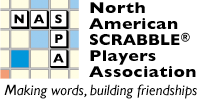 Go to: Commentary Games Players Photos Reports Standings
Back to NSC 2010 Live Coverage
NSC 2010 Commentary: Round 16
[ ]
Go to: Before the Tournament, Round 1, Round 2, Round 3, Round 4, Round 8, Round 9, Round 10, Round 11, Round 12, Round 13, Round 14, Round 15, Round 16, Round 17, Round 18, Round 19, Round 20, Round 21, Round 22, Round 23, Round 24, Round 25, Round 26, Round 27, After the Tournament.
---
Round 16
Bryan Pepper, division 2 leader, to Nigel Richards (Malaysia), "What's the deal with the first game? I thought you said Brian Cappelletto (Chicago, IL) was easy to beat!" Nigel to Bryan, "He is, but I'm easier!" This in reference to Nigel falling to Brian at table 1 last round.
Flora Taylor (Hillsborough, NC) vs. Jack Allard (Pryor Creek, OK). A fantastic game for her, 534-268. She got down ETHIONS for 72, BERMING for a 110-point double-doiuble, and dISTOME for 75. I see Jack's EQUATe to the triple for 45.
Marla Riff (Boynton Beach, FL) played Jayne Boniface (Centennial, CO) this round. Marla opened with GLOATEd and later got down DICTATES from the D on the triple, but the rest of the game, the tiles just didn't go her way. Jane played REgIONES and KNITTED and won, 430-370.
Robin Gates, our activities director, is working very hard to set up outings for players and their families. There is a Tuesday baseball game, Texas Rangers vs. NY Yankees (ask Arthur Finkle (Coral Gables, FL) or Verna Richards Berg (Manhattan, NY) as they are sitting right down on the field: she got them primo tickets! Most game attendees are opting for the cheaper seats, though!). Tuesday night there is a poker tournament, too, at Hat Tricks. She was able to get several Thai player guests to see new sites. There is American Idol Live tonight at American Airlines Center at 7pm and Karaoke at Ernie's North Dallas. The majority of her influence has been on shuttles and restaurant recommendations. I know I ate at one she recommended and it was great!
A slip comes in, "In the board 1 annotated games, PROVIDER was played for a bingo twice: Rd 6 by Chris Lipe (Rome, NY) for 76 and rd 12 by Rafi Stern (Seattle, WA) for 104 points."