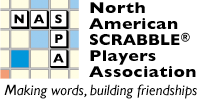 Go to: Commentary Games Players Photos Reports Standings
Back to NSC 2010 Live Coverage
NSC 2010 Commentary: Before the Tournament
[ ]
Go to: Before the Tournament, Round 1, Round 2, Round 3, Round 4, Round 8, Round 9, Round 10, Round 11, Round 12, Round 13, Round 14, Round 15, Round 16, Round 17, Round 18, Round 19, Round 20, Round 21, Round 22, Round 23, Round 24, Round 25, Round 26, Round 27, After the Tournament.
---
Pre-event
Friday
National SCRABBLE Championships are a giant high school/family reunion wrapped up in a tournament. The "ballroom" level of the Dallas Intercontinental Hotel is full of people hugging each other and shouting out in joy at the reconnections.
At 10 am, Mary Rhoades, the event director, had two cubby holes at either end of the ballroom's foyer staffed and ready to register the incoming 400+ players. So far, Dee Segrest, Marlene Milkent (Hattiesburg, MS), and Kate Watson have been at the divisions 1 and 2 spots. Almost a football field away, divisions 3, 4, and 5 have been staffed by Risa Horowitz (Richmond Hill ON), Heather McCall (Toronto ON), Patricia Oppenlander (Denton, TX), Jacob Cohen (Asheville, NC), and others. In between, Michael Connally (Bulverde, TX),Sam Kantimathi (Sacramento, CA), and Gene Tyszka (Mississauga ON)have set up tables to sell their wares.
Perhaps the person who is most sought in this room, however, is Robin Gates. She and her mother set up a table near the main entrance to the ballroom. She has her laptop set up and she is busy planning outings and rides from the airport for folks arriving today. I've been asked a few times if I have her cell number. I figure I'll let her give that out only if she wants!
Some players arrive already desiring a game and we send them down to the Lalique room on this ballroom floor. Having the after-hours room open now is wonderful. What we need, though, is more boards!
Robb Griffith (Marshall Islands) and Denise Mahnken (Long Beach, NY) came up the escalator to register and they were all smiles. They got here yesterday and took a walk at 3am today. I was surprised at the hour and Robb said that he flew here from Kwajalein (one of the 97 Martial Islands), an Army atoll in the middle of the Pacific between Australia and the Hawaii Islands. So, for him, 3am was a perfect time to take a walk! I asked about this island where he is working as a contractor and he said it is 3/4 by 3 miles long and he only occasionally thinks about typhoons. During his time there, he's seen seven of the islands. Only 90 to go!
Gene Tyszka (Mississauga ON) once again had problems with customs and his equipment. He's being very cool about it and has been assured by Fed Ex that his stuff will arrive on Monday. In the meantime, he is still doing his raffle which is asking players to give an opinion on the color of his next fold-up board. The winner of this board will receive a fold-up watermelon-coloured board (he's Canadian) and carrying case.
Midday, John Chew set up, ran, and played in the director's unrated early bird tournament and the games were played at table slated to be division 3 tables in the main event. A total of 16 showed up to play. Daniel Stock really wanted to play, but he arrived a bit too late and settled for playing Jeff Fiszbein. I see Dan's VINIFY and FLOATIeR. Jeff played mISALIGN and SHEARED/mE/ID for 82. I think Jeff won this game and he also won their second game, 600-340. Jeff opened with VIOLATE for 78, and played XENOpUS/XI for a 120-point double-double. Dan played DIVAGATE for 76 and BELTINGs for 63.
After two games, the final game came down to four players who vied for the winner's spot: Cheryl Melvin (Muskegon, MI) vs Matthew Hodge (Moore, OK) and John Roberts vs. Joel Sherman.
Cheryl played RIOTOUS in her game and I see that TAUTOMeR was played from the T n the Joel vs. John game. I later see that Joel played CARINATE and SETIFORM. Joel won, 493-242, which gave him enough spread to win first place. Cheryl, also undefeated with less spread, came in second. Two players had no wins and the person who came in 14th was John Chew. Perhaps it was too much to ask of him to run a tournament while responding to constant e-mails from Chris Cree (Dallas, TX)! Since there were no entry fees and thus no real prizes, Joel was promised a second event T-shirt for his superior play!
The afternoon event staff meeting, hosted by Mary Rhoades, was relocated from the distant ballroom overlooking the hotel's lobby construction site, to the division 4 section of the ballroom. We treaded lightly on the new tablecloths! Introductions were followed by event rules and expectations. It went quickly and smoothly.
About an hour later, the staff met in a private dining room and shared dinner around four round tables. Every staff member, some spouses, and Robin Gates' mom joined us! Thanks to Chris Cree (Dallas, TX) and Mary Rhoades for picking such a good menu, especially the yummy lemon cake!
Back at the registration area, at 5-10 minutes after it closed, the last person showed up to register. We were all here, including Paula Catanese (USA) who offered to play to even us out. Our numbers are currently 405, but that may change once game start tomorrow.
Huge thanks to the gobs and gobs of volunteers who helped for hours and covered shop totally when we had both the staff meeting/dinner. Volunteer efforts are at the very base of NASPA.
At either end of the long foyer outside the playing room where we registered is a grand piano. At one of them, Joel Sherman paired up with Robert Felman (Nokomis, FL). Gastroenterologist by day, Robert also plays a clarinet in a Venice, FL, orchestra where he lives. Joel played gorgeously on the piano and paired with that expressive clarinet, it was really moving. Also, there was something about GI Joel playing with his favorite kind of doctor! They were noodling around for the next song when Robert suggested Elton John. Joel said he knew only one song, "Empty Garden." I leaned against the side of the piano as Joel played and then sang. The cords vibrated through me! What a beautiful song and performance. I hope they play more during the event!
Canadian friends, Heather McCall (Toronto ON) and Risa Horowitz (Richmond Hill ON) sat down to play and Andrew Solomon (Barrington, IL) and Daniel Citron (Chicago, IL) happened by. Before long a pairs game broke out which Risa was enjoying. I saw ?ITCHING for 167 by Andrew/Risa and RAREFIED played by Heather/Daniel. At one point TRIOLET went down for 62. Daniel wanted to play TORTILE but wasn't 100% sure of it. Kenji Matsumoto (Amherst, MA) walked by and when asked said it was good.