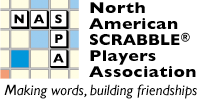 Go to: Commentary Games Players Photos Reports Standings
Back to NSC 2010 Live Coverage
NSC 2010 Commentary: Round 18
[ ]
Go to: Before the Tournament, Round 1, Round 2, Round 3, Round 4, Round 8, Round 9, Round 10, Round 11, Round 12, Round 13, Round 14, Round 15, Round 16, Round 17, Round 18, Round 19, Round 20, Round 21, Round 22, Round 23, Round 24, Round 25, Round 26, Round 27, After the Tournament.
---
Round 18
Our last game before lunch. I take a walk down the top tables in division 2. Scott Garner (Memphis, TN) is playing Stan Miranda (Albuquerque, NM) and I see PrEACHES, PAUSING, IRRIGATE, and TAILORED. Game still in progress.
Scott Leifer (Middleboro, MA) vs. Martin Weisskopf (Huntsville, AL): BANTIES, ENCrUST, ERASIONS, and BiENNIAL.
Paul Avrin (New York, NY) vs. Jason J Smith (Mason, MI): MOtIVATE and RECOUNT.
Cecilia Le (Boston, MA) vs. Orry Swift (Dayton, TX). I don't know how long it's been, but I finally see bEVOMITS on the triple lane for 89 and BAYONET for 68 by Cecilia. Orry played kILLERS for 69 and STAVING for 74. It was a 434-405 in for Cecilia based on her last play of CENTROID for 82. Orry explains that PT had to be in the bag for him to lose, and they were.
Dielle Saldanha (Richmond BC) has a taste for Canadian chocolate and she's eating a Kit Kat bar in this round's game with Brian Cappelletto (Chicago, IL). My mouth waters: Canadian chocolate is sooo good A tense game is under way. I can tell because Brian has his contestant folder over his head a lot, bent in half, drinking in the board. I see his VEINLET and STRAYED and her ESTRiNS, UNGIFTED, and IOLITES. Brian won it by a nose, 448-432.
Jim Kramer (Roseville, MN) vs. Bradley Whitmarsh (Attleboro, MA). Two of the nicest guys in SCRABBLE, bar none. I imagine them saying "after you," "no, after you, I insist" for about 20 mins before starting their game. Their board is a pretty compilation of gorgeous plays. As Jim and I talk about them, onlookers gather. Per usual, Jim walked all the way across the football field sized ballroom to find me to show me Brad's incredible play. Through a G, Brad nestled in the double-double bingo ESTRANGE, hooking to make ABOIL/NU/ET for 99 points. Then he bongoed with IMITABLE through the L. Of these plays, Jim said, "I went from 127 ahead to 5 behind in two moves!" Bradley also got down UPStARE. As I'm writing, Joey Mallick (Cape Elizabeth, ME) points to a word and states, "you played this." Jim nodded. Joey could tell just looking at it that Jim had to be the one. Jim made three bingos: BUsTLER, OPTIMALS*, and SCYPHOID* though the P. This is the play Joey just knew Jim made. At the time, neither knew it was a phony! It was Jim's win, 474-426. He was, initially, okay about the one phony but when he discovered another, he found me with an embarrassed and crestfallen look on his face. I assured him that it was a great play phoney or not!
Good friends, Kate Fukawa-Connelly (Kittery, ME) and John OLaughlin (Boston, MA) square off this round. John played ORAtORIO for 59 and Kate played RADIABLE for 63, PAWNERS for 87, StARING for 74, and COTTAGE for 85. Kate's win, 511-378. I hear John say, "I wanted to play QUEERDOM against you.
The Rickhoff family got together in front of the big board: Kevin Rickhoff (Saugus, CA), Laura Rickhoff (Saugus, CA), and Paul Rickhoff (Saugus, CA). Someone from home will be happy to see that shot!
I heard from a birdie that Yukiko Loritz (Anaheim, CA) had a triple-triple DISASTER in a game with Bruce D Ambrosio (Los Angeles, CA). To get that down, she had to accept a phony that slotted a tile into the triple lane. Sometimes it is good to accept a bad word!
Childhood buddies, Rafi Stern (Seattle, WA) and Nigel Peltier (Seattle, WA) played this round. I was sure to get photos and I had planned to go back and actually check out the game, but, well....
Kevin Leeds (Austin, TX) is 3-1 so far today, which isn't bad for a first time division 1 player!
The NASPA Steering Committee is meeting over lunch at the Mayor of Addison's restaurant, May Dragon. This event is actually being held in a suburb of Dallas called Addison. The mayor, at other luncheons, has met committee members and shaken hands. Being a NASPA committee member has its benefits!