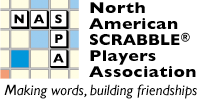 Go to: Commentary Games Players Photos Reports Standings
Back to NSC 2010 Live Coverage
NSC 2010 Commentary: Round 8
[ ]
Go to: Before the Tournament, Round 1, Round 2, Round 3, Round 4, Round 8, Round 9, Round 10, Round 11, Round 12, Round 13, Round 14, Round 15, Round 16, Round 17, Round 18, Round 19, Round 20, Round 21, Round 22, Round 23, Round 24, Round 25, Round 26, Round 27, After the Tournament.
---
Round 8
A beautiful morning in Dallas. With the first day adjustments made, the hotel was ready to serve us breakfast without a single line! I shared coffee and fruit with John Chew and Debbie Stegman (Kew Gardens, NY), who has become an executive member of this hotel's membership club and she is loving it!
Before games start, Jim Kramer (Roseville, MN)] tells me about his game with John OLaughlin (Boston, MA) yesterday. After four plays, Jim was ahead, 280-75, probably due to his three bingos: FATUITY, IMPENDED, and INVENTED. But then, like a bad dream, John came back with HORRIDER for 89 and HOTELIER for 88 and with other stuffs, he went on to win, 467-433! Jim is now 4-3 and pretty cool about it.
In the foyer outside the playing room, Scott Garner (Memphis, TN) tells me about playing SIRUPIER through the P. I race to my pad, because I won't remember and I couldn't spell that if you paid me. He lost the game to Scott Leifer (Middleboro, MA).
Joe Bihlmeyer (Durham, CT) wanted to come to Dallas and buy a new iPhone and spend the entire event making mini videos to post to Youtube. However, once he got here, he discovered a one-week waiting list everywhere to get one. So, he's done the next best thing. If you flash an iPhone to him, he'll boldly ask to borrow it, which he did yesterday to Michael Donegan (Austin, TX) and he did a short, one-minute video that he's posted to Youtube. Not sure how to tell you to find it, but if you are dedicated, you will. Word of warning: hide your phones!
Alan Stern (Shadow Hills, CA) started us out by calling us to our seats and then he got uncharacteristically serious by asking for a moment of silence to honor those we lost this year (the ones we may have played over the kitchen table, the ones at tournaments, etc,). After those moments of quiet passed, the old Alan came out and he asked us to further mourn the bingos we couldn't play yesterday!
A note from Dallas Johnson, directing Division 3: "Play fair is the byword of the day in division 3. Against Jeff Cooley (Jacksonville, FL), Chuck Riordan (Des Moines, IA) opened with DIF followed by the natural FAIRNESS from the F."
From the school of "what was I thinking," Tim Crotty, one of our data entry folks, decided to look at a video. His machine's volume was set high and it blared into the quiet room. He turned red and banged around trying to turn the volume down or off.
I hear "director" and see Judy Newhouse run off to help rule for Samantha Nelson (Houston, TX) and Marie Gier (Gainesville, FL).
Paul Wood (Central City, IA) is playing Sandy Poulin (Milwaukee, WI). Both start talking to me while their clocks are running and I try to quiet them down. It could be seen as interference! Anyway, they paused the clock and she said, "please take a photo of me by my SCRABBLE picture frames when you can!" And he said, "there are two English people in this division in this American event!" Sandy thinks this room is too dim and she has brought a battery-operated Coleman type lamp that she keeps on her table. It is no longer dim around her!
Phyllis Spence (Tuscon, AZ) is counting her play very carefully against Percy Fernando (Mississauga ON). I see STINGERS for 74 and pALATES for 70, both her plays. She is absolutely freezing, shaking and rubbing her hands down her arms, which are covered in goose bumps. Meanwhile, I'm wondering what items of clothing I can take off because I find it warm. Air conditioning is never quite right, is it?
Table 1 in division 3 features a Nancee Mancel (Albuquerque, NM) vs. Mark Rosenberg (Atlantic City, NJ) game. I see ANEROID, DIOXANES, CiNDERS, and DARTLES on the board. As I watch, he places PURE beside a bingo, making OP/XU/AR/NE for 31. Both of them cover their scoresheets with their scorecard, so I can't see the play scores at all easily. They both were totally focused on the task at hand.
Kate Fukawa-Connelly (Kittery, ME) tells me that she just had a four-bingo game against Joe Edley (Port Jefferson, NY). She recalls from memory: eNSNARE, ENACTORY through the T, HOMINID for 110, and AmOEBAE. I feel a tap on my shoulder and Joe says, "I played INQUIRER for 124!" This is Kate's 4th or 5th 500+ game. She is just shaking her head over it all.
Table 1, division 2, Scott Leifer (Middleboro, MA) vs. Lisa Slankard (Chicago, IL). It was a 611-300 win for him and she said, "It just fell for him, he had everything." I see his OVERdOSED played to the final ED, BLINKED, and URINATED. He points out these are all human functions. Thanks, Scott! She got down SATIRES and we all sit with what that means, poor Lisa.
Kurt Davies (Chapel Hill, NC) vs. David Bibb (Del City, OK). A close game that went back and forth, but ended up in Kurt's favor, 403-396. I see Kurt's HARRIES for 66 and SNORTED for 83 and David's LEVITATE for 72 and GASIFIER for 76.
At the Scott Garner (Memphis, TN) vs. Matt Canik (Austin, TX) table, the heads were hanging low. On the plus side, they had 7 bingos there, and only TWO were phonies! The one of Matt's that stayed on the board was EGOTIzED* and Scott's was OUTSNEER*. It was Scott's win, 511-446. To make it even more special in the shame department, Scott challenged off two other Matt gems: dOGFEET* and MOTLY*. Scott played EROTICAL, HAUNTED for 97, and DAINTIER. Matt played CASERNES and the outbingo of GoMERIL, which he says, "made it less embarrassing."
Stephen Sneed (Fort Worth, TX) vs. Alan Stern (Shadow Hills, CA), 498-281, for the former Texas State SCRABBLE champion. I see Stephen's ASTUTER and DILATES.
DEBOnAIR is on an expert board and I see Sammy Okosagah (Baltimore, MD) sitting there; fitting. However, despite this play, which he made, it was Scott's win, 406-396. I see COBNuTS for Sammy and Scott's PETITES, SQUINT for 48, and AX for 45. It was one of those games, explains Scott, where Sammy had both blanks, but they came with NO tiles.
In his game with Darrell Day (Richardson, TX), Bradley Whitmarsh (Attleboro, MA) tells me that his first three plays were bingos: IMPErIA, RHAPSODE, and WoULDST. He won, 500-291.
"Life imitates art imitates life" says John Redding (Dallas, TX). In his game this round, he had ABENORT. He thought, "BARONET or REBOANT; the latter might pull a challenge." And he was right, it did. After the game, someone pointed out to him that Marlon Hill in "Word Freak" said that exact thing!
John OLaughlin (Boston, MA) vs. Mike Baron (Corrales, NM). I see EsTUARY, PENLIgHT, RELINES, and CUDGELERS. They are so intent, I end up with one score written down: 473. And I can't seem to get their attention, they are so engrossed in the what ifs.
I hear it ended in a tie, but I glance over a Chris Cree (Dallas, TX) vs. Robin Pollock Daniel (Toronto ON) board and see ORANGIEr, BOXHaUL, WHISTLER, GRISTLED, TONNERS, and CASEATES. Knowing me like she does, she leans over and whispers, "It's an A." She knows I had NO idea what BOXH?UL was!
Andrew Solomon (Barrington, IL) is 6-2 and smiling. He just pulled a win out of a not win against Patricia Barrett (Houston, TX). From PRE on the board, he played PRENUMbER. It drew a challenge and she held a bingo that she couldn't then play due to losing a turn. It turns the game around. She'd started strong with ROUSTINg and DISPOSER (double-double) as her first two plays. Andrew also played CORVETS and admits to having all the JQXZ plays. His win, 489-356.
I see a crowd gathering around an Eric Tran (Calgary AB) vs. Chris Grubb (Seattle, WA) board. It was Eric's win, 423-385, but Chris' DOGNAPEd caught my eye.
Dan Horowitz (Wilmington, DE) had a 550 this round and he played the high-scoring triple-triple GRILLERS!
High loss so far in division 4: 478-489. Mandy Hollman (Statham, GA) fell to Tristan Vanech (Venice, CA). The game had five bingos. He tells me of his two: StERNLY and FORTIeS and her three naturals: ENTAILED, REVOKES, and POINTIER.