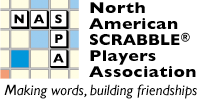 Go to: Commentary Games Players Photos Reports Standings
Back to NSC 2010 Live Coverage
NSC 2010 Commentary: Round 19
[ ]
Go to: Before the Tournament, Round 1, Round 2, Round 3, Round 4, Round 8, Round 9, Round 10, Round 11, Round 12, Round 13, Round 14, Round 15, Round 16, Round 17, Round 18, Round 19, Round 20, Round 21, Round 22, Round 23, Round 24, Round 25, Round 26, Round 27, After the Tournament.
---
Round 19
Freshly fortified with some lunch and sunshine, Deborah Gaudier (Kerrville, TX) and Zarrine Banerji (Columbia, MO) went to the challenge machine mid-game. I'm going to assume that Zarrine didn't like the ruling, because as they walked back to their table, she tore the challenge slip into 50 tiny shreds.
Michael Bassett (Port Clinton, OH) had two strange cosmic recounts today. In both games he'd won (against the #1 and #2 seeds in his division!), then a recount indicated that he'd lost, but the losses just didn't feel right, so he double checked and in both cases, he recounted numbers were wrong and he indeed did win. I think he shares this with me because he hasn't yet in his short SCRABBLE career experienced so much digestion and re-digestion of his stomach lining in this way before.
I hear in the foyer that Lisa Slankard (Chicago, IL) went all the way from playing at table 1 to losing 5 games in a row! Oh the changing fortunes of SCRABBLE play!
Cheryl Tyler (Lubbock, TX) tells me that in round 16 she was behind by 40 but binged out with a triple-triple, OUTRIDER through the first R for 122! She won that game. In round 17, behind by 107, the game came down to the last rack. She binged out with SEEDILY through the I for 96. With the 12 points she collected off her opponent's rack, and with the benefit or a recount, she won that game, too! She had a great round 19 game with Helen Joffe (Slidell, LA) and I need to find that scoresheet to type it up! 545-303 win for Cheryl.
Randall Thomas (Calgary AB) vs. Jason Hlady (Saskatoon SK), 427-383 win for Jason. The both had 9-letter plays! Randall's NERVElESs, through the ES and Jason's STAIRHEAD to the AD for 78. It drew a challenge, too.
Just six points shy of the 1000-point total, Rachel Knapp (Tustin, CA) had a tournament high winning game against John OLaughlin (Boston, MA) this round, 498-496. From my notes, the beginning was pretty exciting. John exchanged and then the fun began: Rachel's OUTLAND, then John's GUT to fish, then Rachel's ARENITES through the N (double-double), then John's SEATINGS to the S, and Rachel's AMITROLE . That is a bingo-bango-bongo for her! Later in the game, John played sPONGED, OvIDUCAL though the U (of course he did...), and EUPHORIAS to the AS. John thinks he made an error in the end. Focussing on not sticking himself with a WWI rack, he just didn't even see the extension of FRESH down the triple that he could have made: FRESHMAN to the tipple. By not doing it, she played FRESHEST and got all those points.
Nigel Richards (Malaysia) vs. Evans Clinchy (Boston, MA) at board 1, a 528-525 win for Evans. Evans played FASCATE for 65, PANTILE for 82, and HOISTD for 70. Nigel played ENsOULED for 77, WINERIES for 86, and BLANKET for 86, getting the last tile in the bag, an O. Evans was able to play out with ABORT and won the game.