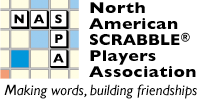 Go to: Commentary Games Players Photos Reports Standings
Back to NSC 2010 Live Coverage
NSC 2010 Commentary: Round 2
[ ]
Go to: Before the Tournament, Round 1, Round 2, Round 3, Round 4, Round 8, Round 9, Round 10, Round 11, Round 12, Round 13, Round 14, Round 15, Round 16, Round 17, Round 18, Round 19, Round 20, Round 21, Round 22, Round 23, Round 24, Round 25, Round 26, Round 27, After the Tournament.
---
Round 2
We are happy to see that Stuart Goldman (San Francisco, CA) made it on time this morning. I watched him briefly this round as he played Nigel Peltier (Seattle, WA). Stu binged as I walked by: dECURIES.
Sid Lashley (Mississauga ON) and Nancee Mancel (Albuquerque, NM) might be having too much fun for a SCRABBLE tournament. They are giggling at the challenge machine. And just as they clear out, Trip Payne (Boca Raton, FL) and Bruce D Ambrosio (Los Angeles, CA) check in.
Zev Kaufman (Toronto ON) is one of two players observing his sabbath using slightly different rules for today. He is using an older travel SCRABBLE set's wooden tiles, on the side and turning them face down as they are used to "track" and he is keeping score in a Michener's "Alaska" paperback (inserting bookmarks to page numbers that corresponds with their scores). For many years, proud papa Zev used the Dr. Spock baby book. I guess it had to be replaced!
On a Carole Denton (New Carrollton, MD) vs. Ian Chesser (Houston, TX) board, I see PUNIESt, INSTRUCtS, and MISDOER. Carole was leading toward the endgame.
Nathan Benedict (Tucson, AZ) has a wicked smile on his face. He grabs my pad and writes down DKNQ and says, "This was my leave, and I binged on my next turn. What did I play?" I politely stammered and mumbled to myself. Trip Payne (Boca Raton, FL) walked by and Nathan showed him the tiles. Then he said, "all the Us were used up." Trip did that V-8 moment thing and said, "nice play!" Later on, I showed John Chew the tiles, and then made the used up U line and he got it instantly, too. Did you? See bottom for answer*.
Trip Payne (Boca Raton, FL) is 2-0 and considers this standing a very good birthday present to himself.
Susan Siedschlag (Gresham, WI) in division 4 had a great play last round. Her director tells me about HAZiEST for 116 points in a game vs. Laura Rickhoff (Saugus, CA). Sue lost the game, but that play was a moral victory for sure!
Scott Pianowski (Berkley, MI) got creamed this round by Amnon Igra (Sacramento, CA) (he never visits me when he wins!), 316-498. Scott was most impressed by Amnon's play of TELEPHOnIc from the TEL for a bunch of points. Scott's newest insight is that it isn't the amount of blanks one's opponent has but rather who gets the Ms that determines a game's outcome. And in this game, the selfish Amnon got both, which in Scott's book, guaranteed the win. In order to fortify himself for today, Scott selected his blue baseball cap with a B on it. Knowing that before he moved to Michigan, he once hailed from a Boston suburb, I suspected the B stood for Boston (as in Red Sox) and he said, "No, this is my 'No Sleep Till Brooklyn' hat." When I looked at him quizzically, he said, "Just type it, everyone else will get it, trust me."
We are having a lot of fun. The only sounds besides the delicate clattering of tiles is that of John Chew fanning the computers behind me to put out fires created in the data input of game results. Good thing we are going Portland Swiss pairing (thanks RA Fontes) so none of it matters quite yet.
Did I mention the fun?
Forgive the tardiness in posting color. There is so much going on, taking time to stop and type is really hard!
*Nathan played QINDARKA!