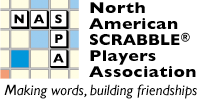 Go to: Commentary Games Players Photos Reports Standings
Back to NSC 2010 Live Coverage
NSC 2010 Commentary: Round 27
[ ]
Go to: Before the Tournament, Round 1, Round 2, Round 3, Round 4, Round 8, Round 9, Round 10, Round 11, Round 12, Round 13, Round 14, Round 15, Round 16, Round 17, Round 18, Round 19, Round 20, Round 21, Round 22, Round 23, Round 24, Round 25, Round 26, Round 27, After the Tournament.
---
Round 27
Division 2's Cara Canik waves a result slip by me, 535-277 win for Bradley Robbins (Windham, NH) vs. Hope Kennedy (Houston, TX).
Ted Rosen (Rochester, NY) had a double letter kind of game with Ross Brown (Ottawa ON) this round. Ross played VAV, then Ted played WOW, and then Ross played MUM.
At 12 wins now, a smiling Gene Tyszka (Mississauga ON) tells me that he binged out on Bob Blyler (Clearwater, FL) this round with FALLING/FEH and won the game!
Merran Dunlop (Brantford ON) and Annie Adkins (Waukomis, OK) wrap up a game that Merran won and before I can see much the tiles get quartered.
Hannah Lieberman (Charlotte, NC) said he was lucky enough to play Cathy Poole (Winston-Salem, NC) two games in a row this afternoon. Because numbers fascinate her, she says she won both games by the same spread of 14! She says she will aim to win her next game by 15 points and then say she will aim high to go for 16. She is a fun kid.
Chris Schneider (Dallas, TX) vs. Steve Pellinen (St Louis Park, MN). Steve played RUIN to open a closed board and Chris tried to block by playing WOE to clog up the area by RUIN. Well, he failed at that, because he went from letting Steve have an 8 to giving him a 9! Down went PANDERERS through the second appearance of ER for 76 points. Not one to let Steve have all the glory, Chris found and made his own 9: UNVISITEd through the IS for 65 points. OLEANDER went down for Steve and Chris played STOUrIE, REACTION (90-point double-double), and STIBINES. Chris' win, 547-377.
Pretty, pretty board between Jeff Martin (Albuquerque, NM) and Kevin Rickhoff (Saugus, CA), with a total of 7 bingos. Three for Jeff: FLOATING, ORDINATE, and LIMBERED; and four for Kevin: COVeTING, STOMPER, INDIGOES through the G, and NARROwS. There was a 47-point JANE and a 71 point ZAP/ZA/AT/PI. Kevin's win, 527-450.
The women square off! Laurie Cohen (Tempe, AZ) vs. Cecilia Le (Boston, MA). I see five bingos, three for Laurie: CHESTIER for 80, ESTRONE for 66, and BONIATO for 68. Cecilia played PANGENE for 76 and AEROsAT for 75. Cecilia's win, 451-347.
Close game and a win for Scott Appel (Trenton, NJ), 394-372, with Dave Wiegand (Portland, OR). They each binged: SALIENT, 71, for Scott, and TRENDING, 61, for Dave. As Dave explained, Scott got the blanks at the end and was just hard to stop. They were played small but made enough points to get the win.
Rafi Stern (Seattle, WA) tells me that he played FINFOOTS through the first O this round for a 203-point triple-triple. He's told someone else got a higher one and he's crestfallen. I find out later that Matthew Tunnicliffe (Ottawa ON) did play EXPENdER through the P for 203 points. So, it's a tie so far!
Nathan Benedict (Tucson, AZ) passed the time between rounds sitting crossed leg and reading his Games magazine!