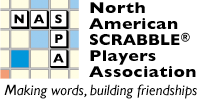 Go to: Commentary Games Players Photos Reports Standings
Back to NSC 2010 Live Coverage
NSC 2010 Commentary: Round 17
[ ]
Go to: Before the Tournament, Round 1, Round 2, Round 3, Round 4, Round 8, Round 9, Round 10, Round 11, Round 12, Round 13, Round 14, Round 15, Round 16, Round 17, Round 18, Round 19, Round 20, Round 21, Round 22, Round 23, Round 24, Round 25, Round 26, Round 27, After the Tournament.
---
Round 17
Two Nigels at board 1 in division 1! It was Nigel Peltier (Seattle, WA) over Nigel Richards (Malaysia). Check out their annotated match this round!
Longtime friends at board 1 in division 2! Mark Fidler (Waltham, MA) vs. Scott Leifer (Middleboro, MA). Early in their game I see Scott's WATTAgE for 66.
Dave Wiegand (Portland, OR) vs. Chris Williams (Vancouver BC). The are concentrating intently, oblivious to me and anything else in the room. It was a very close game that Dave lost to Chris, 426-412. The game was picked up and Dave was walking around contemplatively.
Scott Appel (Trenton, NJ) vs. Brian Cappelletto (Chicago, IL). PATIENCE for 74, ExILIAN for 66, and MIDAIRS/TORSIONS for 70 were Brians' plays. Scott played UsHERED for 99, TORSION for 77, and SOOTILY/ALCADES. It turned out that this last play wast the game. Scott says he thinks Brian felt he had to challenge or he'd lose anyway. It was Scott's win, 497-369. But the game was closer than that score indicates.
On a Kenji Matsumoto (Amherst, MA) vs. Nathan Benedict (Tucson, AZ) board, I see DIAGRAPh, RESILES, and COEXERT. Later on I ask Kenji and he said, "All Nathan. Essentially, any bingo on any board you see me at today means that my opponent played it!"
Will Anderson (Croton, NY) vs. Thavachai Thivavarnvongs (Thailand): MARTAGON, COINVeNT, and SEXIER. All played by Will if I'm reading scoresheets correctly.
Joel Wapnick (Montreal QC) vs. Mike Frentz (Des Moines, WA). Some pretty plays on this in-progress board: TAILRACES, WARISON, RETAINED, TABANID, IDOneOUS.
Robin Pollock Daniel (Toronto ON) vs. David Whitley (Monrovia, CA): MEGASTAR by David and BRAVOES by Robin. She won the game, but the most interesting fact is that at the end of this game, his record was (and I'm not kidding): 8-8-1 +0!
Amnuay Ploysangngam (Thailand) vs. Jason Keller (Highland Park, NJ) (who is in all orange today, including his vuvuzuela#). Jason played uNIRONED, CALIFATE, and SUBsERE. FASHION was Amnuay's bingo and I saw him try LECTONES* for 83, but Jason challenged it off. Jason's win, 462-342.
Scott Jackson (Minneapolis, MN) and Andrew Solomon (Barrington, IL). The game was opened with CWM. Play off that one, buddy! I see TIGLONS and TExTURE for Andrew and ICONICaL for Scott. I'm later told that Andrew won.
Orry Swift (Dayton, TX) vs. Evans Clinchy (Boston, MA): sPUMIER for 84, EJECTORS for 104, and FRIZER for 52 on Evans' side and OESTrIN for 69 and CLANKIER for 90 for Orry. All of this until the endgame that changed it all. Orry opened a lane in the endgame by playing HARTAL thorugh the separated T and L. There was a 1 in 8 chance that Evans would have what he needed and he did. He came down with BUTANES for 75 and binged out, catching Orry with tiles, and winning 492-419. In the endgame chat I heard Orry postulate about playing ARTAL, which would not have left that hook out that killed him. But, it wasn't clear that was best based on what was left at the time he made the decision. Sometimes I wish I had more time to sit and listen to the players reach more solid conclusions, but sometimes they never do. It can be an endless look at what ifs. In any event, a nice game.
It wasn't the bingos that first caught my eye in Jim Kramer (Roseville, MN) vs. Keith Smith (Austin, TX). It was WAZOO and PINUP. Looking a bit longer, I saw Keith's ELATIONS (don't you know an R got slapped down on the front of that!), SAUNTeR, and UNRESTED. Jim played COMETARY and LATRINES. It was Keith's win, 455-437.
The enormity of BADMINTON across the bottom triple called me to the Dielle Saldanha (Richmond BC) vs. Trip Payne (Boca Raton, FL) game. He tells me later that MENTION didn't play, but BAD was on the triple lane, so he tossed down BADMINTON for a few. He also played the fun DOGEARs and Dielle opened with EROdENT and later played SATYRID. I think this was Trip's win, 456-330.
James Henderson (Somes Bar, CA) vs. Brett Haughney (Ashervilles, NC). They are bent in half staring at the board. I see FILArIAL, FUNNIER, TOILeRS, PIROGUE, and EXPENDERS.