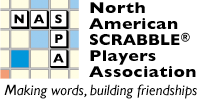 Go to: Commentary Games Players Photos Reports Standings
Back to NSC 2010 Live Coverage
NSC 2010 Commentary: Round 20
[ ]
Go to: Before the Tournament, Round 1, Round 2, Round 3, Round 4, Round 8, Round 9, Round 10, Round 11, Round 12, Round 13, Round 14, Round 15, Round 16, Round 17, Round 18, Round 19, Round 20, Round 21, Round 22, Round 23, Round 24, Round 25, Round 26, Round 27, After the Tournament.
---
Round 20
Dallas Johnson, division 3 leader slips me a note to check out a table in his division. Just as I finish up downloading photos, Priya Fernando (Mississauga ON) steps in front of my table smiling widely. Words gush out about "many bingos" and "it was wonderful" and "you have to see it!" So, we make our way over to her board and a smiling David Goldberg (Loveland, CO) is there. They have had a monster game, both of them! She opened with AFREETS for 78. He replied with TEENAGeD from the T for 80. She then played WINDIEST through the N for 74. Three bingos in three plays. He played small somewhere and her next play was ANNOTATE for 70 and then he played AUREOLE for 66! This is five bingos in six plays. Later on in the game, she played OUTSIDES for 80 and he got away with SHRINERS* for 63. It was her win, 539-430, and her best tournament game to date.
At table 1 in division 3 Mark Rosenberg (Atlantic City, NJ) played Tobey Roland (Baltimore, MD). I noticed PARTIERS, DEALERs, and PEaHENS on their board. After the game was over, I walked over to investigate who had played what and to mention that I'd looked up PEAHEN, since I'd never seen it before (female peacock!!). Sadly, the fact that I don't have a press badge from channel 4 precludes me reporting on any more of their games.
Robert Fenske (San Antonio, TX) has just played a terrific word: DRUNKEST from the D for 104 points in his game this round with Marina A Villena (San Pablo, CA). It turned out to be his win, 433-358.
A note on my desk highlights a big game for Mike Lean (Greenbelt, MD) this round. He had a 579-350 game with Michael Bassett (Port Clinton, OH).
A note about the imbalance of the sexes in division 1 was slipped onto my desk. It says "three women at a table in division 1: the guy is the odd man out."
Evans Clinchy (Boston, MA) vs. Rafi Stern (Seattle, WA). The board is covered in bingos. Evans' PICKEtS for 82 and EREMITE for 72 and Rafi's CANONISE for 72, MANAGERS for 80, OUTsHINE for 80, and ARGALIS for 72. Turns out that four bingos is better than two and Rafi won, 462-428.
Flora Taylor (Hillsborough, NC) and Ted Barrett (JQXZ, NJ) had a real battle in division 4. They played three bingos each in their game. He got down SPORTIER, TROLLING, and SINUATE and she played DOMINES, ENTRANCE, and ADDREST. It was his win, 484-436. Great scores!
Annotating can be invisible and tedious work and no one has ever done it better than Kate Watson and Dee Segrest. They work like a well-oiled machine, silently helping each other if things get out of whack in their games. I can't remember the last time they needed John Chew to bail them out and the software they use can be unforgiving when mistakes compound. So, what I'm saying is that they are terrific! And I'm slightly jealous of them because they really keep elite company up there at the annotated table! I mean, they spend hours a day with Nigel Richards (Malaysia)! Anyway, today I noticed a joke "annotator's tip jar" sign stationed on a bag midway between their computers (Kate as a south paw means they can sit opposite each other on the same side of the table, creating more room for the players). Just to be sure, I peeked in to see what kind of tips they had been receiving and the bag was full of candy wrappers and used challenge slips!