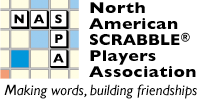 Go to: Commentary Games Players Photos Reports Standings
Back to NSC 2010 Live Coverage
NSC 2010 Commentary: Round 11
[ ]
Go to: Before the Tournament, Round 1, Round 2, Round 3, Round 4, Round 8, Round 9, Round 10, Round 11, Round 12, Round 13, Round 14, Round 15, Round 16, Round 17, Round 18, Round 19, Round 20, Round 21, Round 22, Round 23, Round 24, Round 25, Round 26, Round 27, After the Tournament.
---
Round 11
New notebook!
Joe Bihlmeyer (Durham, CT) brings me over to see his game with Harriette Lakernick (Chicago, IL). She played three bingos in a row: PARTINGS from the P, HUNTINg, and ORBITED. At this point, it was her lead, 414-290. Holding M?AE, Joe drew AOU and began to despair. Then he thought: 5-vowel 8s, concentrate! So, he did and spotted an L on the board around which he slotted MAUsOLEA for a 140-point triple-triple. Good night Irene, or in this case, Harriet. Joe's win, 454-414, since he caught her with KORAIDE.
Sitting at the next board, his game long over, Matt DeWaelsche (San Antonio, TX) told me about playing Scott McDougall (Williamsburg, VA). Matt was able to bingo to win, 410-353, with LINGUAE. Earlier today, Matt played Harriet and had a different result, she won, 467-450. He played a 131-point triple-triple ROSEOLAE and UNEASES for 69, which drew a challenge, and still lost! Her bingos were LINEAGE, CURATES (after playing CURATE the turn before and she reused NO TILES), and the outing MANDATE. We talked about playing closed boards/open boards and he said, "I'd rather go down in a blaze of flames than play one of this constipated games." He was referring to clogged, defensive games.
Lisa Odom (St Louis Park, MN) is heading toward the door for lunch. I ask how she's doing and she smiles and shakes her head. Then she says, "Oh! I have to tell you this great play that Nigel Peltier (Seattle, WA) made! Through an AD, he got down BEHEADING! In the endgame, she'd had her eye on QUIN and fished for a while to get MANNEQUIN, but mean Nigel blocked it by playing RAmEQUIN. She said, have to hand it to him, that was great.
So, I get called over to a completed game between Sammy Okosagah (Baltimore, MD) and Andrew Solomon (Barrington, IL). These two guys are just great! Sammy is so sweet and smooth and Andrew is so quiet and soooo good in this understated way. I look at the board and just about fall over. It is gorgeous. Both of them are proud, but sadly, one of them had to lose, 571-500, and that sad job feel to Sammy. As I'm about to take notes, Bryan Pepper slides the game's notes in front of me. Sammy played DILUTiVE for 69, ELOTAGES for 62, and TOWNIES for 113. He also front hooked DIS to QUIETEd to the triple for 57. This little move cost him the game, because from those three little tiles, THREE bingos fell down from heaven onto Andrew's rack: AROINTED to the D for 80 on the triple, ARACHNID from the A for 101 on the triple, and ROYSTERS through the S for 66. Oh, and Andrew played two other bingos: NIOBITES for 76 and QUIETEd for 100. Sammy was a great sport, but he'd had enough and he headed out to lunch. A pretty blonde overheard him in the foyer on his cell phone saying, "Marlon, dude, it's not going good"
Ken Kasney (Cypress, TX) vs. Mike Frentz (Des Moines, WA). Ken opened with OUTLIVE for 78, then got down ENTAILER for 72 and AMNESIA for 73. Happy to join in on the bingo madness, Mike slapped down FABLERS for 95. Due to high-scoring shorter plays, Mike was only down by 20 at this point. A few turns later, Ken got down SCALDINg through the L for 72, emptying the bag and getting AEIUDTX. Mike then bingos out with ReINVENT through the first N for 74, and wins, 446-433! Wow!
Rod MacNeil (Cambridge, MA) vs. Darrell Day (Richardson, TX). These two are super seriously pouring all their attention into their game and I can't really see a scoresheet. On the board I see HAIrIEST, SUBTILE, REDYINg, TIEBACKS, and the nonbingos but fun VALORY and DEZINC. About 5 minutes later, I see Darrell walking toward the director's table and I take a gander at the score, 431-413, Darrell's win.
Rafi Stern (Seattle, WA) vs. Scott Appel (Trenton, NJ). Rafi got down REDHEaD for 101, kABUKIS for 75, TACNODES for 86, and APLITES for a 92-point double-double. Scott played LANNERET for 77 and the outing ERRATIC for 65. Rafi's win, 537-378.
Sam Rosin (Bernardsville, NJ) and Pakorn Nemitrmansuk (Thailand) are picking up and moving tiles all over. I can't tell heads from tails. At one point, Pakorn puts his name down on the board and asks me if I think it is good. Smartypants. Their endgame analysis was so obtuse, ongoing, and subterraneanly deep that I could not get a toehold. What I do know is that Sam's final rack was kind of a Hawaiian nightmare: NENENEG!
Jason Randolph (San Antonio, TX) defeated Bob Vanech (Venice, CA) this round, 466-334. Jason's club director walked over, Matt DeWaelsche (San Antonio, TX), and I leaned into Bob and he said, "they sure grow 'em big in San Antonio, don't they?" Jason and MAtt are both about 6'5" in stocking feet. I see WHUP on the board and Bob says, "Yes, it's good, yes I challenged it. But it's all okay, Tristan Vanech (Venice, CA) will beat him for me."
Post-it notes are multiplying and having babies on my desk. One says, "Dave Leonard (Kenmore, NY) vs. Bradley Robbins (Windham, NH), 503-296, Dave's win." Another says to check out the blowouts in division 2 this round. We've given Mary the title of Queen or Queen Mother of the event. She's taking this pretty seriously and is drawing crowns and or scepters on her notes so we know just who they are from!
Katya Lezin (Charlotte, NC) and David Hollman (Statham, GA) have saved their board for me to see. It is, sadly, David's second game in a row in which he's played three bingos and lost! I see his INSULATE, SENOpIA, and PINIEST and her SANDIER, CLOUDIER, and LIGATED. Of this last play, Sam Kantimathi (Sacramento, CA) walks by and says, "Hey Sherrie, do you know the two-letter front extension of this word?" I pause to look and think. He then says, "don't feel obligated to tell me now, just think about it." Gullibly, I nod and decide to think about it later and then this dawning realization comes over on me and I point at him and crossly say, "Making fun of me is like shooting fish in a barrel! It isn't fair." Duh, the word is OB-LIGATE. Anyway, Katya won, 491-434. She was off with her gorgeous kids doing lunch already by the time I happened by that board.
David Hollman (Statham, GA) tells me the three bingos that led to his loss last round: THINKERS, HERNIAS, and ELUSION. 393-431.
Kevin Leeds (Austin, TX) played Michael Baker (Portland, OR) this round and he'd spent much of the morning thinking about the announcement of the prize for the best two-R bingo in honor of our two lost SCRABBLE friends: Rose Kreiswrith and Rita Norr Provost. He had EIONRR? and played RoTORIES. Mike challenged. The word BIG went down and from that I Kevin played INTERIOR. Through the final R he found FRUITIER. Not a total slouch, through the first R in INTERIOR, Mike played PREDiCTS. But the point of all of this is that Kevin played TWO two-R bingos in this game: ROTORIES and FRUITIER! Yeah Kevin!
I run into Mike Baron (Corrales, NM) who has spent much of the morning at the annotated top table. He's feeling good and I think he enjoyed himself. He just lost to Orry Swift (Dayton, TX), 514-257. I invite you to check out that game in the annotated game section.
Before she headed out to lunch, Cara Canik handed me the standings after round 9 and said, "It is going to be an interesting lunch." I looked closely and saw, Stephen Sneed (Fort Worth, TX), Matt Canik (Austin, TX), and Joey Krafchick (Roswell, GA) in 11th, 12th, and 13th place! Go School SCRABBLE players!
More love notes: "Back to back plays by Yolanda Ushry (McDonough, GA) which were challenged by Marina A Villena (San Pablo, CA): OUtSOLVE* and OUtLOVES. "
In round 10, Risa Horowitz (Richmond Hill ON) defeated Ron Barker (Boise, ID), 578-299. Now THAT is a board I would have loved to see!
Funny incident submitted to me, "Rhonda Morris (Oklahoma City, OK) in round 8 binged out with the word ORGASMIC, and she won the game. Afterwards, her friend Carl Solomon (Edmond, OK) commented, 'I guess that was the climax of the game?'"