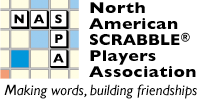 Go to: Commentary Games Players Photos Reports Standings
Back to NSC 2010 Live Coverage
NSC 2010 Commentary: Round 25
[ ]
Go to: Before the Tournament, Round 1, Round 2, Round 3, Round 4, Round 8, Round 9, Round 10, Round 11, Round 12, Round 13, Round 14, Round 15, Round 16, Round 17, Round 18, Round 19, Round 20, Round 21, Round 22, Round 23, Round 24, Round 25, Round 26, Round 27, After the Tournament.
---
Round 25
Katya Lezin (Charlotte, NC) is feeling a bit bad about her streak of good luck in a game this round with Barbara Santee (Tulsa, OK). This may be a first ever for Katya, so well worth shouting it from the rooftops that she played four bingos in a row: UNCOWED* for 72, REELINGS for 61, SPATTED for 77, and NUTTIEST for 58. After the flurry ended, Barbara deadpanned, "Where do you keep the body bags?" She managed to get a couple down herself: NAIVETE for 72 and MISGAGES* for 76.
With a combined age of 30, Hannah Lieberman (Charlotte, NC) and Ted Barrett (JQXZ, NJ) fought it out in division 5. REUNITES through the U for an 82-point double-double, NARRAtE for 78, and TAENIAS for 69 were 16-year-old Ted's better plays. Hannah struggled with "so many unplayable bingos," but she did get down THRIFt to the triple for 41. The 14-year-old lost this one, 325-408.
Laurie Cohen (Tempe, AZ) gets her crack at Nigel Richards (Malaysia) at the annotated board 1 this round. The game is about 3/4 of the way done, 363-387 (not sure who was ahead then), and Laurie was doing a careful recount of tiles to verify tracking, I think. I find out later that she beat him! What a morning for her! She split games with Brian Cappelletto (Chicago, IL), defeated Dave Wiegand (Portland, OR), and now Nigel!
Game in progress between Mike Baron (Corrales, NM) and Rafi Stern (Seattle, WA): SUGArING, THEROID, and BEDIMMED.
Table 1, div 4, Richard Spence (Tucson, AZ) vs. Laura Rickhoff (Saugus, CA): SoBERED.
Trevor Sealy (Oshawa ON) vs. Mike Lean (Greenbelt, MD): VAnGUARDS and ARISTAE.
John Lauck (Hermiston, OR) vs. Nancy Bratcher (Lavon, TX): gIRLIES, DETAINED, OUTAGeS.
Jack Allard (Pryor Creek, OK) vs. Phyllis Spence (Tuscon, AZ): NABBERs, UNGEARED, SUNSETS, and DROOLINg.
A 512-416 victory for George Asaka (Omaha, NE) vs. Daniel Citron (Chicago, IL) at table 1 in div 3. Daniel played REQUIRED and ESTRAGON and Geroge played SOLITArY, INHAULER, AREOLAE, CIBOULEs, and CLEMATIS.
Brett Haughney (Ashervilles, NC) vs. Lucas Freeman (Delaplane, VA) in division 1. With Brett's three-bingo lead, Lucas knew he needed something magical to bring himself back into the game. So, Lucas fished for and got the tiles to play MICROFILARIA, but the play was blocked. I'm having a hard time figuring out how it would have gone down because FILARII* was the first play made and when VANDa/FILARIID when down, that made the base word acceptable. Oh well, maybe it was just a dream play that got his mind thinking. On their board I see Bret's INPHASE and STORMED and Lucas' AEROSOL. Big win for Brett, 547-272.
We had a camera failure last night and the photo of Conrad Bassett-Bouchard (Moraga, CA) receiving his full director NASPA certificate was totally black, so Conrad brought the certificate in today and let us recreate his award presentation. Go Conrad!
Sam Kantimathi (Sacramento, CA) played Ross Brown (Ottawa ON) this round in a corner of division 1 that I never seem to visit. ACTUAL was on the board in the right top triple lane. Ross extended it to ACTUALITIES! An 11-letter word is sure pretty! Though it was Ross' win, 430-412, I see Sam's 74-point ILEX on the triple and COISTRIL. A quote from Sam about this bingo, "as if I was going to miss it."
Sam Rosin (Bernardsville, NJ) is just such a nice kid. He was rubbing his hands over his face and his hair, standing above his just completed game with Sammy Okosagah (Baltimore, MD). It was a "down to the endgame" type of situation. Sam had tracked Sammy to MDSTONE and he knew he needed to block ENDMOST. There were two spots, but my playing vertically in the top middle-right area of the board, he could block both bingo lanes (or so he thought) and down went QUIRES to the S. Sam was stunned to see he'd missed seeing the possibility of MUDSTONE through the U he'd put out. So, Sammy binged out and won, 451-439. Sam congratulated Sammy on the play and at the same time contemplated what he could have done in the alternate universe where he saw that ahead of time.
Nigel Richards (Malaysia) just whipped up on Pakorn Nemitrmansuk (Thailand), 494-366. IODIZERS for 72 and RETIRANT for 66 were Pakorn's bingos and CHESTNUTS, REWIDEnS, and BOTTLED were Nigel's better plays. Both sweetly shy and polite, they complimented each other on their good play. Nigel's wearing a shirt that says Jenius* today.
On a completed board between Cecilia Le (Boston, MA) and Orry Swift (Dayton, TX), I see ?MISSARY and RIFLINGS.
Denise Mahnken (Long Beach, NY), of playing with Tristan Vanech (Venice, CA), commented, "I just lost brain cells playing him. I won, but it nearly killed me."
Everyone is off to enjoy some down time and lunch. There is a feeling in the air that we might need to Gibsonize Nigel Richards (Malaysia) before the day is over; he is playing that phenomenally. We are trying to remember if/when that has ever happened before at the NSC.