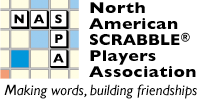 Go to: Commentary Games Players Photos Reports Standings
Back to NSC 2010 Live Coverage
NSC 2010 Commentary: Round 22
[ ]
Go to: Before the Tournament, Round 1, Round 2, Round 3, Round 4, Round 8, Round 9, Round 10, Round 11, Round 12, Round 13, Round 14, Round 15, Round 16, Round 17, Round 18, Round 19, Round 20, Round 21, Round 22, Round 23, Round 24, Round 25, Round 26, Round 27, After the Tournament.
---
Round 22
To entertain himself, Bryan Pepper went through one of the challenge slip boxes before play today. He found two slips side by side. One was EOSINES/TORIS* and the other PEONIES/TORIS*. He concluded that the person playing was unclear what the phony was. Then, he held court with about 20 players, going through the slips, playing America's favorite game, "Acceptable/Unacceptable." He and the players laughed at some of the words tried. It was clear what was a desperation play, what was a flash of insight play, etc. The kids were loving this game. But sadly, Bryan had to report for the staff photo. He figures he will do the game tomorrow morning, too.
Several folks came up to the center tables to talk about John Merlau last night on the karaoke machine! Perhaps the best of his many renditions may have been U2's "Where the Streets have No Names."
Mark Milan (Laguna Niguel, CA) tells me that he played one tile, the blank, for one point yesterday. The I was on the board and played kI. This innocent little play was a mastermind of board control, because it set up an unblockable S hook. Holding the case S, he then bingoed out with VARIOUS/SkI and won the game by 8 points. His opponent Debbie Stegman (Kew Gardens, NY) took it all in good stride, or so he thought. A few minutes later in the foyer, Chris Cree (Dallas, TX) shook Mark's hand and said, 'kI for one point, huh? Good going!" So, clearly, Debbie had been talking!
Michael Baker (Portland, OR) is hoping for a high nonbingo prize. He got down GLAZED for 111 points.
Two of the same story here. A note on my desk says, "Tom OLaughlin (Hartland, WI) played an entire game with no Es." On the same vein, Mark Przybyszewski (Depew, NY) came up to my table to show me his scoresheet. He'd just lost to Will Anderson (Croton, NY), 416-438, and this was done without one E! Mark played INFORMS, ZOOM for 69, and the outing SALUTING, but it wasn't enough to stem the tide of the E-monster with his bOISERIE, ADENITIS, IsOHYET, and BACTERIA. Grats Will!
At table 1, Nigel Richards (Malaysia) and Rafi Stern (Seattle, WA) are discussing their game, just finished. A 401-348 win for the Kiwi. I offered to hand in their slip so missed the gist of it all.
The divisions other Nigel, Nigel Peltier (Seattle, WA) had a tough game this round with Chris Lipe (Rome, NY). Nigel opened with BALAUD and Chris proceeded to bingo-bongo with COLUREs/BELAUDs and then INCHOATE. After this, Chris proceeded to draw all four Ss. At one point, Chris was ready to slap down SADNESSES. Speaking of slaps, Nigel ended up blocking the lane, and Chris is pretty sure he might have been decked had that play gone down. This is all said jokingly, of course.
Joey Mallick (Cape Elizabeth, ME) vs. Peter Armstrong (Milwaukee, WI). Peter binged out with IRONWoOD to the D and still lost by 6 points once he'd counted the tiles on Joey's rack, 390-396. Joey played TOvARICH. Of that out-bingo, Peter had set up another bingo lane, and Joey blocked it with EONIAN. Endgame analysis showed that AEON in the other spot would have been a better block, but in that universe, Joey would have had different tiles or some sort of other logic-blocking situation.
Quiet success story, Chris Williams (Vancouver BC) is once again banging on the doors of the first row of division 1 players. He squared off with Scott Appel (Trenton, NJ) this round and lost, 399-452, but he did so with style. While Scott opened with TELSONS for 66 and played CLEAVES for 86 and PAININg for 88, Chris played VISITORS for 64 and the fun LInGERIE for 89 on the triple.
Three cheers for Laurie Cohen (Tempe, AZ), the quiet expert from Arizona. She just defeated Brian Cappelletto (Chicago, IL), 402-357. Brian opened with PYXIE (don't we all know our PX fives?) and she replied with BAPTISTS. She also got down WANGLED and SANDIER which were enough to keep him down even with his late-game STOURIE. I see the blanks came late and were played for small change.
Orry Swift (Dayton, TX) had a heartbreaking 2-point loss to Dave Wiegand (Portland, OR) this round, 457-459. I see Orry's EMOTING, VOLITiON, HOARSER, and Dave's NUBbIEST from the N and RESEDAS down the triple lane. Scott Appel (Trenton, NJ) happened by and Orry discussed some endgame tile picking challenges.
John Fultz (Savoy, IL) is waiting for his next game to start and he's typing into his little netback, probably looking up words. I notice that I've seen John often this event, taking minutes at meetings (he does this very well), but he's been on a different laptop.... maybe a larger laptop? So, I ask. Turns out I'm not the only one to travel with two laptops to nationals! He says he loves the netback, but he's unable to type fast enough on it to take minutes. BTW, thanks John for your volunteer work and for summing up our committee thoughts.
I catch Bradley Robbins (Windham, NH) starting his next round's game against Carl Solomon (Edmond, OK). Not one for the "move the tiles around" style of play, his seven tiles are just barely in the rack. They are upside down, sideways, and one tile was literally standing on one corner. He doesn't need to move them around to see plays. He just uses the magic powers of his mind to anagram.
Note on my desk, "Arun Methaset (Thailand) just earned a 498 against Carl Solomon (Edmond, OK) who had 236. Arun has a bye for round 23."
The Town Hall meeting was held last night in the playing room. Chris Cree and John Chew, as NASPA copresidents, gave the state of affairs as they are now. A representative of most of the NASPA committees sat on the stage: Dallas Johnson, Mary Rhoades, Jan Dixon (Newark, DE), John Chew, Siri Tillekeratne (Calgary AB), Tony Leah (Ajax ON), and John Robertson. A short synopsis of what each committee had done this year was made and plans for next year discussed. Questions were then taken from the audience, with John Robertson acting as a sort of moderator with a timer set to 3 mins. Each person got only 3 minutes to ask a question. I'm happy to say, he didn't have to use the hook once! Questions ranged from rating tournaments to length of games, to cost of director test kits, to questions about committees not discussed from the podium. John Fultz (Savoy, IL) took minutes that will be made available, and I'll point out where they are when they get somewhere. There is good news though! Lower fees to join NASPA next year, ways to lower annual rates by $5 a year for 5 years, lower fees for students, for those who play in less events, and so much more! Also, two new members at large of the Advisory Board which will be voted on by the membership in the next year! More to come!