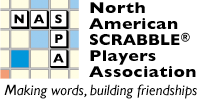 Go to: Commentary Games Players Photos tsh Reports Standings
Back to NSC 2011 Live Coverage
NSC 2011 Commentary: Round 15
[ ]
Go to: Before the Tournament, Round 1, Round 2, Round 3, Round 4, Round 5, Round 6, Round 7, Round 8, Round 9, Round 10, Round 11, Round 12, Round 13, Round 14, Round 15, Round 16, Round 17, Round 18, Round 19, Round 20, Round 21, Round 22, Round 23, Round 24, Round 25, Round 26, Round 27, Round 28, Round 29, Round 30, Round 31, After the Tournament.
---
Round 15
Last night, Division 1 leader, John Robertson, headed the NASPA director's meeting. It was a 90-minute gathering attended by 55 or so NASPA directors. Topics discussed ranged from attracting new players, keeping existing players, growth of NASPA overall, Code of Conduct consistency, and so much more. Look for minutes soon! The meeting was fun, but the reception afterwards was even better. A salon on the first floor was opened just for directors and their guests. Light appetizers were offered on doily-lined silver trays and an open bar with soft drinks and wine was made available.
Heading into the room ten minutes after the start of games, I see Chris Lipe (Rome, NY) wandering outside the playing room, his face buried in an iThing. "Why aren't you playing?" I ask. "I did," he responds — apparently his game with Leesa Berahovich (Berkeley, CA) ended after six turns of zero. Holding CANZONS, needing an A or an E for CANZONAS or CANZONES, she made a clever opening play of ZONAS* for 48. It came off the board, and Chris, holding ELORSTU, traded the U. Assuming a trade-one rack would contain the needed E, Leesa passed, planning to bingo back after Chris drew a bingo. Chris pulled an R, and chucked it, and Leesa passed again. Chris, having pulled TOLLERS, passed to end the game, and the final score was -7 to -18. This combined score of -25 sets a new NASPA record as the lowest-scoring game in the books. Coincidentally, the division 1 leader, John Robertson, was the director in Albany, NY, in the summer of 2010 when the last lowest record was set: Marlon Hill vs. Ben Schoenbrun (Ardsley, NY), combined score of -22. Of the game between Chris and Leesa, John Robertson said, "Did you hear that Chris Lipe 'millioned' someone?" Seeing my blank look, he explained, "yeah, those six zeros... "
Table 1 in division 2 featured a couple youngsters: Bradley Robbins (Windham, NH) vs. Richard Spence (Tucson, AZ). I see HEIsTER and POIsING. Later on, ACROGENE* went down and Richard let it stay, knowing he could win even with Bradley getting those points. After the game ended, Bradley challenged Richard's out play (it was good) and then asked for a recount. They went from a 390-386 win for Richard to a 390-385 win.
In the battle of the Nigels, Nigel Richards (Malaysia) proved to be more Nigel-y than Nigel Peltier (Seattle, WA). It was great fun to see them quietly slogging away at table 2 in division 1. The play that impressed the younger Nigel was HORTAtORY by the NSC/WSC champ. Younger Nigel got down ENDOSTEA and LAWSUItS, but it was a 443-381 for the other Nigel.
The two best dressed players in division 1 this round squared off against each other. It was the battle of the blue pinstripes. As it turns out, Robert Quigley (New Haven, CT) had the better game this round, defeating Chris Cree (Dallas, TX), 402-376.
Division 4's top table featured Joyce Stock (Rocky River, OH) vs. Emily Lichtman (New York, NY). I see OPINeRs* and TREENAILS on their in-progress game. Later I find that Joyce won.
Nola Hembrook (Marshfield, WI) took on Mike Lean (Washington, DC) at table 1 in division 3 this morning. I see INSTATE, WAITRONS, and CALIPHS on their board. It was his win, 392-331.
Michael Bassett (Port Clinton, OH) vs. Patricia Hiller (Austin, TX): mENTIONS and SWIPERS on their in-progress game. It is worth noting that Michael looks great. He was pulled up to the table with both legs underneath and a passerby could not even tell that he'd had surgery and a cast. Not only did he come back to play yesterday, he hung around and participated in the after-hours Directors Meeting.
Never forgetting for a moment that they were playing a fun game, Noah Lieberman (Charlotte, NC) and Linda Villarreal (Unknown city, TX) returned from the challenge machine laughing. Their game ended a few moments later and both of them were grinning widely. I see ATELIER, BOATINGS, and CASTeRS on the board. It was his win, 373-337. Noah tells me that for some cultural fun, his mom, Katya Lezin (Charlotte, NC), and sister, Hannah Lieberman (Charlotte, NC), went to see a theater performance of Little Shop of Horrors at the Water Tower Theater. Upon hearing him tell me this, his mom walked by and offered to have Hannah sing the whole show to me since she knows it by heart. Maybe at lunch time?
Three Canadians at one table in division 3: they can't be up to any good! They are all laughing, actually. Mad Palazzo (Richmond Hill ON) is playing Hans Oh (Mississauga ON) and I see WREAKINg and FOOTREST on their board. They are playing with the Canadian Championship Protiles, distinguished by the maple leaf on the blank. How positively patriotic. At the next game, Diane Brown (Toronto ON) was taking on the fierce Susan Love (USA), don't let her name fool you!
Today is the "Wear Orange Day," an annual event started and kept going by Jason Keller (Highland Park, NJ), who is a huge fan of that color. So, today, from head to toe, he is clad in orange. I greeted him and wished him a good morning and said to myself, "did he just bat his eyes at me?" Upon closer examination, I saw why he did this: Terry Kang Rau (Hudson, NY) had opened her magic makeup pallette and applied orange eyeshadow to his lids. He is now even more orange, dude.
Gene Tyszka (Mississauga ON), suffering from the warmth more than most, approaches me with a towel around his neck. He looks like a prizefighter's ringside coach! He smiles and says, "Well, the younger brother (referring to Kenny Hoang (Cary, NC)) beat me by two points earlier in the tournament and now his older brother (Andy Hoang (Cary, NC)) just beat me by 135!" Andy played three bingos, including GRATINEE, which drew a challenge from Gene. He said he was able to swallow his pride and admit defeat. Gene is the top seed in the division.
Michael Thelen (West Jordan, UT) had eyes the size of silver dollars, when I walked by his game with Randall Thomas (Calgary AB). So, I pulled up a seat and watched them play their last racks. It was a 641-325 win for Mr. Zyzzyva! The whole romp started a few moves in when Michael played KHOUM for 40, then the steamroller continued: INHERITS, REIGNING, SCARIOSE, EtErNISE, and REINDENT*. This is five bingos in a row, followed by XU for 52. Of the game, Randall said, "After the third bingo, I could tell I was in trouble because there were no blanks played yet." Randall did play JUST for 57 and KEBAB for 42 on triples and he kept in it, but not enough in it!
Ted Gest (Washington, DC) finds me, having just played Doug Lundquist (Chicago, IL). He told me how Doug was using new tiles he'd not used before and he was worried about them. He was so busy fretting, he was kind of missing just how awesome his drawing was with them! He got a bingo/bango/bongo of KINEMAS, SOOTHED, and MUTINOUS. A 586-242 win for Doug!
Kenji Matsumoto (Aiea, HI) had a nice game against Bradley Whitmarsh (Attleboro, MA) this round. Nice in that Kenji played four great bingos: STATING, SIMULARS (which drew a challenge), CLAMORED, and tEAWARE. Bradley played the fun double-double OVULATE, RETAINER, and NIOBIUMs. He also front hooked to make UNSTATING to the triple. Kenji's win, 474-410.
Martin Weisskopf (Huntsville, AL) tells me of a disturbing phenomenon. He is here, as always, with his lovely wife, Mary Ellen Weisskopf (Huntsville, AL). They are noticing a distinct and disburbing phenomenon so far. If he wins, she loses and if he loses, she wins.... So.... they are in a bad codependent win/loss cycle. I wish for them some intervening witchcraft to shake this thing up.
And so, the giant has fallen. And to an earth science graduate student from Berkeley. Jesse Day (Berkeley, CA) did what no one has been able to do for two days: defeat Joel Sherman (Bronx, NY). Dan Stock wrote a second tableau for Joel, where it mentions his 14-game winning streak. As he put it up this morning, he said to himself, "I sure hope this doesn't jinx Joel... " So, Joel has someone he can blame now! Anyway, of this win, Jesse said "I have been the luckiest human being on this planet." Joel jokingly said, "Yeah, he's a Lou Gehrig for sure!" Jesse won, 478-387 and has been averaging 457 per game at this NSC. Please do check out their game in the annotated section of the web site! Sam Kantimathi (Sacramento, CA) played VeRMEIL hoping to draw a challenge from his opponent this round, Alan Stern (Shadow Hills, CA). At game's end, Alan explained that though he is now a coach of a different team, for years Dick Vermeil coached the Los Angeles Rams and of course Alan knew that word! Sports and SCRABBLE, they are like this (fingers entertwined).
Go to: Before the Tournament, Round 1, Round 2, Round 3, Round 4, Round 5, Round 6, Round 7, Round 8, Round 9, Round 10, Round 11, Round 12, Round 13, Round 14, Round 15, Round 16, Round 17, Round 18, Round 19, Round 20, Round 21, Round 22, Round 23, Round 24, Round 25, Round 26, Round 27, Round 28, Round 29, Round 30, Round 31, After the Tournament.
---