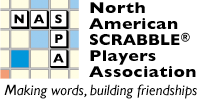 Go to: Early Bird Commentary Games Players Photos tsh Reports
... Scoreboard (A B C D CSW) Standings Prizes
Back to NSC 2012 Live Coverage
NSC 2012 Commentary: Round 7
[ ]
Go to: Before the Tournament, Round 1, Round 2, Round 3, Round 4, Round 5, Round 6, Round 7, Round 8, Round 9, Round 10, Round 11, Round 12, Round 13, Round 14, Round 15, Round 16, Round 17, Round 18, Round 19, Round 20, Round 21, Round 22, Round 23, Round 24, Round 25, Round 26, Round 27, Round 28, Round 29, Round 30, Round 31, After the Tournament.
---
Round 7
Matt Canik (Austin, TX) walks up, his hair mussed, and says, "I've played 10 bingos in two games and won both games!" Good news! He clears his throat with mock oral preparation and says, "I played TEAPOTS, TRUNDLER through the U, rAWHIDE, SIGANID, and VOMERINE (against Ryan Fischer (Charlotte, NC) scoring 556) and OUTRIDE, CRANKIER, OUTDARES, SHAGGED, and PLEUSTON (against Jason Li (Dollard-Des-Ormeaux QC) scoring 534). We both agree he's a lucky kid.
k8 says:
Div 1 boards are starting out a little boring this round, though MASJIDS opened in Stefan Huber (Tampa, FL) vs Jeff Fiszbein (South Lyon, MI).
Ian Weinstein (Coral Springs, FL) and Nawapadol Sayavesa (Thailand) have a seven bingo game: Ian gets EXITLESS, REPROVE and EDITORS, Nawa has RUDDIeST 3x3, HOTLINES, WATERILY and a late HOArDING to take the win.
Cynthia Pughsley (Oakland, CA) plays a stylish FEDeXINg for 102, slotting the X on a DLS and playing through a DWS for 102 in division 2 vs David Engelhardt (Baltimore, MD).
Marcia Richards (Centreville, VA) bingos with the 9 FEsT(ER)ING and is rewarded with bango ISOLInE, though the latter gives Martin DeMello (San Francisco, CA) PARASAIL as a snapback bingo. Sherrie adds: later, Martin tried hooking a word that made FESTERINGS*, but it was challenged off. This surprised a few afterwards, because -INGS bingos are so prevalent in Collins. I also spotted TOISEACH. A 429-374 win for Marsh and a crowd of interested onlookers in the endgame chat.
Andrew Golding (Verdun QC) and Joel Wapnick (Montreal QC) teach me a third new KATE bingo: KALINITE#. this tournament is great for confusing/enhancing my word knowledge. Other cool # bingos this round: WAREHOU# Orlet Bullock (Miami, FL) vs Robert Linn (Potomac, MD) and TAUIWIS# Brian Bowman (Villa Hills, KY) vs Ezekiel Markwei (Miramar, FL). I also saw JAFA# on a board this round, which is a fun one (right up there with YABA#).
Tomorrow, Kate is going back to Harry Potterland. I know you'll all miss her commentary for a few rounds.
Back to Sherrie: Kristen Chew, who has spent most of today assisting Dan Stock in division 3, tells me, "Lila Crotty (Metairie, LA) of her own volition at lunch and after play today came and cleaned up division 3, helping to push in chairs, clean papers, and to help make everything look neat. She did it because her husband was busy doing data entry and she wanted to be useful while she waited. I, for one, am very thankful and appreciative."
Katya Lezin (Charlotte, NC) has come to the NSCs, School SCRABBLE Championships, and a ton of smaller regional tournaments with some sort of subset of her three children: Noah Lieberman, Hannah Lieberman, and Eliza Lieberman (Charlotte, NC). This NSC is Eliza's turn: she is the sole Lieberman here. She won her first game today in part by playing a 92-point bingo. She was too modest to tell her mother what it was, but good for her! While Eliza is seeking her second win, Katya ends today 5-2 and in great spirits. Even after 7 games of SCRABBLE, her eyes have that sparkle: she is off for some fun! I think she's looking forward to more pool and ride time before the event ends! We miss Noah and Hannah!
So, I watched David Gibson (Spartanburg, SC) wait for his round 7 opponent and suddenly Dave Wiegand (Portland, OR) appeared. They both play precisely and quietly and I waited until they were done to even approach. It was a DG win, 433-369. Typical DG, he pointed out DW's better plays: RISOtTOS on the triple and the fun OXEYE in a dangerous spot that opened two triples. Behind, DW had to do it. And wouldn't the bad luck bat hit and he picked 5 consonants. He could never really dig himself out of that quagmire of imbalance. I've seen DW play a lot of people and there was something sweet about this game: sitting down to play a game with a master isn't a situation he finds himself in all that often.
One of the twins in division 1 is at the annotated table 1! Charles Reinke (Middleton, WI) is playing [ERROR: no such id: jerrylerman}. Check it out in the annotated game section!
[cbb] vs. John Karris (San Jose, CA): SyBARITE, ENLISTED, ENDORSER, pAROTID are on the board. A Conrad win, 428-394.
More CSW: Eric Kinderman (Burlington, VT) vs. Geoff Thevenot (Austin, TX). I see Eric's AgATOID, LAMITER*, and the fun SEIZINGS to ZINGS on the triple lane. Geoff got down VEcTORED and earned the win, 438-411.
I was asking for it, I know. Sam Kantimathi (Sacramento, CA) vs. Sam Rosin (Bernardsville, NJ), and I ask, "who won?" You know it, I hear "Sam won." After the hilarity died down, I learned it was SK over SR, 457-427. I saw hEATHEN, MaRVIEST# (tell me that isn't fantastic!), PUCKA, and BLYPE. SK ends today 7-0 and the only undefeated player in the NSC's inaugural CSW event. A fantastic moment to be Sam it is today :).
It is extremely nice to see Robert Kahn (Plantation, FL) at an NSC again. He's had to miss a couple and we're happy to see his smiling face. He tells me that today has been a challenge with only two Ws on his card. But, there was a crowning moment. In game 7, in his final rack he had some nice tiles. The board had no openings for 7s or 8s. Just as he was cursing his luck, he saw it. And it was STEROIDAL to an AL! Add that to his earlier 90-point ZANy and he earned his second win of the day!
About midway through this game, the daily thunder rolled in and we could hear it outside. Sure enough, it rained some cats and dogs, but it was only raining lightly by the time we broke after the third game in the afternoon session.
Saturday Evening
John Robertson, div 1 director, led a trivia game in the ballroom tonight starting at 8pm or so. About 7 teams of 7 players took part. Mr. Jeopardy Champion, Jason Keller (Highland Park, NJ) helped craft some of the questions, so he wasn't on any of the teams.
At 8:30, I headed across the hall to listen to the hootenanny hosted by our activities director, Ally Ching-Chew. On her hand-crafted instrument (a 4-string mandolin/guitar/ukelele she had a British Columbia-based luthier craft for her) and her husband, Ted Chew on violin/fiddle. It started slow, just the two of them, and their son, Ian, jumped in and danced a jig! Fantastic! :) Other musicians trickled in, Supriya Devnani (Orlando, FL), who did an acapela Indian song; Chris Cree (Dallas, TX), who did several Neil Young, Beatles, and John Denver songs; and Robert Felman (Nokomis, FL) on clarinet. Any song, Robert and Ted played to, they are both so versatile! We sang along on many of the songs and clapped loudly, which encouraged more hallway onlookers to come in and check us out. I can honestly say that this was one of the best after-hour events we've ever had at an NSC. So relaxing! Thanks Ally for organizing!
Go to: Before the Tournament, Round 1, Round 2, Round 3, Round 4, Round 5, Round 6, Round 7, Round 8, Round 9, Round 10, Round 11, Round 12, Round 13, Round 14, Round 15, Round 16, Round 17, Round 18, Round 19, Round 20, Round 21, Round 22, Round 23, Round 24, Round 25, Round 26, Round 27, Round 28, Round 29, Round 30, Round 31, After the Tournament.
---