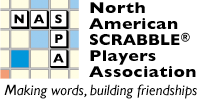 Go to: Early Bird Commentary Games Players Photos tsh Reports
... Scoreboard (A B C D CSW) Standings Prizes
Back to NSC 2012 Live Coverage
NSC 2012 Commentary: Round 2
[ ]
Go to: Before the Tournament, Round 1, Round 2, Round 3, Round 4, Round 5, Round 6, Round 7, Round 8, Round 9, Round 10, Round 11, Round 12, Round 13, Round 14, Round 15, Round 16, Round 17, Round 18, Round 19, Round 20, Round 21, Round 22, Round 23, Round 24, Round 25, Round 26, Round 27, Round 28, Round 29, Round 30, Round 31, After the Tournament.
---
Round 2
The aforementioned Kate Fukawa-Connelly has been out and about and writing down plays she is seeing. It is with horror that I report that she said, "This is way more fun than actually playing SCRABBLE." To which I said, "Don't get too used to it, Kate, we need you winning this thing next year!"
This round she spied CORdOVAN on a Matthew Bernardina (Durham, NC) board. MANLIER and ANTISEX on a Judy Cole (Concord, MA) vs. Cynthia Seales (Stone Mountain, GA). On a Jeremy Hildebrand (Ottawa ON) vs. Zbigniew Wieckowski (Woodbury, MN) board she saw DIDDLiNG, nice use of three Ds.
CARkAJOU* on a Robin Pollock Daniel (Toronto ON) vs. Eric Goldstein (Scarsdale, NY) board. She got away with it.
On a Dave Wiegand (Portland, OR) board: TRUeLOVE. On a Michael Thelen (West Jordan, UT) board COPYGiRL.
Will Anderson (Croton, NY) vs. Win Inthara (Orlando, FL): OUTBLEAt.
MORaLISER* a phony 9 in division 2.
In the Jesse Day (Berkeley, CA) vs. Jesse Matthews (Kelowna BC) matchup, Day took the day, 509-399. Matthews said, "He always gets me." I see VESICAE, QINDARS, REEKInG, eRGOTIC, and the fun PROROGUE down the triple. This came about after JD played TABORIN one short of the triple. He admitted he was nervous since it has a few hooks, and was relieved when all JM could get down was ROGUE/TABORING. A few turns later, JM front hooked with PRO to make PROROGUE on the triple. Nice play.
By the time I happened on the Win Inthara (Orlando, FL) vs. Will Anderson (Croton, NY) board, I saw TRIABLE, too.
In progress, Orry Swift (Houston, TX) vs. Jim Burlant (Grapevine, TX): SNOUTIER, ETALONS, AbSINTHE, DEPOSIT, and NUNNERY.
A 575-308 win for Ian Weinstein (Coral Springs, FL) vs. Richard Popper (Wilmington, DE). All the bingos played were parallel with the bottom of the board: no perpendicular ones! Richard got down RETINAE and the rest were Ian's: AsTERIA, GUnBOAT, SATYRID, INWARDS, and LOCULES. Ever humble, Ian mumbled how he "got lucky." He gets "lucky" a lot. I call it skill!
On a Zev Kaufman (Toronto ON) vs. Conrad Bassett-Bouchard (Piedmont, CA) board: wATTHOUR, AzOTISED, and DEUTZIA and they are only just beginning! Go team! Zev, observing his Sabbath, is using a travel set of tiles to track on the side.
Mr. orange/Mr. Jeopardy champ Jason Keller (Highland Park, NJ) is here and in screaming and blazing orange glory. His shirt, board, tiles, scoresheet are all bright orange. It is like a huge bolt of sunshine in this sunless ballroom! In his game this round, he defeated Stefan Huber (Tampa, FL), 444-397. I see DEcIDES, TOuGHER, HOLLERS, DEnTALIA, RONNELS and UNTHREAD.
The twins are here again this year! Thomas Reinke (Middleton, WI) lost to David Gibson (Spartanburg, SC) this round, 334-515. I see LAXITIeS, VANADOUS, DECORATE, FENNIER, and STRIvED on their board. I wanted to get more info, but they were talking about David's playing out options.
Division 4 leader, Cornelia Guest, told me about a fun game in her neck of the woods this round. Rita Guffy (Bowling Green, KY) played Michael Krafchick (Ponte Vedra Beach, FL) and lost, 359-445. She got down PARLEYS and JUNKET and he played AMAZED, BOOGIES, and MORAINE.
So, Zachary Goldstein (son of Eric Goldstein (Scarsdale, NY) saw Reese Daniel up on the command center. He wanted to know why Reese was here and was in his second year of working the event. Zachary wanted to know if maybe he could work, so John Chew is letting him sit with Reese to see if this could be the thing for him. Reese asked, "he is techy/nerdy?" And I said, "perhaps not as much as you, but who is?" Reese nodded sagely and then said, "He'll have to be, who thinks typing in 5000 random strings of numbers is fun?" And I said, "Well, you do, so there may yet be another weirdo out there like you." He smiled, satisfied at my assessment. We love that kid, to bits. He is a fun addition to our team.
On a Lila Crotty (Metairie, LA) vs. David Whitley (Monrovia, CA) board 1, division 2 board, I see the usually wide smiling Lila less smiley. She'd just lost, 355-549 to David. I see TOADYING, NATATiON, BOSSIER, PARVISe, and REELINGS. The lattee was hooked with PARVISe played down the triple for 101. I'm getting the feeling that I know how Lila lost this game....
Another 600-game in division 2! This time, Emely Weissman (Menlo Park, CA) vs. Lynda Wise (Toronto ON). I saw on their in-progress board, UNSTATE, LEAGUES, LEGATOR, COMPuTeD, and DERIVaTE. A 612-370 win for Emely, board already picked up, players onto other things. Grats Emely!
Trip Payne (West Hollywood, CA) walked up to me and whispered in my ear, "What is the best cure for losing your first game by 134?" I blinked, trying to think of said cure. He then added, "Winning your next game by 134! Can you believe it!?" He lost to Zev Kaufman (Toronto ON) and then won against Michael Early (Fort Worth, TX). Way to get to 1-1 +0, Trip!
A new player for me, Gunther Jacobi (Portland, OR) slapped down MULCT for 31 in his game with Mary Ellen Weisskopf (Huntsville, AL). I see dAIMONES, TOAsTIER, PsHAWS played to the triple, and RILLETS.
I spy a bowler behaved Robin Ross (Saint Petersburg, FL) reading a book on the side of division 2 about her name badge. She has carefully penciled in "Potato Soup" atop her name and slid it back into the plastic holder. She explains, "Oh, it is my ISC handle and I want folks who have played me to know who I am!" Good idea, Robin!
In the Collins division, John Van Pelt (Centreville, VA) played Geoff Thevenot (Austin, TX). I spotted NINETEEN, SOIREE, IGNITERS, TaBULATE, SkAITHED#, FERIAE, and WILCO. I find out later that Geoff won, 466-401. He tells me he tried a plausibly outrageous phony. There was NINETEEN on the board with a space after the N, followed by an R. He tried POTZER/NINETEENER# and John challenged. It came off, but, the weird thing? FOURTEENER, FIFTEENER#, and SIXTEENER# are good in our particular dictionaries, for some reason.... Who woulda thunk? I love this story. And, I love this game.
Sam Kantimathi (Sacramento, CA) vs. Jim Lamerand (Chandler, AZ): SISTROID, SAILInG, and UReIDES.
Sam Rosin (Bernardsville, NJ) vs. Jeremy Hildebrand (Ottawa ON): KILTIEs, FAAs#, BARIUMS, AGATIZED, CORDERS, and MARgINED.
Michael Bassett (Port Clinton, GA) vs. Cheryl Allen-Munley (Tewksbury, NJ): PErSONA and REVOiCED.
Chris Canik (Austin, TX) vs. Gerianne Abriano (Staten Island, NY): ESCAPADE, RETINTED, CREWING, STENTOR, and AErATIONS.
Ruth Brower (New Castle County, DE) vs. Rebecca Gilmore (Westchester, IL): PRESSeS and INFINItE.
I heard of a game between Jan Cardia (Hockessin, DE) and Jerry Lerman (Foster City, CA). Jan was up by 150 and then Jerry played four bingos in a row including the triple-triple REINFUSE. He was then up by 150!
Go to: Before the Tournament, Round 1, Round 2, Round 3, Round 4, Round 5, Round 6, Round 7, Round 8, Round 9, Round 10, Round 11, Round 12, Round 13, Round 14, Round 15, Round 16, Round 17, Round 18, Round 19, Round 20, Round 21, Round 22, Round 23, Round 24, Round 25, Round 26, Round 27, Round 28, Round 29, Round 30, Round 31, After the Tournament.
---