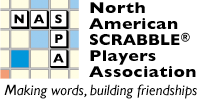 Go to: Early Bird Commentary Games Players Photos tsh Reports
... Scoreboard (A B C D CSW) Standings Prizes
Back to NSC 2012 Live Coverage
NSC 2012 Commentary: Round 15
[ ]
Go to: Before the Tournament, Round 1, Round 2, Round 3, Round 4, Round 5, Round 6, Round 7, Round 8, Round 9, Round 10, Round 11, Round 12, Round 13, Round 14, Round 15, Round 16, Round 17, Round 18, Round 19, Round 20, Round 21, Round 22, Round 23, Round 24, Round 25, Round 26, Round 27, Round 28, Round 29, Round 30, Round 31, After the Tournament.
---
Round 15
Kate did a quick survey of the room looking for Scrabble themed clothing. Division three table 12 features three players who are dressed for the part: one 2006 championship shirt, one from Dallas 1996, and a hoodie that spells out "NO SWEAT" in tiles across the front. In Division one, I see San Diego Nationals 202, Can-Am 2011, and Orlando 2008. Division 4 has the SHIRT shirt (SHIRT spelled in tiles across the front), NSC 2008, and a National School Championship tee. The lone player whose theme gear I can discern has a Quackle tee, where the Krackle chocolate bar has been refashioned to feature Quackle. But CSW wins the fashion show: Barbados Scrabble Association, World Players Championship 2010, WSC Kuala Lumpur 2003 hat, World Festival of Scrabble jersey, Players Championship Dayton 2007, and a Zyzzyva tee. I might have to start playing CSW just to get cool jerseys.
After Mark Kenas (Madison, WI) played the lovely WIZARDLY through an L in CSW, I walked around looking for other Harry Potter themed words. Sadly, all I found was DISROBE and DErOBED*.
Also in CSW, two nice blank-assisted # bingos in triple word lanes: DUETTiNO# and SQUAlOID# (blank L), which drew a challenge from Marcia Richards (Centreville, VA). Ben Withers (Houston, TX) takes the game 413-314.
I spot a nine on a division 2 board: INGEStION played into the IN by Gary Skowronski (Silver Spring, MD) against Gerianne Abriano (Staten Island, NY). Emely went on to win, 435-357.
Emely Weissman (Menlo Park, CA) and Carl Stocker (Miami, FL) have two similar bingos on her board: sCOLDERS and COLDNESS, along with ENGRAINEd and OUTRAVE. Earlier on, AROINTS was played, hooking WIFED to make SWIFED*, but Emely challenged it off.
Sherrie:
Charles Reinke (Middleton, WI) decided to throw me off. He is wearing the ponytail today and not Thomas, so my notes about them had to be reversed! This round he played Dave Wiegand (Portland, OR) at table 3. I see CROWDIE, sHILINGIS* (it does not take an S), TITRANTs, SNOBBIER played through the O, and SPEELED. Late in the game, Charles tried to end hook FEIRIE, but Dave called it off. Dave's win, 502-358.
Jason Keller (Highland Park, NJ) is ALL in orange today: shirt, shorts, crocs, and he's carrying around two orange vuvuzelas#. If he makes any motion to start blowing on one of them, I'm diving under my table.
All I can see is CATSUIt on a board between Komol Panyasophonlert (Thailand) and Karl Higby (Schenectady, NY). It drew a challenge, too. Perhaps it was the S hook on HALVAS to get it down.
Thomas Reinke (Middleton, WI), with no ponytail today to maximally confuse us all, played Kevin Rickhoff (Saugus, CA) this round. I see DEVOTEES, qUESTED (just what the game needs, another Q!), and TRIACS.
Brian Bowman (Villa Hills, KY) and Marty Gabriel (Charleston, IL) are at the challenge machine. The three of us discover that PINFOLDED is indeed good!
Martin DeMello (San Francisco, CA) plays a bit like Adam Logan (former WSC, NSC, CNC champ) in that he could care less how his tiles hit his rack. They are ALWAYS sideways, upside down, backwards, and even standing on a corner (let us not get bogged down in the physics of how this is nearly impossible). He never moves them once they hit his rack, until he plays them. So, it is almost like the game is 100% going on inside his head, the tiles are not needed for shuffling, thinking, organizing. The way players organize their racks is fascinating. There are the vowel first, followed by consonants, there are the alpha order, there are the players who always end up putting about 12 on their rack, blaming the fact that it is too long :).
Sam Rothbart (Southampton, NY) vs. Chris Canik (Austin, TX). I can hear Chris sighing a bit, and I realize that Sam has just bingoed, again. He got down sTORIED early on and then BACHINg for 96 (hence the sighing). Chris played GUSTIER and the way cool SYRUPY. Anytime anyone plays off two Ys in the same turn: style points!
Katya Lezin (Charlotte, NC) is playing Stephen Henney (Canton, MI) this round. I see INDRaFT on their in-progress board.
Okay, so, the table isn't exactly burning, but it is smoldering. Maddy Kamen (Covina, CA) and Jason Li (Dollard-Des-Ormeaux QC) are having a grand time! I see Jason's HOrRIBLE for 89, MARINATE for 78, OCELOID for 75, and SOOTIER for 68. Maddy got down RETILING for 62 and the fun uNADEPT for 70 (I just think finding that play takes some vision). In the end, it was a 507-415 game, but what fun to actually be IN a game you lose!
Nigel Peltier (Portland, OR) vs. Mark Miller (Radnor, PA): GASOLIER jumps out (SERAGLIO, GIRASOLE). Joel Sherman (former WSC and NSC champ) taught me those anagrams years ago in Atlantic City (some stuff sticks, amazingly). Also, FOETID, INJuRED, REGALERS, and PESKIER. Not wanting to be the latter, I didn't bug them any more.
A close game for Michael Early (Fort Worth, TX) in his game with Nigel Richards (Malaysia). I see QuARRIED (the game can never have too many Us, right?), ObLASTI, VERTIGO, and PAWKIEST. Mike did a careful and thorough recount, but still lost by two, 363-365.
Whooeeee!!!! Some nice plays on Carl Johnson (Beaverton, OR) vs. Ross Brown (Ottawa ON) and a one-point win for the man from Canada, 402-401. I see Ross' NITRITE, AGONIZEd, and ENTAILEd. Carl played ICHNITE and FERNLIKE. It came down to the endgame and the last few tiles (doesn't it always?). Carl had to, but could not block BURLY from the B without leaving himself with a BV leave. So, he didn't block, the BURLY play came down and the coffin nail went in. A great and exciting game to the end.
I see BASTARDY on a board.
Robin Pollock Daniel (Toronto ON) vs. Jason Keller (Highland Park, NJ). A gorgeous game: BRUCINES, NEURINE, MAYORAL, VITTAE on the board. As if being at table 3 in division 1 isn't hard enough, it came down to those last few tiles. I walk by and hear Robin say, "You are up by 6, right?" And I know, it's on. He is holding 6 tiles: TEXAE? and she's got ALOIOR?. She finds 413 different bingos, but the board by this point is not cooperating. In the end, she couldn't do it and lost, 412-419. But there is no one who tried harder!
Jerry Lerman (Foster City, CA) vs. Jesse Day (Berkeley, CA), table 2, division 1. Jerry opened with MERCH and after the game wondered why neither of them made MERCHANDIZES to the triple. As dry as he could make it, Jesse said, "Um, yeah, I never had quite the right tiles... " I see LASSOEs, BIPODAL, kNIGHTED, and UNTWINE on the board. A 496-315 win for Jerry.
Even a bingo-bango-bongo was not enough. Will Anderson (Croton, NY) played ARTISTES, GRUNGIER, and STOMPED, but still lost to David Gibson (Spartanburg, SC), 401-468. Will explained how it became a "race to the blanks" and David was faster, making the well-timed outbingo of OrIENTAL to the L. David humbly pointed out his "lucky" triples: JEWEL and COZ. Will put a lot of thought into how to block and succeeded in making it slightly harder on David, but not hard enough.
Michael Gincel (Lakewood, NJ) has won his 4th game! He is now 4-11 (funny, he is much taller, really!!). Though he looks younger, Michael is a senior in college. Kate and I encouraged him to keep it up, the winning that is.
Kate is in a lovely sundress today and when I pointed it out, she said, "I'm just out of clothes!" Talk about not taking a compliment well. :) My one complaint about her, well two: 1. she left Tim home. 2. she is sooo tall, she makes me look short. :)
Adam Ginzberg (Swarthmore, PA) promises me a story about his game with Roy Kamen (Covina, CA). Can't wait!
A note slipped in, "Michael Bassett (Port Clinton, GA) played ASSININE* this round and it didn't get challenged off!
Kate: As Sherrie mentioned, looks like sHILINGI was played on a Dave Wiegand (Portland, OR) board, and later hooked to make SHILINGIS*. You can find one SHILINGI in Tanzania, or many SHILINGI, but no SHILINGIS* (or SHILINGII* for that matter). If you add AFT to SHILINGI, you get FISHTAILING. Words are fun.
Arthur Moore (Ocoee, FL) walked up to the commentary table to say, "it's not very often that your opponent gets blank, blank, QZS, and you still win by 100." Good work, Arthur! He had STOURIE and DANGLERS.
Sam Kantimathi (Sacramento, CA) wants me to see that he could've played YUZU# down the A column on the board, parallel to MARINE, making UM/ZA/UR# for 69, but alas, it was blocked. He also made the nice board vision of hooking an E to OBES on a tight board, which let him play cARLINE/OBESE. Sam wins, 435-392 against Steve Polatnick (Miami, FL) and stays in first place.
Go to: Before the Tournament, Round 1, Round 2, Round 3, Round 4, Round 5, Round 6, Round 7, Round 8, Round 9, Round 10, Round 11, Round 12, Round 13, Round 14, Round 15, Round 16, Round 17, Round 18, Round 19, Round 20, Round 21, Round 22, Round 23, Round 24, Round 25, Round 26, Round 27, Round 28, Round 29, Round 30, Round 31, After the Tournament.
---