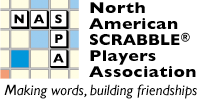 Go to: Early Bird Commentary Games Players Photos tsh Reports
... Scoreboard (A B C D CSW) Standings Prizes
Back to NSC 2012 Live Coverage
NSC 2012 Commentary: Round 4
[ ]
Go to: Before the Tournament, Round 1, Round 2, Round 3, Round 4, Round 5, Round 6, Round 7, Round 8, Round 9, Round 10, Round 11, Round 12, Round 13, Round 14, Round 15, Round 16, Round 17, Round 18, Round 19, Round 20, Round 21, Round 22, Round 23, Round 24, Round 25, Round 26, Round 27, Round 28, Round 29, Round 30, Round 31, After the Tournament.
---
Round 4
Last round, I took notes on a game but failed to write down the names. It was an Alan Stern (Shadow Hills, CA) vs. Paula Catanese (Mountain View, CA) game. He played LEADIER and she got down WIPEOuT, DESEXINg, and PULLIES#. He ended up losing the game. How I could identify the game was I heard him complaining about letting someone get away with that phony. And it was EUREKA! I knew who had played it. After having such a great event last year, Alan is starting slow this year, 1-3 so far.
In division 4, a School SCRABBLE student coached by Stefan Fatsis (Washington, DC) is doing quite well at table 2. He, Sam Masling (Washington, DC), is playing Ron Barker (Boise, ID). I see three Sam bingos: ATONIEs, TALONED, and MUsTIER for 75, played in the endgame. A 459-312 win for Sam who is now 3-1.
At division 4's table 1, Lindsey Dimmick (Baton Rouge, LA) had a great game with 15-year-old Tony Incorvati (Uniontown, OH). Lindsey got down EMOTION and ENLIVEnS on the triple and Tony played TRAILeRS, SCALDER*, and BENZATE*. The latter two phonies were only discovered after the game was over and of chemical sounding name, Tony said, "It is on my shampoo bottle!" Tony is 4-0 and zooming!
Another youngster who has aged out of School SCRABBLE, Amalan Iyengar (Chapel Hill, NC), just defeated Brenda Dede (Gainesville, FL), 387-327. I see her CANOERS and his FLIRTERS and TOnIEST.
Table 1 in division 3: Denise Mahnken (Tillman, SC) vs. Guy Ingram (Ellenwood, GA). I see AEOnIAN and then while I watch, Denise plays VAsTIER/REVs for 67. His rack: IIIJMSS. I think. A lot of good with a lot of bad, if that isn't a typical SCRABBLE rack!
Mohd Khairi Zulkalnain (Ames, IA) vs. Gene Rawlins (Scarborough ON): UNTIEING and CAUTION on their board.
Their game just wrapped up, Chris Canik (Austin, TX) fell to (a now ejected player), 366-344. I see Chris' ANTLERS for 94. Sam Rothbart (Southampton, NY) vs. Mark Garrod (East Lansing, MI): ALANiNS and SEEABlE.
I wander into CSW land and see David Koenig (Silver Spring, MD) studying his board intently. He was beating Sam Rosin (Bernardsville, NJ), when Sam slapped down TuTORIZE to the E for 86. Hindsight teaches David that he still could have won. In the universe that he knows that HIPPO takes a front hook S, creating SHIPPO# (close your eyes, you TWL purists!), he could have come down the triple lane and won. But it wasn't to be. Sam's other good play was ANDESITE. David played IODINATE and MUNCHIES as a 94-point double-double, which Sam challenged, earning David 5 more points. He explains that in Collins it isn't that big a deal to challenge, the penalty isn't that great, so players often challenge plausible words in the chance that they missed the dictionary. That bingo was played in the early part of the game, so the 5 points wasn't critical. In the end, it was a 439-436 win for the Harvard University undergrad.
Laurie Cohen (Tempe, AZ) just defeated Cedric Lewis (State College, PA), 557-477. It was an 8-bingo game! Cedric played DENTARIA, AMARONE, SNIGGED And OBVIATE. Laurie played THORNILY, MATINGS, RETELLs, and SOCIATE. Wow! A beautiful board!
He lost the game, 429-466, but Eric Kinderman (Burlington, VT) impressed anyone within earshot when he defined one of his plays in his game with Steve Polatnick (Miami, FL). He'd played WILTJAS# a 57-point nonbingo, He said, "I think it is an aboriginal hut." Sure enough, someone looked it up: word for word definition! He also played AEGIRINE# and SOFTING#. I see Steve's HOSTIlE (that is HOSTILE if the blank reads funny) and FeLLATED: I was ridiculed for thinking the blank was an O.
Robert Linn (Potomac, MD) vs. Chris Lipe (Rome, NY). I walk up as the game is just finishing. At this point, it is a 414-406 win for Bob. Chris recounts and I'm later told finds a point, but still loses the game. I see Bob's FAIRIES for 82 and DEEPENS for 87. Chris started strong. His first three plays: RAX for 44, QAiDS for 50, and OOZES for 48. He later played OUTLIER for 71.
Emely Weissman (Menlo Park, CA) is smiling and doing endgame paperwork in her game with Bernard Gotlieb (Montréal QC), both players on the plus side of positive always. She pointed to the board and said, "Hey, I made an inspired play!" Sure enough, she had played INSPIReD down the triple. It was Bernard's win, 405-394. Emely goes to lunch 2-2 and in good spirits.
I catch sight of tall cute kids cross the room. Chris Wiegand is here with her two kids and Dadd, Dave Wiegand (Portland, OR), joins in on the fun. Chris, who has worked with us the past two NSCs is missing this year. She pointed out, "You do not have a Nationals in Orlando and work an event with two children!" So, she's being a great mom, into her second day of Universal park attending with Samantha and Melanie. They are loving their time in Orlando! Dave is now 3-1, and he just defeated Ian Weinstein (Coral Springs, FL) at table 1. He lost to Nawapadol Sayavesa (Thailand) this morning. It is rare for me to go this long and not check in with Dave: it was great to catch up! However, SCRABBLE aside, the best part of the visit was seeing Melanie show off her great gymnastics skills: splits, cartwheels, and backbends, wow!
Speaking of the wonder of being John Karris (San Jose, CA). We kick Nigel Richards (Malaysia) off table 1 and suddenly his Achilles heel is exposed! John defeated Nigel, 436-346. John long gone to lunch, I force Nigel to tell me how great John was. He rolls his eyes, because, well, he should be talking about how great he is, right? He recalls three bingos from John, one being CREATION. And the word NONEROTIC was on the board. When I asked who played it, Nigel said, "We both did." And I thought, you know.... that is funny and I'll leave it there.
Robert Gillis (Owens X Roads, AL) had a 2-point win against Yukiko Loritz (Anaheim, CA). He got down ATAVISM, REMISING and NETTLED. She played RETINA and a great OXIM for 66, catching him with KKIIOO on his rack. Even with the 26 points for her, he just eked out a 402-400 win.
Bradley Robbins (Windham, NH) catches me typing during lunch and tells me about a round 3 game with Arun Methaset (Thailand). REDTAILS and REDWINGS were played two turns apart by Bradley and he's told they are both bird words! Bradley won, 355-318.
Matt Canik (Austin, TX) had a big in against Evans Clinchy (Boston, MA) this round, 551-471, but he does not want me to mention it. I implore, "WHY?!" And he says that missing TINWARES for 95, which would have given him a 600 game is just too painful to think about. I call him melodramatic and tell him I am going to mention it. It is a good game! Evans got down THERMIONS through the ON for 92 (nice!). Matt played ZONKED for 80, POULTERS for 61, POLECATs for 94, and JEAN for 57. He requests that I report that as he played this last word, he said, "This is a really good play." This kid feels things intently or he is just too ironic for words. Either way, he's a keeper!
Alan Love walked in during lunch. I politely asked myself, as I greeted him, how could I not have noticed he was here today? He saved me from this by saying, "I live in Florida now and I couldn't commit to so many games, but I drove up to visit anyway." I was relieved by this news! He has been playing Collins games with Bob Lipton (Vero Beach, FL) and offered, this afternoon, to play a game with the Collins BYE player to pass the time. A great offer and CSW director, Jason Idalski, is happy to take him up on it!
Kate's notes: Cool sixes! Two real ones: CATGUT (Kenji Matsumoto (Berkeley, CA) vs. Leesa Berahovich (Berkeley, CA)) and EURIPI on a board that included Carl Johnson (Beaverton, OR). Two fake ones: GLACED* (Robert Gillis (Owens X Roads, AL) vs. Yukiko Loritz (Anaheim, CA)) and FIBRIC* on Zev Kaufman (Toronto ON) vs. Erickson Smith (Cary, NC)).
Cats: CATGUT (see above); POLECATs (see above), JAGUAR (Zev Kaufman (Toronto ON) vs. Erickson Smith (Cary, NC)), LEPORId (Ross Brown (Ottawa ON) vs. Randy Greenspan (Delray Beach, FL).).
Point of clarification from Ross Brown (Ottawa ON): "In Round 4 (me vs. Randy Greenspan (Delray Beach, FL), we didn't have LEPORId on our board; he actually played CLONINGS, SACcATED*, and RUBELLAS. Also, although leporids are mammals, they're rabbits and hares, not cats (LEOPARD)." Thanks Ross!
CHITTERED: Kevin Rickhoff (Saugus, CA) vs. Robert Kahn (Plantation, FL).
Cecilia Le (Cambridge, MA) played pretty EPISODiC to the C in the top left center.
Go to: Before the Tournament, Round 1, Round 2, Round 3, Round 4, Round 5, Round 6, Round 7, Round 8, Round 9, Round 10, Round 11, Round 12, Round 13, Round 14, Round 15, Round 16, Round 17, Round 18, Round 19, Round 20, Round 21, Round 22, Round 23, Round 24, Round 25, Round 26, Round 27, Round 28, Round 29, Round 30, Round 31, After the Tournament.
---