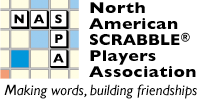 Go to: Early Bird Commentary Games Players Photos tsh Reports
... Scoreboard (A B C D CSW) Standings Prizes
Back to NSC 2012 Live Coverage
NSC 2012 Commentary: Before the Tournament
[ ]
Go to: Before the Tournament, Round 1, Round 2, Round 3, Round 4, Round 5, Round 6, Round 7, Round 8, Round 9, Round 10, Round 11, Round 12, Round 13, Round 14, Round 15, Round 16, Round 17, Round 18, Round 19, Round 20, Round 21, Round 22, Round 23, Round 24, Round 25, Round 26, Round 27, Round 28, Round 29, Round 30, Round 31, After the Tournament.
---
Sixteen players are playing in the National SCRABBLE Championship Early Bird (NSC EB), a NASPA innovation that dates back three years and came from a long-standing desire among our tireless NSC staff to have a chance to play some tournament games during their stay. The EB is therefore only open to NSC staff, NSC volunteers, and certified tournament directors (regardless of whether or not they are working at this event).
The first game to report in was a 442-305 win by Carla Cree over Kristen Chew, putting her in an early lead.
---
Pre-event
Friday
This year's NSC has already experienced its first challenge and not a game has been played yet. Mother Nature has been raining, thundering, lightning, and "tornado"-ing like crazy. And all this weather has wreaked havoc on air travel for two days and counting. The organizers and players who arrived early on Wednesday and Thursday were lucky. Starting on Thursday night, flights were diverted all over the country. And folks who thought they were coming in a day early had the opportunity, instead, of spending a lovely night in Atlanta! My Boston flight to Orlando, delayed by a couple hours, finally did come in, but most flights after that were delayed for hours.
John Chew ran his third annual Early Bird today, starting at noon, for 16 hardy souls. This event is open only to NSC 2012 workers and SCRABBLE directors. After four games, John Karris (San Jose, CA), won first place as the only undefeated player. NSC division 3 director, Dan Stock, had plans of winning the whole thing himself until John "happened" to him!
Registration took place outside the Pacifica Ballroom and I saw many volunteers helping throughout the day. Carolyn Easter (Birmingham, MI), Cheryl Melvin (Muskegon, MI), Ginger White (Shirley, NY), Timothy Bottorff (Orlando, FL) and his wife Kerri, Kate Watson (NSC annotator), and Mary Rhoades are some of the faces I saw. Both Dallas Johnson and his wife Sue Grogan-Johnson (she as the most active and driven director helper I've ever seen!) have also been checking in people and setting up the playing room while they nail down the event details.
At registration, each contestant received a long wooden rack with NASPA's logo on the underside (and they could buy another for $8), a NASPA pen, a food coupon for Margaritaville (located at Universal's City Walk), and their contestant folder. If they had preordered an event T-shirt (designed this year by Ottawa's Jeremy Hildebrand (Ottawa ON), they picked that up, too. Early registrants were able to buy extra shirts for $10, but they went quick! I think as second order of T-shirts has been made already!
Dallas convened a staff meeting at 4:30pm and those of us not delayed by weather met and chatted about the event flow. New to the team this year: Tina Totten King who will be doing data entry for divisions 3 and 4. She will work with returning Tim Crotty (husband of Lila Crotty (Metairie, LA)), who will be the division 1 data entry person, and Reese Daniel (son of Robin Pollock Daniel (Toronto ON)), who will be taking on both divisions 2 and CSW. Also new, Cornelia Guest, who will be the division 4 leader, Jason Idalski, directing the NSC's first CSW division, and Pete Ziegler, who will be annotating division 1, board 1 with returning Kate Watson.
After the meeting, Tina told me about the fun she's had over the years, driving to and from tournaments with Dallas Johnson and George Viebranz. I think it was the friendship that got her on our team this year. When I asked Jason Idalski why he was directing instead of playing he said he was honored to be asked to direct at the NSC and "how could he, how could anyone say no?" I'm sure it is much the same for Cornelia. She's been active in SCRABBLE, working with both adults and school SCRABBLE players. We are extremely happy to have all these new faces. When I know about the division assistants, I'll say more about them!
At 6:30pm, the staff dinner was held at the Island Grill. Though our group was spread over three tables, a bit of table hopping helped us all chat with each other and start our teamwork bonding.
In the after hours room, players sat down to games throughout the day and more joined in as the hour grew later. I watched Evans Clinchy (Boston, MA), Jesse Day (Berkeley, CA), Mark Przybyszewski (Depew, NY), Conrad Bassett-Bouchard (Piedmont, CA), and Eric Tran (Calgary AB) play Fry Your Brain. It looked like anagrams, but wasn't. I'll work on more elucidation over the coming days. Matthew Tunnicliffe (Ottawa ON) explains later that you take one tile out of the pool at a time and form one word only. And any more tiles added can only be put toward this one word. So, instead of several words all over the table that players can "steal" from each other, there is only one main word. Interesting variant.
Tobey Roland (Baltimore, MD) was midway through a game of SCRABBLE with a new face to me, Mohd Khairi Zulkalnain (Ames, IA). I introduced myself and after spelling his name for me, he said, "Call me Bean, everyone else does." I thought I detected an accent. He is from Malaysia and speaks Malay in addition to great English and he is in the US studying at Iowa State. He said he knows Nigel Richards (Malaysia) from playing in Collins events overseas. And, like Nigel, Bean will be playing in TWL for this event.
At 8:50pm, I checked in with Mary Rhoades and she told me that about three-quarters of the players had already registered, which is better than we had hoped by that hour. While at the desk, I met Stephen Henney (Canton, MI), who flew in from Michigan. He said his flight was delayed by two hours, which isn't much considering how delayed others have been. This is his first NSC and he plays in Carol Ravichandran's club up there. We'll be missing seeing Carol at his year's NSC!
I spotted Gerianne Abriano (Staten Island, NY) in her swimsuit on the way to registration and she said she didn't miss a beat in getting to the pool the instant they arrived. All smiles, she is looking forward to a fun NSC.
Robin Pollock Daniel (Toronto ON) and her family arrived early and spent nearly two days at Universal. This year, in addition to our data inputter, Reese, she brought her husband, Gary, and her oldest son, Oliver. Over dinner, they mentioned that twice since they've been here the hotel has cleared them out of the pool due to nearby lightning strikes. I am convinced that before too long, Gary will get a chance to get into the pool! Big thumbs up from the boys for the rides at the park!
In the after-hours room I spotted a group gathered around Carl Johnson (Beaverton, OR) vs. Gunther Jacobi (Portland, OR). Nearby, Cheryl Tyler (Lubbock, TX) was taking on Jim Burlant (Grapevine, TX).
All the way from Australia, I spotted Caroline Polak Scowcroft (Australia) playing a tag team game with partner Brian Galebach (Columbia, MD) vs. Robert Linn (Potomac, MD) and Robert Felman (Nokomis, FL). Though both Caroline and Bob are playing in the NSC CSW division, this game was slated to be TWL ("too confusing to even keep TWL straight," said Brian).
Another player from Malaysia, Cedric Lewis (State College, PA), was playing Emanuel Chicoine (Montreal QC) in an untimed, casual, CSW game. Mohd Khairi Zulkalnain (Ames, IA) was looking on. I decided to pepper Cedric with questions and these were the things I learned: He attends Penn State and he speaks English, Malay, and three Chinese dialects! I called over Jesse Day (Berkeley, CA), who speaks Chinese, and he spoke to Cedric. Way cool! Both Emanuel (who told me how to pronounce his name phonetically: it is "shekwen" and surprisingly nothing like the "chicory root" that I keep coming up with!) and Cedric are playing in the CSW division and though Bean plays CSW, he is going to challenge himself in the single dictionary, division 3.
Emely Weissman (Menlo Park, CA), held up for hours, finally arrived right as the registration table closed. She and John Wiley (Palo Alto, CA) were the last two to check in as the envelopes were moved to command center in the middle of the playing room.
Saturday
It is always exciting the first day of the NSC. Folks milling around the hallway outside the playing room, all those hugs, a big family reunion! We are down to only five who are hoping to be here before round 2 starts. Considering how many we had as of last night, this is good news!
David Gilmore (Chicago, IL) and his wife Rebecca Gilmore (Westchester, IL) were outside the playing room playing a game on the floral carpet in the foyer. This is their second NSC. Though they hail from Chicago, their last NSC was the one held here four years ago. She said, "I like the parks!"
I met Ezekiel Markwei (Miramar, FL) sitting at a CSW table before games began today. He will be starting his masters in electrical and electronic engineering at the University of Florida this fall. Here from Ghana, he is rated ~1500 in Collins and has played in the past at prestigious international events like the Causeway in Malaysia. A fine international group the CSW is attracting!
We started on time with event organizer and division 1 player, Chris Cree (Dallas, TX) welcoming us to Orlando. Before long he called up one of his oldest friends in SCRABBLE, Alan Stern (Shadow Hills, CA), who will be our emcee again this year. Alan and Chris have known each other for 32 years! After a few funny Olympic jokes (I want synchronized SCRABBLE in the next Olympics!), he welcomed our first Collins players. His most welcome announcement, "Due to a glitch, parking at the hotel will be free today!" That went over well. He introduced the staff and mentioned that we were bringing back the Best Strategic Play prize (sponsored by Sam Kantimathi (Sacramento, CA)). I look forward to hearing about these!
Okay, clocks have started and Winter Zxqkj (Houston, TX) should be coming any minute, after he stops at Starbucks first, of course!
Go to: Before the Tournament, Round 1, Round 2, Round 3, Round 4, Round 5, Round 6, Round 7, Round 8, Round 9, Round 10, Round 11, Round 12, Round 13, Round 14, Round 15, Round 16, Round 17, Round 18, Round 19, Round 20, Round 21, Round 22, Round 23, Round 24, Round 25, Round 26, Round 27, Round 28, Round 29, Round 30, Round 31, After the Tournament.
---