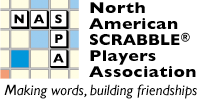 Go to: Early Bird Commentary Games Players Photos tsh Reports
... Scoreboard (A B C D CSW) Standings Prizes
Back to NSC 2012 Live Coverage
NSC 2012 Commentary: Round 18
[ ]
Go to: Before the Tournament, Round 1, Round 2, Round 3, Round 4, Round 5, Round 6, Round 7, Round 8, Round 9, Round 10, Round 11, Round 12, Round 13, Round 14, Round 15, Round 16, Round 17, Round 18, Round 19, Round 20, Round 21, Round 22, Round 23, Round 24, Round 25, Round 26, Round 27, Round 28, Round 29, Round 30, Round 31, After the Tournament.
---
Round 18
Marty Fialkow (Moorestown, NJ) goes to lunch a happy man. He exactly doubled his opponent's score this round, 550-275. Sadly I missed it.
Can you find the it? On a Charlene White (Kearny, NJ) vs. Josephine Flowers (West Memphis, AR) board, someone with this rack: ?AHHRRU played a bingo. Check bottom for answer!*
Michael Bassett (Port Clinton, GA) played PREPUNCH this round and had it challenged. It is good!
Judy Newhouse (Houston, TX) stops by. Most of the players are still playing this round and she says, "I was sitting down to play with Joey Krafchick (Roswell, GA). And, he warned me he was starving and that he would probably play fast. Did he! And he still won!" He opened with a bingo-bango-bongo: VAPIDLY for 90, INTERBED for 83, and GASTREAS for 61. Later on, he got down ECHINATE for 76. Judy played ENTRIES for 63 and was surprised that Joey challenged her LITHER. A 533-337 win for the former School SCRABBLE player.
table 1 in division 4: Sam Masling (Washington, DC) vs. Bruno Aghedoh (Los Angeles, CA). I see DoWNIEST and a couple high-scoring plays, QADIS and MURKY. In progress, it is a 400-355 lead for Sam.
Tony Incorvati (Uniontown, OH) defeats Lany Ramos (Montreal QC), 422-375. As I walk up, he shrugged and said, "I outdrew you, that is all there is to it." She nodded her assent. She played CRUNODE and ALINErS and he played RETAKEN and PROLONGS.
Table 1, CSW division, Matthew Bernardina (Durham, NC) vs. Sam Rosin (Bernardsville, NJ). Pretty board: TITRATE, RONNELS#, DEBAGGEd, RUSHING (later extending to CRUSHING and CRUSHINGS*, AUDIENT, and the fun MIZ#, TAIVER#, and FAINTY#. A few minutes later, by the water cooler, I bump into Matthew. He tells me Sam is recounting and that it was a 9-point win for Matthew so far. Of the phony, Matthew said, "I let it go, because it let me get a bingo down."
Sam Kantimathi (Sacramento, CA) vs. John OLaughlin (Cambridge, MA): IRONICAL, DePUTING, and ELOGIES#.
Few do it these days due to the ease of the turning boards — it was the rage in the old New York days — but Geoff Thevenot (Austin, TX) still plays upside down. When I approach a game in progress, I try to not stand behind the person whose clock is running, because it is stressful and space invading (I am not always successful at this, but I try). Anyway, I guess I use the board orientation to determine this and secondly whose clock is running as a backup. For some reason, at this NSC, Geoff is always sitting at at table with one of those clocks that has one light on it in the middle, each side doesn't have its own light (so I can't tell whose turn it is if the back of the clock is facing me). And, I keep going to his games and standing behind him when his clock is running. And it is driving me mental that I can't keep it straight.
This round, Geoff Thevenot (Austin, TX) played David Koenig (Silver Spring, MD). I see JOYRIDE, THONDER#, RABATOES, ALIMENTS, POINTIER, LOCATES, NIvEOUS, and AVIZE#. A 506-455 win for Geoff. These two cool cats are in fun T-shirts. Geoff's says Zyzzyva Addict and David has one of those made to look old Yankees shirts.
Speaking of the Yankees, it must be cold in this room. Glenn Dunlop (Brantford ON) is wearing a thick Yankees jacket and his opponent, Kevin Leeds (Austin, TX) is in a hat and raincoat.
Division 2 newcomer Adam Ginzberg (Swarthmore, PA) played Alan Stern (Shadow Hills, CA) this round and it wasn't pretty. Alan opened with SLEEVEd and on his next play put down BRINIEST. Later he played OLEANDER. Adam did play a pretty bingo, FArOLITO.
Jesse Matthews (Kelowna BC) wants to show me his 600+ game, but I get hijacked by Robin Pollock Daniel (Toronto ON) vs. Orry Swift (Houston, TX) first. I look over the board and somehow miss the elephant until Robin points it out. She said, "It helps to know Yiddish." Orry hung a Z out and she played YAHRZEIt through the Z for 100. She explained it is the anniversary of a loved one's death. Orry then slid in TRUSTEE for 76, but she picked AMINATE out of the bag for 106. Later on she binged back to back, again, with VERIEST and then UNVOICE. Her last act of scoring excellence was EXTEND for 60. She wins, 538-360.
Jesse Matthews (Kelowna BC) vs. Mike Baron (Corrales, NM). Jesse opened with WHITEYS for 90 and played BAUhINIA through the A for 67. Mike got down GLEETIER for 60. The bingo slugfest continued with Jesse playing sHITTD for 94, then Mike playing PLUNDES for 65. Jesse got down SEDATING for 72 and Mike found the lovely LAZULI from the L and played RAIMENTS for 72. Jesse binged out with ROSEBAYS for 101, winning, 629-337.
Ross Brown (Ottawa ON) got his crack at David Gibson (Spartanburg, SC) this round and the game was quite competitive, they both tell me, despite the 454-312 win for David. Among some of the better, jaw dropping plays was the nestling in of ABOMaSI, hooking to make PIA and GLEEKS. He also fished to get the G for RENEGADO to the O. Ross got down IONoGENS.
Brett Jackson (Pensacola Beach, FL) is here and having a great time. He went 0-8 at his second tournament and he didn't want to do this again so he bucked up and actually studied for this NSC. He says it has been paying off wonderfully. He's having great, competitive games and enjoying himself!
Komol Panyasophonlert (Thailand) defeated Conrad Bassett-Bouchard (Piedmont, CA) at the annotated division 1 top table this round. Of the game, Conrad invites me and everyone to check out the game online and tell him what he could have done to win. Komol is 4-0 this morning, and smiling broadly.
How cute, Sam Masling (Washington, DC) and one of his buddies asked permission to go into the roped off division 1 board to check it out. No one was there, not even the annotators, but they asked first. Raised well, those kids.
Jesse Matthews (Kelowna BC) is trying to sweeten us up, he gave the whole group of workers some homemade candies from a British Columbia candy shop. MMMMMM. Thanks Jesse. We love players like this!
I corner Adam Ginzberg (Swarthmore, PA) on is way out to lunch and he tells me that Roy Dixon (Dade City, FL) tried OUTWAIL* earlier today in their game. Because of this, Adam, who had been behind, was able to catch up and actually win their game by 3 points!
Over lunch, Robin Ross (Saint Petersburg, FL) comes by my desk and I introduce her to the man in orange. She asks if he wears any other colors and he assures her not. Just to see her reaction, I asked if she knew who Jason Keller (Highland Park, NJ) was. She didn't. I mentioned Jeopardy and she started talking about trying out and not getting on and he told her his tale of woe: it took more than 10 years for him to get on, too!
Okay, the rumor has turned out to be true. Aldo Cardia (New York, NY) did in fact play CARdIAS in his game with Bruce D Ambrosio (Los Angeles, CA) and it drew a challenge! How often does THAT happen! How great!
Alan Stern (Shadow Hills, CA) said, "So, I played this guy, Visan or something, from Thailand. I ran out of time on my clock before I got down writing down his whole long name!" His name is indeed long, Visan Vongthanasunthorn (Thailand).
Kate adds: There were a lot of double-blank bingos in division two this round. Sherrie might have already given some of them away, but the ones I saw were: T??MBLED, SA?ORI?G, EF?US?VE, ?OO?ING and S?OO?IE — you all can decide what the blanks might have been. In division 1, I see QIN?AR?A and DART?E?.
Chris Canik (Austin, TX) at table 1 in division 2 looks upset. Turns out that he was holding AHILNNT in a close game against Gary Perman (Blairsville, PA), one left in the bag, while unseen was ?AEEIOST. The game was close, and Chris needed to block the only bingo lane, but didn't see how to do it with what he had. He made another play, hit his clock, and suddenly saw something that would've blocked and might've prevented Gary from bingoing. Gary went out with SErIATE. The way the tiles fell, Gary might've pulled out the win without a bingo, but Chris still wishes he had found the block that would've given him a chance.
Cliff Smith (Ballwin, MO) vs Guy Ingram (Ellenwood, GA): I see EQUALIZE for 131 and sTENTING for # for 74 for Guy, and REDENIES for 62 for Cliff. Guy's game, 466-316.
Evans Clinchy (Boston, MA) and Will Anderson (Croton, NY) finish their game quickly, but I see them a few minutes later back at the table, computer in hand, quackling the game.
A few nice power tile bingos in D1: TOXAEMIC and UNITIZED on a Nigel Richards (Malaysia) board, AZOTISED in Zev Kaufman (Toronto ON) vs John Karris (San Jose, CA), CAJONES on an Mark Przybyszewski (Depew, NY) board.
* the play was HURRAHs! Great job.
Go to: Before the Tournament, Round 1, Round 2, Round 3, Round 4, Round 5, Round 6, Round 7, Round 8, Round 9, Round 10, Round 11, Round 12, Round 13, Round 14, Round 15, Round 16, Round 17, Round 18, Round 19, Round 20, Round 21, Round 22, Round 23, Round 24, Round 25, Round 26, Round 27, Round 28, Round 29, Round 30, Round 31, After the Tournament.
---