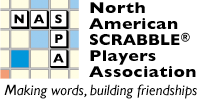 Go to: Early Bird Commentary Games Players Photos tsh Reports
... Scoreboard (A B C D CSW) Standings Prizes
Back to NSC 2012 Live Coverage
NSC 2012 Commentary: Round 28
[ ]
Go to: Before the Tournament, Round 1, Round 2, Round 3, Round 4, Round 5, Round 6, Round 7, Round 8, Round 9, Round 10, Round 11, Round 12, Round 13, Round 14, Round 15, Round 16, Round 17, Round 18, Round 19, Round 20, Round 21, Round 22, Round 23, Round 24, Round 25, Round 26, Round 27, Round 28, Round 29, Round 30, Round 31, After the Tournament.
---
Round 28
Ben Schoenbrun (Ardsley, NY) is wearing one of the BAT Premier T-shirts that made more or us aware of the great talents of artist Jeremy Hildebrand (Ottawa ON). The one on Ben is of Massachusetts-based expert, Bradley Whitmarsh.
Cute Sam Masling (Washington, DC) is outside he playing room with his buddies. He went 3-4 today and is still in 1st place in division 4.
Dan Horowitz (Wilmington, DE) leans in after Sam talks about his day and says, "Let me tell you about my day. I was playing an elderly woman and my play of WANKER drew a challenge. When it was ruled acceptable, she asked me for a definition."
Flora Taylor (Hillsborough, NC) is bubbly. She played DOUBLING# one short of the triple and drew no challenge. On the next turn, she played DAWTIES/DOUBLINGS# for 131 points and still no challenge. I would probably not challenge that word, to be honest. She won that game with a 575.
A voice to my left says, "I can beat that." Before I proceed with this, I get told lots of things all day and I'm sometimes only half there, right? So, this guy says, "I played DOPPELGANGER for 235 points." I said, "Whoa, against, whom?" He said, "David Gibson (Spartanburg, SC), and I won by 375 points." I glanced over and so many thoughts were going through my head. This guy looks a lot like a guy that lives in the Pacific Northwest and for sure I've not seen him in division 1. It is day 4, this can't be happening, am I hallucinating? All of this is happening in a few seconds and I hits me, "This IS the guy from the Pacific Northwest! This IS Bob Schoenman!" So, we laugh and I give him a big hug! Talk about a shock! Well, he admits his coming was a bit of a secret, with few knowing he was going to hand out the Rose Award himself this year (given in honor of our beloved Rose Kreiswirth). I said, "You do know that telling me means it is no longer a secret, right?" He nodded and said he knew the risk he was taking in talking to me. :) Bob pulled out a sample of his latest Protile color, called "tangerine tango," the Pantone 2012 color of the year! Others crowded in and checked it out. Realizing I was so far into the color that I had no commentary, I went back into the playing room.
As it turns out, I was just one in a series of people happy to see Bob. David Gibson (Spartanburg, SC) was as delighted as I've ever seen him to hear that Bob was here. He said, "You know, Sherrie, he crushed me in Cincinnati in 1989, and he said he saw some potential in me so he mailed me a study from Brown University about high probability bingos and he sent me bingo lists that my wife, Nancy, wrote onto flashcards for me. He's a big part of my success in SCRABBLE." David so heartfelt in this retelling, it was just sweet to see him reminisce.
Still searching for news, I spy Nigel Richards (Malaysia) and ask how he did this round. He said, "I lost to Dave Wiegand (Portland, OR)." He's a man of many words, isn't he?
Puneet Sharma (Cambridge, MA) has won 6 in a row today. He is 17-11 and happy with his play. His favorite move today: TIMONEER#.
Cheryl Tyler (Lubbock, TX) is rebuilding her game with Mike Baron (Corrales, NM). She got down OLEATES for 69 and then played FORNIX for 54 though an R, parallel to this bingo, creating OF/LO/AN/TI/EX. Mike then played SANtERA for 64. I see Cheryl's JABOT through the A for 44. The game was won on her very last rack. Holding N?ELDIS, she combed the board over and over and found her spot: the outbingo ANNELIDS from the A, hooking to make IN/EN/RE. She was down by 6 before the bingo and then won, 439-356. Great game, Cheryl.
Scott Leifer (Mansfield, MA) vs. Lawren Freebody (Hawthorne, CA). I see STARELETS, lOUNGES, and STRIDES on the board. Scott points out Lawren's fantastic 99-point nonbingo. She got down QUIP/QI/UP/IT on the triple. Woah! Her win, 439-350.
"I finally got some tiles, Sherrie, I won a game." This from Robin Pollock Daniel (Toronto ON) in front of her torn apart game with Rafi Stern (Seattle, WA). They are so deep into an anaylsis, tiles are everywhere. I see EnDOSTA, DEMENTIaS, PINNULAR, and ARROBA. A 427-354 win for her. As I write it down in my notebook, Rafi says, "I think this is my lowest score of the event."
Joe Edley (Port Jefferson, NY) is psyched. He is 14-14 after today.
Adam Ginzberg (Swarthmore, PA) and Alan Stern (Shadow Hills, CA) are tearing down boards and putting equipment away. They are both 20-8, but Adam has Alan on spread.
A crowd is gathered around Eric Tran (Calgary AB) vs. Will Anderson (Croton, NY). I see CLEPT which was front hooked with a Y to YCLEPT when SENTRY went down. The focus is on REATTEsT* by Eric, which stayed on the board. A 368-364 win for Eric. The board they are on while yammering about this game was Cheryl Tyler's and she just patiently sat and waited until they were done to pack it up. Nice gal, that Cheryl.
Jeremy Hildebrand (Ottawa ON) won 4 games today and is no2 15-13. He beat both Tony Leah (Ajax ON) and Matthew Bernardina (Durham, NC) today. His goal was to win half of his games and he's almost there. He described today as just weird. He lost to the divion's bottom seed and defeated the top player.
Tuesday Evening
More than 100 of us made our way to Citywalk to attend the screening of the movie QWERTY that Rafi Stern (Seattle, WA) set up for us to see. He used a service called Tugg and if enough of us signed up, the movie would be shown. The filmmaker came and answered questions both before and after the showing. It is a really cute movie about two people who meet, one of whom gets sucked into a well depicted but highly inaccurate competitive SCRABBLE scene. The color commentators talked throughout the games (hysterical) and there was stadium seating for the onlookers. I think the biggest hit for our purposes was the referee in the black and white shirt complete with whistle who started the games by shouting, "Play Scrabbllllleeee!" If you get a chance to see QWERTY, do, and like it on Facebook!
On the way out of the theater, Benjamin Bloom (Miami, FL) tripped right behind me and landed on the marble floor on the side of his head/face. It was initially a terrible shock as these things are, and we were able to get him up and into a chair pretty quickly. A theater employee gave him a bag of ice to put on the growing egg that was forming above his left eye. Almost instantly, he was cracking jokes and back to his old self. I told him I'd be right back and he said, ice bag in hand on his forehead, "Wait! Sherrie, does this mean that I will now be in the color commentary!?" We all blurted out laughing! I told him he had to work on less painful ways to get in and he promised this was a one-time thing. He, Robert Gillis (Owens X Roads, AL), and I all enjoyed a bicycle rickshaw ride back to the hotel from Citywalk and all was well for Benjamin.
Go to: Before the Tournament, Round 1, Round 2, Round 3, Round 4, Round 5, Round 6, Round 7, Round 8, Round 9, Round 10, Round 11, Round 12, Round 13, Round 14, Round 15, Round 16, Round 17, Round 18, Round 19, Round 20, Round 21, Round 22, Round 23, Round 24, Round 25, Round 26, Round 27, Round 28, Round 29, Round 30, Round 31, After the Tournament.
---