CNSC 2008 Finals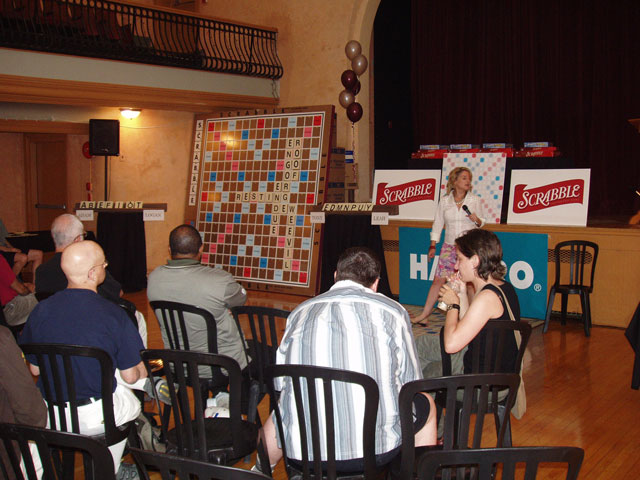 Robin Pollock Daniel hosts the finals at the 2005 CNSC
All fifty competitors play eighteen rounds ending on Sunday afternoon to determine two finalists. Those two finalists then play a best-of-five series beginning at 9:00 A.M. Monday morning (with a lunch break at noon if the series has not been decided) to crown the new Canadian Champion.
The winner wins $7,000 and the right to represent Canada at the 2009 World Championship, the runner-up wins $2,500.
The finals will be hosted by an expert Canadian player (in 2005 it was top-rated female player Robin Pollock Daniel), who will follow along with a roomful of expert players as the game is posted play-by-play on a giant SCRABBLE board. This event is open to the public, and admission is free.
HASBRO is the owner of the registered SCRABBLE® trademark in the United States and Canada. © 2008 HASBRO. All rights reserved. "SCRABBLE Brand Crossword Game" is the proper way to refer to this unique group of word games and related properties marketed by HASBRO. "SCRABBLE" is not a generic term. To use it as such is not only misleading but also does injustice to the company responsible for the trademark's longtime popularity. All we ask is that when you mean SCRABBLE Brand Crossword Game, you say so.
The SCRABBLE® trademark is owned by J.W. Spear and Sons, PLC, a subsidiary of Mattel, Inc. outside of the United States and Canada.
For more information about SCRABBLE or the NSA, or to comment on or correct the contents of this page, please e-mail: info@scrabble-assoc.com
To report technical difficulties in reading this page, please contact webmaster John Chew at: jjchew@math.utoronto.ca