LIVE WEBCAST is underway.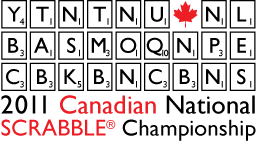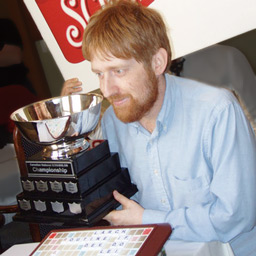 The 2011 Canadian National SCRABBLE Championship (CNSC) will take place on June 10-13 at the Bond Place Hotel, 65 Dundas Street East, Toronto (map). Hasbro Canada is once again generously underwriting a $12,150 prize package, and the new national champion also wins the right to represent Canada at the 2011 World SCRABBLE Championship.
News
Please check the news page for important updates before and during the event.
When the event is underway, please visit the live webcast site instead for up-to-the-minute information.
Players
See our live webcast site for a full list of this year's competitors.
Schedule
Here is an overview of what happens when. Please also see the more detailed full schedule.
Friday, June 10
09:15–18:30
Warmup 2011 Canadian National SCRABBLE Championship Early Bird (optional)
19:00–19:30
Registration
19:30–22:45
Rounds 1–3
Saturday, June 11
09:00–18:45
Rounds 4–11
Sunday, June 12
09:00–17:35
Rounds 12–18
Monday, June 13
09:00–15:00
Finals (best-of-five between top two finalists)
Please note that everyone is welcome to attend the regular weekly meeting of the Mississauga SCRABBLE® Club on the evening of Thursday, June 9th, and that the Mississauga club is also hosting a one-day tournament on Saturday, June 4th.
How to Compete
(This section is maintained for historical reference. The player roster including alternates is now complete, and will be posted online shortly.)
The CNSC is an invitational event for the top 52 players who qualify according to a qualification system (QS) maintained by the Canadian Committee. As described in the QS, competitors must play a minimum number of games during a qualification period (QP), be Canadian citizens or permanent residents and be members in good standing of NASPA. One place goes to defending champion Adam Logan, the next 47 places are awarded based on peak ratings, and four places may be available in two qualifying tournaments.
Regardless of how you wish to qualify, you must register by making sure that John Chew receives your $75 entry fee together with your T-shirt size no later than March 31st. You may pay by cash, cheque or INTERAC e-Transfer, but not PayPal or credit card. Cash and cheque payments may be made by mail (9 Fulton Avenue, Toronto ON M4K 1X6) or in person (at the Toronto SCRABBLE Club, the Dallas Open or the WCWCWC). If you are not sure whether or not you will qualify, please pay by cheque, so that your cheque can be destroyed or returned if you do not qualify.
As usual, to participate in the CNSC, you must comply with the CNSC rules, which set out in legal terms the agreement that you are entering into as a participant in the event.
Web Coverage
The championship will receive major event web coverage typical of recent national and international championships, including photography and commentary by Sherrie Saint John and live annotated games from Board 1.
When the event begins, please take a look at the live webcast site.
Spectators
Spectators are invited to attend the finals on Monday, June 13th, where the best-of-five match will be relayed play by play onto a projection screen. Admission is free.
Spectators are also welcome to take a look at the preliminary rounds on Friday, Saturday and Sunday, but space is extremely limited. They should introduce themselves to tournament officials on arrival, and take care not to disturb games in progress.
Prizes
The $12,150 prize pool donated by Hasbro Canada will be awarded according to the same distribution as at the 2008 CNSC.
1st Place
$7,000
Possession of the trophy
A place on Canada's team at WSC 2011
2nd Place
$2,500
3rd Place
$1,000
4th Place
$500
5th Place
$350
6th Place
$250
7th Place
$100
8th Place
$100
9th Place
$100
10th Place
$100
High Play
$25 (daily)
Best Daily Record
$25 (daily)
High Win
FlipTimer (donated by SamTimer, top-ten winners ineligible)
Michael Wise
Memorial
Sportsmanship Award
SamBoard Apple (donated by SamTimer)
Venue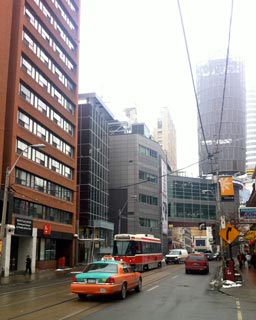 The Bond Place Hotel is located in downtown Toronto, one block east of Yonge-Dundas Square, the "Heart of the City", in a popular neighbourhood known for shopping, dining and entertainment. Within a 200-metre radius are such other Toronto landmarks as the Eaton Centre (the largest mall in the region), Massey Hall (a century-old performing arts theatre), the (self-proclaimed) World's Biggest Bookstore, St. Michael's Hospital and Ryerson University.
Renovations of all of its guest rooms are expected to be completed by the end of March 2011, and the hotel will host not only the CNSC this June but also the Toronto International SCRABBLE Open in September. Rooms are reasonably priced and, unusually for the area, available in three-bed configurations. A limited number of rooms are available at the following rates (per room per night based on single or double occupancy, not including 13% HST): $99 (standard double or two twin), $109 (superior three twin), $119 (deluxe queen and double or queen and two twin). Cite booking number 220375 or "Canadian National SCRABBLE" to obtain these rates.
The venue is non-smoking, wheelchair-accessible, near Dundas subway station, and has guest parking. All events will take place in the function rooms on the basement level of the hotel.
Parking
The hotel's guest parking is located catercorner to the hotel on the northeast corner of Bond and Dundas (enter off Bond). Hotel guests are entitled to 24-hour rates with in/out privileges.
In general, parking rates in the area vary according to the day of the week, and whether or not there is a special event (such as a theatre production, or public event at Yonge-Dundas Square) nearby. When I have visited the hotel on weekdays, I have usually seen rates advertised at $3/half-hour, capped at $15 during the day and up to another $15 at night. I have seen weekend daytime flat rates of $6.
There is a parking lot on the southeast corner of Bond and Dundas which may be convenient to players who are running late on arrival. Its rates are comparable to the garage on the northeast corner.
On weekends I have found that the Ryerson parking garage on the west side of Victoria (one block west of Bond), north of Dundas, is reasonably priced.
If you want to look further afield, don't go north into Ryerson University, south toward St. Michael's Hospital or west toward Yonge Street; that leaves east into a mostly residential and light commercial area. If you park on street, make sure you pay careful attention to the signage, and are aware of a remote possibility of being ticketed under an unposted time limit of three hours' parking on city streets unless otherwise signed.
If you're driving in from the suburbs, please carefully consider the possibility of parking at a suburban subway station and taking the so-called Better Way to Dundas subway station. Don't do this on Sunday though, when the subway doesn't start early enough in the morning; that's when parking rates are cheapest anyway.
Dining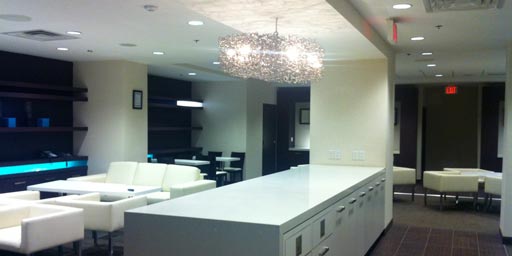 During the main event, breakfast and lunch will be provided to contestants and staff in the lounge. For both the early bird and main event, coffee and tea breaks will be served in the morning and afternoon.
The nearest food courts are in the malls on the other three (NE, NW and SW) corners of Yonge and Dundas. A list of additional restaurant suggestions will be posted here as the event draws nearer.
Staff
Representing
Hasbro Canada
Sandy Sinclair (VP Marketing),
Marisa Pedatella, Greg Ferguson
Tournament Director
& Web Designer
John Chew
Assistant Director
Mad Palazzo
Assistant Assistant Directors
Trevor Sealy, John Robertson
Internet Reporter
Sherrie Saint John
Graphic Design
& Event Planning
John Chew
Event Logistics
John Chew, Risa Horowitz, Tony Leah
Data Entry
Ayami Imazu
Game Recorder Coordinator
Lisa Kessler
Game Recorders
Mad Palazzo, John Robertson, Trevor Sealy, Lisa Kessler, Su Edwards, Risa Horowitz, Chris Lipe, Lynda Wise
Finals Host
Robin Pollock Daniel, TBA (if Robin is a finalist)
Equipment
Players should take careful note of what equipment they will be provided, and what equipment they should bring.
Boards

All games must be played on Hasbro-provided deluxe SCRABBLE boards.

Racks

Hasbro racks will be available with each board. Players may use these, or bring their own.

Tiles

All players will be given a set of 2011 CNSC Protiles at registration. This year's Protiles are red, with white print, and are square for international compatibility. Please check their distribution carefully before playing your first game; as per NASPA rules, no changes may be made once a game has begun. Games must be played using CNSC Protiles, but players may bring and play with Protiles from past CNSC events if they wish.

Tile Bags

CNSC 2011 Protiles come with generic tile bags that you can keep them in (as well as the Ziploc bag they come in), but you are encouraged to bring a higher-quality tile bag to use in play.

Clocks

Players are requested to bring their own digital game timers. A limited number of timers will be available on a first-come basis; if neither player in a game can find a clock, both may forfeit the game.

Scoresheets

A limited number of standard NASPA scoresheets will be available for player use, as well as plentiful supplies of blank paper.

Pens/Pencils

A limited number of writing implements will be available for player use, but we strongly recommend that players bring their own.
Further Information
If you have questions about the 2011 CNSC that are not answered on this website, please contact CNSC Director John Chew.