2021 North American SCRABBLE Championship Canceled
NASPA Family and Friends,
While this announcement is not unexpected, it is also not without disappointment: the North American SCRABBLE Championship (NASC) will be suspended for another year while the world continues to deal with the travel and assembly restrictions brought on by the novel coronavirus pandemic.
The Championship Committee is encouraged by both the distribution and further development of vaccines and has every expectation that we will resume our event next summer with a target date of July 23 to 27, 2022.
What we are unsure of is what restrictions may still be in place next summer and how that may impact the already capped attendance. We are under the assumption that the cap will be lowered, and if so, this would lead to an entry fee increase.
If you left your 2020 NASC entry fee with us, you have the option to roll it over again with the same guarantees - your seat is secure for the 2022 NASC with no price increase.
Upon confirming your 2022 rollover entry, we'll gift you the exclusive 2020/2021 NASC face mask - available only to the first 100 players who reserve their spot now. If you'd like a refund instead, we will of course accommodate your request.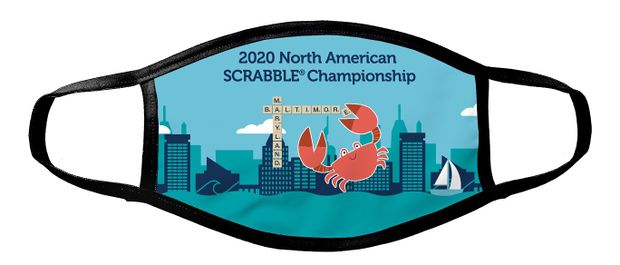 I thank you all for your patience and understanding. Hope to see you all in Baltimore next year!
Art Moore, NASC Director
March 4, 2021
Cancel Registration
You have the option to be issued a refund or to roll your registration over to next year's event, which we hope to hold in Baltimore.
Click the Cancel button. You will then be prompted to enter your NASPA ID (or name), the amount you paid, your address, and your choice: Refund or Defer to NASC 2022.

You will be asked to update your mailing address to receive you mask or refund check.
If you take no action, your registration will be rolled over to NASC 2022. We prefer, however, for you to fill out the form and declare your preference.
You can click here to see if you have not yet taken action on your 2021 registration.
You can click here to see if you are registered for 2022.

If you encounter issues, you can contact the Championship Committee at nsc@scrabbleplayers.org.