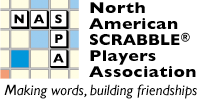 Go to: Commentary Games Players Photos tsh Reports Standings
Back to NSC 2011 Live Coverage
NSC 2011 Commentary: Round 10
[ ]
Go to: Before the Tournament, Round 1, Round 2, Round 3, Round 4, Round 5, Round 6, Round 7, Round 8, Round 9, Round 10, Round 11, Round 12, Round 13, Round 14, Round 15, Round 16, Round 17, Round 18, Round 19, Round 20, Round 21, Round 22, Round 23, Round 24, Round 25, Round 26, Round 27, Round 28, Round 29, Round 30, Round 31, After the Tournament.
---
Round 10
Good news! Our activies director, Robin Gates, picked up hospital-bound Michael Bassett (Port Clinton, OH) and brought him to the venue. He had crutches, but the hotel provided a wheelchair, which makes moving so much easier! Thanks!
Division 1 had a Canadian table at #24. And interestingly enough, only one of them was not on the NASPA Canadian Committee! Randall Thomas (Calgary AB) played Siri Tillekeratne (Calgary AB) and Tony Leah (Ajax ON) played Marilyn Wilkins (Richmond BC), the one not on the committee.
I knew something was off yesterday. Sam Kantimathi (Sacramento, CA) was playing SCRABBLE like a civilian: he was NOT using his aircraft carrier scoresheet/tracking thingy. So, this morning, I spied him at table 1 playing Stefan Fatsis (Washington, DC) and the giant was back! Sam claims he plays much better with it, that he is unable to track on those tiny, piddly tracking sheets. Okay.... Their game in progress, I spotted mISTIEST and sOAPIER. Later on, Sam told me he won by 52ish or so.
Kenji Matsumoto (Aiea, HI) got his crack at Nigel Richards (Malaysia) this round. Their board is pretty: GENOISES, RUNABOUT, PRINTER, LORICAE, VOLCANO, TOLUID (not a bingo, but nice), but the best play was Kenji's CLAFOUTi. After the game was over, Nigel won (yawn), Nigel even agreed that CLAFOUTi was a good play (despite sounding so, that is not faint praise!). Later on, Kenji said he'd never given me color before, so he'd tell me the real news of their game. In the endgame, holding EIINST?, he played rEF through EF for 5 points, burning his blank. In order to win that game, he needed one of the two Ds in the bag. The gamble did not pay off as he didn't get either of the Ds and he lost the game, but if it had worked out.... it woulda been something.
Matt Canik (Austin, TX) defeated Joey Krafchick (Roswell, GA) by 4 points this round. His eyes sparkling, he said it was a great game. Joey, early on, played BEAUTIES from the B for 74 and ANTiMALe for 68. Matt came back with two of his own: ALKANES for 66 and VINASSE for 92. A 405-401 victory for the Texan School SCRABBLE alum.
The string of awesomeness has broken and Will Anderson (Croton, NY) defeated David Koenig (Silver Spring, MD) this round, 408-361. I could tell that they were in their own private universe, talking in half phrases, pointing, nodding, understanding the nonverbal communication. And then David stuck his hand out and congratulated Will on finally beating him. I said, "You are kidding, right? You know your records with everyone you've ever played, David?" They both, at the same time, talking over each other, said essentially the same thing, "The games we've played have been memorable!" One even ended in a tie!
Ryan Fischer (Charlotte, NC) eked out a win against Michael Early (Fort Worth, TX) this round, 450-410. I see Mike's GARMENTs and AGNATING. Other words: BUCKO (the buck stops here, bucko), FILTRATE, SUSPEnD, and YAULD.
Robin Pollock Daniel (Toronto ON) squared off with Joey Mallick (Cape Elizabeth, ME) and she pulled me over to see the board. Talking to Robin about SCRABBLE is kind of like joining a program in progress. She is always ahead of me, half finishing sentences, angramming scarily quick, expecting me to keep up. I have to wear a life vest to keep up, I swear! Anyway, the gist of this game was: It is wonderful when studying pays off. You spend hours studying all these obscure words and end up stuck in months of RETINA bingos, right? And today, Joey played EQUIP for a bunch of points to the triple, but that P was just what Robin needed and she slapped down POPLITEI, which drew a challenge (I wonder just how many wouldn't have challenged!). She said that any story about any sense of prowess had to be coupled with a bonehead reality and for her in this game it was holding OUTSTA?. Joey had hung a D into the bottom triple row. And she gave it a bit of thought and just saw nothing. After the game, it was pointed out that she could have played the triple-triple STANDOUT for a ton of points. In the retelling to me long after it, she still bonked herself in the head! Anyway, she did get down OUTSTAy for 71. So, this game was hers, right? She was cruising along and then the "Joey Factor" kicked in. I looked up and she said, "You know Joey, he doesn't make anything easy. He's just too good." She then pointed out his 142 combined points late in game back to back bingos: INTERVAL and REFENCED. The latter actually permitted her a response of MAX for 64 on the triple and she won the game, 443-394. Thanks for sharing, Robin, fun!
Sitting at the same table with Robin and Joey was Robert Gillis (Owens X Roads, AL) vs. Sandy Nang (Malibu, CA). The quiet Sandy is just a wonderful gal, funny, great at SCRABBLE, but so camera shy! I can barely get her to tell me anything about her games and I've never been able to corner her for a photo! Anyway, I ate one of her Milano cookies and warmed her up to talk to me. She not only chatted, she pointed out her Google cookie monster T-shirt and said that she and Chris Lipe (Rome, NY) both have cookie shirts on. I won't be able to get that photo, sorry! In this game, Bob triple-tripled with CARDAmON for 140. However, in his excitement, he went crazy on the multiplication and declared it 320 points. She calmly (and she is sooooo calm) recounted it and pointed out the proper score.
So, Wallace Schultz (Las Vegas, NM) comes up to tell me about his game with Dave Leifer (Alpharetta, GA) this round. Toward the very end, Wallace gave Dave info about his rack by playing off an S for small (means you've got two, right?). So, there was this spot where QI/QI was intersected, and a rich place for late-game points. And, Dave knew he had to block. So, he put down GASH, then picked up the A and put down a U for GUSH. The clouds parted and the sun shone down and the angels sang. Wally was able to play SYLVITE/GUSHY. If GASH had gone down, this would not have happened. This won Wally the game. As he recounted this story, his smile was blindingly white and wide!
Scott Pianowski (Berkley, MI) announced loudly that SCRABBLE is all about Ms and if you get none in a game, you lose. Or he loses. So, in honor of this Ms are the be all and end all, he is now going to turn all his Ws over and play them as Ms. One of the division leaders, standing behind me, made some sort of derisive snort. And Scott said, "no go?" I wished him well in his endeavor.
It is worth pointing out that only two folks remain undefeated at this point: Mike Lean (Washington, DC) in division 3 and Joel Sherman (Bronx, NY) in division 1. The latter's last couple of games are up for "playing" in the annotated game area!
Go to: Before the Tournament, Round 1, Round 2, Round 3, Round 4, Round 5, Round 6, Round 7, Round 8, Round 9, Round 10, Round 11, Round 12, Round 13, Round 14, Round 15, Round 16, Round 17, Round 18, Round 19, Round 20, Round 21, Round 22, Round 23, Round 24, Round 25, Round 26, Round 27, Round 28, Round 29, Round 30, Round 31, After the Tournament.
---