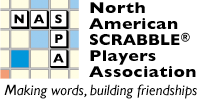 Go to: Commentary Games Players Photos tsh Reports Standings
Back to NSC 2011 Live Coverage
NSC 2011 Commentary: Before the Tournament
[ ]
Go to: Before the Tournament, Round 1, Round 2, Round 3, Round 4, Round 5, Round 6, Round 7, Round 8, Round 9, Round 10, Round 11, Round 12, Round 13, Round 14, Round 15, Round 16, Round 17, Round 18, Round 19, Round 20, Round 21, Round 22, Round 23, Round 24, Round 25, Round 26, Round 27, Round 28, Round 29, Round 30, Round 31, After the Tournament.
---
Pre-event
Friday
When I arrived yesterday, the daytime temperature at DFW airport was a bit more than 110 F (43 degrees Celsius, for you Canadians). Let's just say, I was an egg frying on the sidewalk, waiting for a ride to the hotel! But once I pulled up to the Intercontinental, all the hot weather was forgotten. The hotel, under construction on the first floor during last year's event, is now wide open and gorgeously spacious. There are SCRABBLE-worthy tables everywhere. I can't wait to see the players descend and start using the public spaces for games! Registration, from 10am to 10pm today, is taking place in the Crystal Ballroom foyer. As it was set up last year, Division 1 and 2 are on one end of the room and division 3 and 4 are nearer to where Mary Rhoades, NSC director, and I are set up along one side of the foyer.
Two merchants are set up so far and more are expected as the day progresses. Southwest Displays & Events (http://southwestdisplays.com) is a company owned by Brian Cree, brother of NASPA copresident, Chris Cree (Dallas, TX). He and his team have done a bang-up job this year with signage and color coordination. Each division has color-coordinated tablecloths (!) so there is no confusion as to where to sit! Player CSCs match name badges, match tablecloths, match result score slips. It is all a very matched situation.
The first pickup game took place in the foyer between Worapol Ratanapitaksuk (Carol Stream, IL) and David Meredith (Bowling Green, KY) at one of the large round tables. At first, the division 3 players were using a timer and playing a real game, but then well-known kibbitzer Jesse Matthews (Kelowna BC) joined in with play suggestions and the timer was paused. This is Worapol's first NSC and he is looking forward to meeting up with Amnuay Ploysangngam (Thailand) and his crew. In the end, it was Worapol's win. He tells me that his nickname is "golf." So, if I write about him later, you better believe I will be calling him golf! His mother gave him that nickname years ago!
Zbigniew Wieckowski (Woodbury, MN) set up a laptop and larger monitor at one of the foyer's side tables and demonstrated his new anagramming program called "anag." Scott Jackson (Minneapolis, MN) happened by and said that Zbigniew showed anag off at his most recent tournament in Minneapolis.
When players register, they get an event tote bag, an event pen, a color coordinated name badge and event folder, and a random game. The random games — Super SCRABBLE, Scattegories card game, and Big Boggle — were all generously donated by Winning Moves Games. Since the donation was three different games and not enough to give each player in each division the same game, John Chew ran a number generator and each player was assigned a random number, and so they get the game that coordinates with that number!
Dan Stock, division 4 director, was crestfallen that his favorite color was not the color selected for his division (it is yellow). But, John Chew managed to wrestle a win out of that by color-coding all the staff badges a vibrant purple. So, though Dan's division may not be purple, his name badge sure is! Mary Rhoades has been putting out fires since early this morning. In between meeting and greeting nearly every player that arrives, she's been printing out signage, having boxes lugged to and fro, maintaining a volunteer registration staffing spreadsheet, and managing to keep hydrated with her monster cup of diet soda.
A beautiful bouquet of long stemmed red roses arrived for the NSA's Katie Schultz. Neither Katie nor her boss, John D. Williams, Jr., are here yet, so we've stationed her roses at the Word Freak table. Stefan Fatsis (Washington, DC) would approve of the overall look!
Judith Ford (Hollywood, FL) wrangled Worapol Ratanapitaksuk (Carol Stream, IL) to play with her on her brand new board. Her lemon yellow SamTimer looks great paired with her Watermelon folding board from Gene Tyszka Products (or GTP). At a nearby table, Mariah Smith (Liberty Hill, TX) was playing solo on a Super SCRABBLE board. She said that she was borrowing it while Jason Randolph (San Antonio, TX) was playing in the director early bird event.
Speaking of the early bird, eight players are participating as I type. Since they were odd, John Chew stepped out this time around. Paul Avrin (New York, NY) arrived with hugs for all. He was very proud of his Calgary Stampede cowboy hat. He and his sig other spent last month traveling through Western Canada, taking in sights, meeting up with players, and just enjoying life.
Jean Waldron (Whitby ON) was thumbing through How to Play SCRABBLE Like a Champion, by Joel Wapnick (Montreal QC). Sam Kantimathi (Sacramento, CA) saw me take a photo of Jean and write down her name for the photo ID. He said "You can add an O to your last name and come up with a SCRABBLE word!" Sure enough, LOANWORD is a word! Marilena Souza (Pembroke Pines, FL) is camera shy, which is really too bad, because she has fashioned two former NSC lapel pins from different events, into earrings. Her hair is short and layered, so the earrings are prominent amd decidedly SCARBBLE-themed!
Holy Tallness! Joey Krafchick (Roswell, GA) just checked in with Matt Canik (Austin, TX). Joey is now 6'1" tall! And Matt Canik is also growing taller and leaner every day, too! Outspoken is an Ontario-based magazine that featured an article by Shauna Petrie (Mississauga ON). She gave me a copy of the publication and I had it splayed out on my table today. Many have stopped to read the piece and have expressed interest in an upcoming cruise that she and her husband, Dave Krook (Mississauga ON) will be running with Tony Leah, a Toronto-area director and SCRABBLE expert.
The Early Bird was small this year, but fun for the group involved. There were four prizes: Finishing undefeated, 4-0 +332, winning $15: Dan Stock. Finishing second place, 3-1 +34, winning $10: Jason Keller (Highland Park, NJ). Winning the prize for highest rating gain (+5), winning $5 donated by Dan: Lila Crotty (Metairie, LA), 3rd place overall.
Dan and Lila played in the last round.
Winning the prize for high word (SURMISE, 95): Jason Randolph (San Antonio, TX), 7th place overall.
The new Zyzzyva product line, in support of the upcoming iPhone app, are fun and fantastic. The virtual Zorro Z on everything! And though I missed it, I'm told that the "cutest" registration event happened when we were in a staff meeting. The Thelen family (wife and children, all clad in Zyzzyva shirts of various sizes) visited Michael Thelen (West Jordan, UT) at his vender table. I'm told it was a kodak moment that was missed!
At registration's end last night, every player that we were expecting was accounted for. Joel Sherman (Bronx, NY) was still en route, but we knew he would be here. Something about a flight from NYC via Milwaukee....
At around 11pm, as we were beginning to close down operations, we received a call from friends of Michael Bassett (Port Clinton, OH). On a walk back to the hotel from a nearby Mexican eatery, Michael slipped down a hill and landed just wrong on his foot. His party, Risa Horowitz (Richmond Hill ON), Heather McCall (Toronto ON), Hans Oh (Mississauga ON), and Steven Karp (Waterloo ON) were shocked to see him hurt himself so badly. They called 911 and within 2.5 minutes, five emergency vehicles were there. Michael managed to break both of the long bones in one of his lower legs, which was an extremely painful event. Once at the hospital, he was put on some serious painkillers that really worked. Michael insisted that he get surgery then and there to better accommodate his tournament-playing schedule. The doctors explained that he couldn't undergo general anesthesia until Saturday morning. He still insisted that he be permitted to play this afternoon's games. Mary Rhoades headed over there last night and stayed with him for a few hours, assuring him that as soon as he was able to leave the hospital, we would put him back into the pairings. Now that is some crazy SCRABBLE dedication. We wish him a quick recovery and we look forward to getting him back into the event when we can!
I met Jack Overby (Rosemount, MN) in the foyer Friday night. The only person with a three-digit rating in division 1, he was studying words into the wee hours. I look forward to seeing how he does!
In observing after-hours games, two in particular caught my eye. Evans Clinchy (Boston, MA) was playing Chris Lipe (Rome, NY) in a game with white tiles. Kate Fukawa-Connelly (Kittery, ME) was playing Jesse Day (Berkeley, CA) on the other side of that table with purple tiles. Emphasis on very different tiles. Somehow during the games, "someone" picked tiles from the wrong bag. Thinking this was a great idea, each game proceeded using tiles from either bag. And then, as if it wasn't confusing enough, Chris switched racks with Kate. So, their boards, when they were done, looked like some down-home patchwork quilt deal. Oh, and one was a strange version of a clabbers game with words you can't use in School SCRABBLE.
Nice to see former School SCRABBLE player, Morris Greenberg (Brookline, MA) here with his doting mom, Marla Choslovsky. She was planning to do some tourist stuff while he played, but offered that since it was so hot, she might prefer to volunteer during the event a bit to enjoy our copious ac. Mary Rhoades was delighted to meet Marla! Jeremy Jeffers (Decatur, GA) met a new player at an Atlanta-based SCRABBLE Meet-Up event. And lo and behold, she is here at her first nationals! Welcome to Kate Graham (Atlanta, GA).
Carolyn Easter (Birmingham, MI), is an OD and during registration, Nigel Richards (Malaysia), who has been wearing the same glasses for years, got to talking to her about progressive lenses. Since she works in the field, she had a lot of good advice for him. So, who knows? Maybe next NSC Nigel will be wearing tiger stripe, rhinestone covered progressive lens glasses!
What makes this event so great is the sheer number of volunteers: spouses and children of players, players themselves, and then players unable to make the whole NSC who come for a shorter time to help out. One such player is Jean McArthur. She came all the way north from Austin to volunteer for two days. We love her for this.
Saturday Morning
The players milled into the playing room excitedly this morning, happy to see their color-coordinated sections. Once we got power to the microphone on Mary's director's platform, the welcomes began. Chris Cree (Dallas, TX) made a short and sweet greeting, followed by Alan Stern (Shadow Hills, CA), who made us laugh while he welcomed the first-time attendees. Mary then made brief remarks, highlighting her deep desire to start at 9am and 3pm each day. It was a bit of a warning to be on time. And then she said, "You may begin."
Go to: Before the Tournament, Round 1, Round 2, Round 3, Round 4, Round 5, Round 6, Round 7, Round 8, Round 9, Round 10, Round 11, Round 12, Round 13, Round 14, Round 15, Round 16, Round 17, Round 18, Round 19, Round 20, Round 21, Round 22, Round 23, Round 24, Round 25, Round 26, Round 27, Round 28, Round 29, Round 30, Round 31, After the Tournament.
---