We are considering soliciting tournament reports from our directors and players. This is a sample of what one might look like.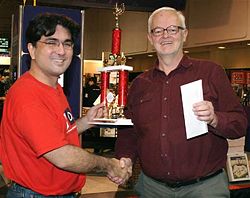 The Hobby Show is a long-established tradition in Toronto, where vendors of R/C vehicles, robots, toys, games, craft supplies, numismatic and philatelic items and genealogical references meet once a year at a convention centre to share their interests with the general public. New management this year has expanded the show to include various competitive pursuits under the name of The Great Canadian Game Show: table hockey, trivia, chess, pinball, slot car racing, paper airplane throwing, video car racing, Rock Paper Scissors, and of course a rated SCRABBLE tournament.
The show ran for three days, and for the first two days Shan Abbasi and I manned our booth and kept ourselves busy playing one or two members of the public for $2 a game and a chance to win one of six high-game trophies donated by the show organizer. I'm hoping a few of them will start attending local clubs.
On Sunday, 22 players competed in an open six-game format, with two-thirds of the entry fees being returned in prize money to the top three overall and the top players from the middle and bottom thirds. Top seed was Tony Leah, confident in his ability to tell CSW from OWL even just before he leaves to represent Canada at the WSC. For Tara Smylie, winner of the 2009 Toronto School SCRABBLE Championship, it was her first NASPA-rated tournament, and she brought along her younger brother Jackson too. They ended up playing one game with each other, which Jackson won, giving him the higher initial rating of 563.
The event was also open in that it was played in the middle of the show, next to the exciting sounds of table hockey and the old theme from Hockey Night In Canada, with a small crowd of curious spectators. Some players wore earplugs against these plaguers (no graupels in the forecast), and some looked like they wanted to complain, but were having too good a time scooping up holiday presents at bargain prices from the nearby vendors. I got a fabulous deal on several sets of "SCRABBLE Slam" and a table hockey set myself.
I always look forward to running tournaments, as they give me a chance to add and test improvements to tsh. This time around I ran the event without a printer, using only the electronic scoreboard to display results and pairings, and reusing old scorecards and scoreslips from past events to make this if not a totally paper-free event, at least one for which I didn't use my printer at all. I also finally figured out how to do the tricky class/place prize calculation automatically, so we no longer have to hold up prize ceremonies with "uh... Player A won the $50 class prize, which is more than the $40 fifth place prize, so that prize actually goes to the player who finished sixth, and, um...." Small steps toward a brighter future.
Speaking of which, I'm hoping that the organizer managed to break even, or at least do well enough to be willing to try again next year. If he does, I'll look into bringing either the CNSC or the WPC to this venue. The price is hard to beat, and I like the idea of bringing SCRABBLE tournaments to the public.
Congratulations to Lou Cornelis, who achieved the rare feat of winning two one-day tournaments in one weekend, adding today's trophy and $200 to yesterday's winnings from Brantford. Tony Leah finished second, Zev Kaufman third, and Priya Fernando and Lou's wife Lilla Sinanan took the class prizes.
See also