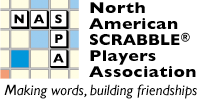 Go to: Commentary Games Players Photos Reports Standings
Back to NSC 2010 Live Coverage
NSC 2010 Commentary: Round 3
[ ]
Go to: Before the Tournament, Round 1, Round 2, Round 3, Round 4, Round 8, Round 9, Round 10, Round 11, Round 12, Round 13, Round 14, Round 15, Round 16, Round 17, Round 18, Round 19, Round 20, Round 21, Round 22, Round 23, Round 24, Round 25, Round 26, Round 27, After the Tournament.
---
Round 3
The sound of an English siren went off behind me. It was about three people coming up breathlessly to tell me about Marlene Milkent (Hattiesburg, MS) and her find of CAZIQUES on the triple for 161 points. Poor Stuart Goldman (San Francisco, CA) took it all in stride. She won, 503-351. On their board, I see GOOGLEY, REGRADES, RELIANT, and TITANItE.
Orry Swift (Dayton, TX) has that deer in headlights look. He has just defeated Joe Edley (Port Jefferson, NY), 432-371. I see Joe's CLANGERs and SERAGLIO and COENURI are also on the board. It is a painful but interesting endgame situation. Holding EEUDLT?, Joe saw two possible binges, both from a B: BULLETED and BUTLERED*. He wasn't sure of either and tried the latter: it came off. It was one of those things where if he binged and it stayed on, he won the game. Next time!
Evans Clinchy (Boston, MA) played Andrew Solomon (Barrington, IL) this round and I saw D?EO?FS on the board. A glance at a scoresheet: 91 for Evans and ZANIER for 70. Andrew had played CATTIES for 80 and AMUSIVE for 89. But what were those blanks. Eventually, with the help of another onlooker, we figured it out: DiEOfFs!
The blissful birthday celebration of Trip Payne (Boca Raton, FL) took a break this round with a 373-604 loss to Jim Kramer (Roseville, MN). I see two Trip bingos: TAWNIES for 75 and CANDLES for 85. The other five belonged to Jim: NOtEDLY for 78, TARDINE for 87, STAGGER for 95, ENACTORY for 64, and ENORMOUS for 64.
Mr. 771, or Edward De Guzman (San Francisco, CA), defeated Scott Hawkins (Effingham, IL) this round, 441-299. Scott's BREAStED caught my eye, but I also see Edward's TOTALLED and UPRIVERS. For those that don't know, the new "Alan Stern" of SCRABBLE is Carolyn Mayer of Nevada. Not here this year, she assumes the role of the one who loses to the highest tournament game winner of all time.
Lucas Freeman (Delaplane, VA) is one of our upcoming, burgeoning SCRABBLE stars. I first met Lucas as a young player from Maine who attended Northeast tournaments. Now he's a full-time student enrolled in veterinary tech program in Virginia. Like me though, it is Maine blood that runs through his blood! Toss in Joey Mallick (Cape Elizabeth, ME) and Kate Fukawa-Connelly (Kittery, ME) and watch out: Maniac fever! Lucas had a barn-burner of a game this round with the ever-smiling Mark Milan (Laguna Niguel, CA). It was a tough one, too, a mere 451-446 for Lucas. I see mark's SEAWARD and nAUPLII and Lucas' RADIATES from the R and sOILURE. It was, however, an endgame find on Lucas' part that impressed Mark the most. Through a tight ANE corridor, Lucas played G and F creating GANEF, which hooked to make GNU/FANON for 21. Very clever find.
A fantastic article on this event ran in today's Dallas Morning News. Mention of the article was above the fold on the front page: great placement and visibility! A common site in the Cree household was a featured photo in the piece: Darrell Day (Richardson, TX) and Chris Cree (Dallas, TX) sitting opposite each other at his permanent SCRABBLE table in the living room.