(24 intermediate revisions by 5 users not shown)
Line 1:
Line 1:
 

[[Image:Nsc-2012-logo.gif|right|150px|NSC 2012 logo]]

 

[[Image:Nsc-2012-logo.gif|right|150px|NSC 2012 logo]]

 
 
−

The '''2012 National SCRABBLE Championship''' will take place on August 11-15, 2012 at the Royal Pacific Resort in Orlando, FL. Further details will be posted here as they become available.

+

The '''2012 National SCRABBLE Championship''' place on August 11-15, 2012 at the Royal Pacific Resort in Orlando, FL. Further details will be posted here as they become available

 
+

 

 
+
 
+

 

 
+
 
+

.

 
 
 

== Registration ==

 

== Registration ==

Line 155:
Line 160:
 

==== Player Bulletin ====

 

==== Player Bulletin ====

 

Please read our  

 

Please read our  

−

[[2012 National SCRABBLE Championship Player Bulletin|player bulletin]], and check

+

[[2012 National SCRABBLE Championship Player Bulletin|]], and check

 

it again for last-minute updates before you travel to the event.

 

it again for last-minute updates before you travel to the event.

 
 
Line 210:
Line 215:
 
 
 

Eric Kinderman is looking for a roommate for the tournament.  He has not yet booked a room.  Contact him by email at [mailto:erickinderman@aol.com erickinderman@aol.com].

 

Eric Kinderman is looking for a roommate for the tournament.  He has not yet booked a room.  Contact him by email at [mailto:erickinderman@aol.com erickinderman@aol.com].

−

 
−

Nancy Scott is looking for a female roommate. She has a room reserved, checking in on Friday, Aug. 10 and checking out on Wednesday, Aug. 15.  Contact her by email at [mailto:nscott3@aol.com nscott3@aol.com]

 
 
 
 

====Ride Wanted====

 

====Ride Wanted====

 

Tina Totten King is looking for a ride to the Royal Pacific from the Orlando airport.  Her flight is scheduled to arrive at 1:23 p.m. on Friday, August 10.  Contact her by email at [mailto:tottenking@gmail.com tottenking@gmail.com]

 

Tina Totten King is looking for a ride to the Royal Pacific from the Orlando airport.  Her flight is scheduled to arrive at 1:23 p.m. on Friday, August 10.  Contact her by email at [mailto:tottenking@gmail.com tottenking@gmail.com]

 
+
 
+
 
 
 

== Check-In ==

 

== Check-In ==

Line 232:
Line 237:
 

: Registration, [[2012 NSC Early Bird|Staff/Director Early Bird Tournament]], Staff Committee Meeting, Staff/Committee Dinner

 

: Registration, [[2012 NSC Early Bird|Staff/Director Early Bird Tournament]], Staff Committee Meeting, Staff/Committee Dinner

 

; Saturday, August 11, 2012

 

; Saturday, August 11, 2012

−

: Rounds 1–7, [[Advisory Board]] Dinner Meeting, [[2012 NSC Trivia Contest|Trivia Contest]]

+

: Rounds 1–7, [[Advisory Board]] Dinner Meeting, [[2012 NSC Trivia Contest|Trivia Contest]]

 

; Sunday, August 12, 2012

 

; Sunday, August 12, 2012

−

: Rounds 8–14, [[2012 NSC Director Meeting|Director Meeting]], Director Reception

+

: Rounds 8–14, [[2012 NSC Director Meeting|Director Meeting]], Director Reception

 

; Monday, August 13, 2012

 

; Monday, August 13, 2012

−

: Rounds 15–21, Town Hall meeting

+

: Rounds 15–21, Town Hall meeting

 

; Tuesday, August 14, 2012

 

; Tuesday, August 14, 2012

−

: Rounds 22–28, Tag Team Tourney

+

: Rounds 22–28, Tag Team Tourney

 

; Wednesday, August 15, 2012

 

; Wednesday, August 15, 2012

 

: Rounds 29–31, Prize Ceremony

 

: Rounds 29–31, Prize Ceremony

Line 248:
Line 253:
 

== Other Donors ==

 

== Other Donors ==

 
 
 
+
 
+
 

* Sam Kantimathi - 2 round SamBoards and 20 sets of SmoothTiles

 

* Sam Kantimathi - 2 round SamBoards and 20 sets of SmoothTiles

 

* Paul McCarthy - 2 copies of Letterati

 

* Paul McCarthy - 2 copies of Letterati

Line 266:
Line 273:
 

budget is prepared.  

 

budget is prepared.  

 
 
−

For full details, see the [[2012 National SCRABBLE Championship prizes|prize table]] when it is published.

+

For full details , see the [[2012 National SCRABBLE Championship prizes|prize table]].

 
 
 

=== Collins Prize Pool ===

 

=== Collins Prize Pool ===

Line 297:
Line 304:
 

[http://tsh.poslfit.com/doc/pairing.html#chew tsh documentation].  

 

[http://tsh.poslfit.com/doc/pairing.html#chew tsh documentation].  

 

[[tsh]] configuration files for each division will be found at this website:

 

[[tsh]] configuration files for each division will be found at this website:

−

[http://scrabble-assoc.com/tourneys/2011/nsc/build/tsh/1/config.tsh Division 1],

+

[/tourneys/2011/nsc/build/tsh/1/config.tsh Division 1],

−

[http://scrabble-assoc.com/tourneys/2011/nsc/build/tsh/2/config.tsh Division 2],

+

[/tourneys/2011/nsc/build/tsh/2/config.tsh Division 2],

−

[http://scrabble-assoc.com/tourneys/2011/nsc/build/tsh/3/config.tsh Division 3] and

+

[/tourneys/2011/nsc/build/tsh/3/config.tsh Division 3] and

−

[http://scrabble-assoc.com/tourneys/2011/nsc/build/tsh/4/config.tsh Division 4].

+

[/tourneys/2011/nsc/build/tsh/4/config.tsh Division 4].

 
 
 

== Staff ==

 

== Staff ==

Line 361:
Line 368:
 

12:30 P.M.-3:00 P.M.

 

12:30 P.M.-3:00 P.M.

 

* Judy Newhouse

 

* Judy Newhouse

−

*  

+

*

−

*

+

*

 

3:00 P.M.-5:30 P.M.

 

3:00 P.M.-5:30 P.M.

 

* Lila Crotty (4:00 - 6 p.m.)

 

* Lila Crotty (4:00 - 6 p.m.)

Line 385:
Line 392:
 

* Div 2: Caesar Jaramillo

 

* Div 2: Caesar Jaramillo

 

* Div 3: Lila Crotty

 

* Div 3: Lila Crotty

−

* Div 4:

+

* Div 4:

 

* Collins: James Curley

 

* Collins: James Curley

 
 
 

=== Laptops for Adjudication ===

 

=== Laptops for Adjudication ===

 
 
−

We will need at least 10 laptops for adjudications. The laptops will need the latest version of ZYZZYVA. Please be sure the correct word list in operations and disable your screensaver in the playing area during games.

+

We will need at least 10 laptops for adjudications. The laptops will need the latest version of ZYZZYVA. Please be sure the correct word list in and disable your screensaver in the playing area during games.

 
 
 

* Art Moore

 

* Art Moore

−

*  

+

*

−

*

+

*

−

*  

+

*

−

*  

+

*

−

*

+

*

−

*  

+

*

−

*  

+

*

−

*

+

*

−

*  

+

*

 

*  

 

*  

 

*

 

*
---
Latest revision as of 14:45, 12 September 2019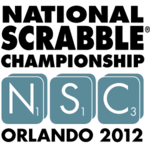 The 2012 National SCRABBLE Championship took place on August 11-15, 2012 at the Royal Pacific Resort in Orlando, FL. Further details will be posted here as they become available. During the event, please see our separate live coverage section.
Live Event Coverage
For continuously updated results from our event once it gets underway, please visit our live coverage section.
Registration
Online registration is now available; a list of registered players is also available. If you're in a hurry to register now, you can just click on the link above; the rest of this section describes in detail the various terms and conditions of registration, most of which are discussed on the registration form.
Registration opened on December 1, 2011. It will close on August 1, 2012, after which players will only be accepted if they do not make a division odd.
Collins Division
For the first time, there will be a separate division of players using the Collins lexicon at the National Scrabble Championship. The NASPA Advisory Board has approved proceeding with the Collins division, eliminating the previous requirement for at least 40 paid registrants as of May 4, 2012.
Because of the more limited pool of players for this division, players have more limited refund options that are discussed in detail here.
The Collins division will be run using NASPA rules, except that the Collins lexicon will be used and the challenge penalty will be 5 points per word.
Eligibility
To play in the NSC, you must (1) be a NASPA member, and (2) have played in an officially sanctioned SCRABBLE tournament to earn an official tournament rating. If you live in the United States or Canada, that rating should be a NASPA rating; if you live elsewhere it may be a WESPA rating or other comparable national rating.
This year's Championship has four regular (OWL) divisions, split at (OWL) ratings of 1700, 1400 and 1100. Entry fees are $175 for Division 1 and $150 for Divisions 2–4. Unlimited play up will be permitted: anyone can play in Division 1, but for example only players rated below 1100 can play in Division 4. Unlike past years, the rating used for division placement will simply be your tournament rating as of August 1, 2012, not a peak rating.
In the unlikely event that a player's first rated tournament takes place between the end of the registration period and the beginning of the NSC, the rating that they earn at their first tournament will be considered their rating for division eligibility should they be accepted for late entry into the NSC.
There are no rating restrictions on playing in the CSW division.
Entry Fees
The base entry fee for Division 1 and the Collins Division is $175; for Divisions 2–4, $150.
Youths, defined as those whose 18th birthday is after August 11, 2012, may pay $50 to play in any division.
The above fees will be increased by $50 after June 30, 2012. For example, a Division 1 player signing up on July 4, 2012 would pay $225.
Players accepted after the close of registration on August 1, 2012 must pay a $75 late penalty. For example, a youth signing up on August 10, 2012 would pay $175.
Players not staying at the host hotel for the duration of the event must also pay a commuter/facility fee of $50 (does not apply to those local to the Orlando area). Verification of status as a hotel guest will be performed at registration/check-in and throughout the event.
Fees payable are computed based on when (Central Time) funds are received in full. If you are not paying right away online at the moment when you register, please be sure to allow enough time for your mailed payment to reach us.
Division Changes
To change divisions after you have registered, please email the organizing committee at nsc@scrabbleplayers.org. Division changes are subject to the following conditions:
After registration closes on August 1, 2012, if your division change would increase the number of players who may potentially have to have byes (if you would make two divisions odd, or would make a larger division odd), you will be waitlisted until this is not the case.
If you registered for the Collins division, you may not move to a TWL division if this would cause the Collins division to drop below 24 players.
If you move to a division with a higher base entry fee, the change will not take effect until you have paid the difference in entry fees.
If you move to a division with a lower base entry fee, the difference in entry fees will be refunded to your credit card (if that is how you paid), or by check or cash at check-in otherwise.
If your rating rises above the limit for the division in which you registered, you will automatically be moved to the lowest division for which you qualify.
Refunds
If you paid your tournament fees by credit card, any credit owing to you will be issued to your card; otherwise, we will mail a check to your membership address as shown in your member profile. No refunds will be issued after the refund deadlines described below.
If you register in one of the OWL divisions (1–4) and decide you need to cancel your registration, we will refund your entry fee (and commuter fee, if applicable), if you so request by August 1, 2012.
The situation in the possible CSW division is more complicated, and if you are not registered in the CSW division, you do not need to read the following section.
CSW Division Refunds
IMPORTANT NOTICE: On May 6, 2012, the
Advisory Board
ruled that the Championship Committee should emend what follows, to permit the CSW division to go ahead with the currently registered 24 players. For that reason, this section has been modified to match the revised requirement.
Because of uncertain demand for the CSW division, stricter rules apply concerning refunds. Please read this policy carefully, and email us if you have any questions. This section was changed significantly on January 3, 2012 to permit refunds in more situations, at the suggestion of Dave Koenig.
Until April 6, 2012: Refund requests and division change requests will be honored unconditionally.
From April 7 to May 6, 2012: If there are 24 or fewer paid registrants, your refund or division change request will remain pending until there are 25 paid registrants, or May 7, whichever comes first. If there are 25 or more paid registrants, we will honor refund or division change requests in the order in which they are received, provided they do not make the number of paid registrants drop below 24.
On May 6th, a decision was made to offer the Collins division based on the current number of entrants (24).
From May 7 to July 31, 2012: As long as there are 25 or more paid registrants, we will honor refund or division change requests in the order in which they are received, provided they do not make the number of paid registrants drop below 24.
After August 1, 2012: Refunds and division changes are not permitted.
Conditions
Rules and Code
By registering for the NSC, you agree to abide by the NASPA Tournament Rules and Code of Conduct. In particular, some games at this tournament, probably the highest Division 1 board without a Gibsonized player, will be annotated live. If you refuse to play a designated game with annotation, you will forfeit it, and may at the director's discretion be assigned a spread penalty of −200 points.
Minor Release
A Minor Release and Consent form can be downloaded for players who have not reached the legal age of majority. It can be mailed with your registration or alone if you have paid online to Chris Cree. Alternatively, it can be signed by the accompanying parent or guardian at the NSC in Orlando.
Player Bulletin
Please read our Player Bulletin, and check it again for last-minute updates before you travel to the event.
Changes
The Championship Committee reserves the right to modify the above to account for unforeseen special circumstances.
Hotel Information
Hotel Registration
Hotel registration is available at our group rate, but only by phone (the group website no longer works). Hotel rooms can be booked by calling 866-360-7395 and mentioning that you are with the National Scrabble Championship 2012 Organization.
Group rates beginning at $175 per night plus tax are available (currently, taxes total 12.5%). Discount rates are also available on suites. Group rates are available from three days before the tournament to three days after the tournament. Rooms must be booked no later than 6:00 p.m. on July 18, 2012 to receive the group rate.
An extra person charge of $25.00 per person, per night applies for occupancy of a room by more than two persons. Children under 18 stay free in their parent's room using existing bedding. Roll-a-way beds are $25.00 per night.
Check-in time is 4:00 p.m. (earlier check-in will be accommodated based on availability). Check-out time is 11:00 a.m.
Hotel and Event Parking
Parking at the Pacifica Ballroom gates ONLY will be available at the following rates:
Under 20 minutes will be free
20 to 30 minutes is $8.00
Over 30 minutes is the full $20 (or $17 if you obtain a discount parking voucher from designated tournament staff)
Self parking for hotel guests is also available for $17 per day. Valet parking is also available at an increased rate. 6.5% sales tax applies to all rates. Rates and tax subject to change.
Directions
Following are directions to the Royal Pacific hotel and the Pacifica Ballroom convention center:
From the Turnpike (North or South)
Take exit 259 (I-4 interchange), take I-4 heading West, (towards Tampa). Take exit 74B Universal, go right. At the traffic light, go right onto Hollywood Way. The entrance for Pacifica Ballroom will be on the right, followed by the entrance to the Royal Pacific hotel (also on the right).
From Downtown (I-4 West)
Take I-4 West to exit 74B Universal, go right. At the traffic light, go right onto Hollywood Way. The entrance for Pacifica Ballroom will be on the right, followed by the entrance to the Royal Pacific hotel (also on the right).
From the Airport
Take the North exit out of the airport onto the Beachline Expwy (528) West (towards International Dr, Convention Ctr). Continue on the Beeline to I-4 East (towards Daytona). Take I-4 East to exit 75A Universal. At the end of the exit ramp, take a left onto Universal Blvd. At the second light take a left onto Hollywood Way. The entrance to the Royal Pacific hotel will be on the left, followed by the entrance to the Pacifica Ballroom (also on the left).
From Tampa (I-4 East)
Take I-4 East to exit 75A Universal. At the end of the exit ramp, take a left onto Universal Blvd. At the second light take a left onto Hollywood Way. The entrance to the Royal Pacific hotel will be on the left, followed by the entrance to the Pacifica Ballroom (also on the left).
Roommate/Ride Wanted?
If you need a roommate and would like a listing here, please contact Dallas Johnson and specify your requirements: male, female or either, smoking or nonsmoking, etc. He will put a listing in this section. If you already have a room, please include in your email what nights your room is reserved. You can list your email address or phone number. Several people successfully found roommates for the NSC this way.
IMPORTANT: When you get your roommate or ride, please contact Dallas so he can remove your listing.
Roommate Wanted
Rebecca Owen is looking for 1 to 2 roommates to help defray expenses. Contact her by email at rebriv9@gmail.com or rebscrabble@gmail.com or by phone at 323-936-1667.
Eric Kinderman is looking for a roommate for the tournament. He has not yet booked a room. Contact him by email at erickinderman@aol.com.
Ride Wanted
Tina Totten King is looking for a ride to the Royal Pacific from the Orlando airport. Her flight is scheduled to arrive at 1:23 p.m. on Friday, August 10. Contact her by email at tottenking@gmail.com
Mike Gincel needs a ride to the Royal Pacific from the Orlando airport. His flight (Southwest Airlines) is scheduled to arrive at 9:40 a.m. on Friday, August 10. Contact him by email at mikegincel@gmail.com
Check-In
To play in the first round on Saturday morning, you must check in between 10:00 A.M. and 10:00 P.M. on Friday at the NSC check-in desks in the lobby outside the playing area. You may ask a friend to check in for you by proxy, if you cannot check in in person. If possible, please email us at nsc@scrabbleplayers.org to warn us in advance of proxy arrangements. If you check in by proxy, but do not show up to play, then neither you nor your proxy will be permitted to check in by proxy at future events. If you do not check in before the desks close at 10:00 P.M., you may join the championship in progress as soon as it is convenient for the pairings staff to add you back in; this may not take place before Sunday morning. No refund will be issued to latecomers.
When you check in, you will be given an announcement sheet. This is to reduce the number of announcements that have to be made on Saturday morning, so that the event can get underway quickly. You are responsible for reading the announcements and schedule!
Schedule
Here is an overview of events at the championship that have been booked so far. For full details, please consult the 2012 NSC Schedule as the event draws nearer.
Friday, August 10, 2012

Registration, Staff/Director Early Bird Tournament, Staff Committee Meeting, Staff/Committee Dinner

Saturday, August 11, 2012

Rounds 1–7, Canadian Committee and Technology Committee lunch meetings, Advisory Board Dinner Meeting, Trivia Contest, Evening Musicale

Sunday, August 12, 2012

Rounds 8–14, Club/Director Committee and Tournament Committee lunch meetings, Director Meeting, Director Reception

Monday, August 13, 2012

Rounds 15–21, Rules Committee and International Committee lunch meetings, Town Hall meeting

Tuesday, August 14, 2012

Rounds 22–28, Directors Manual Committee and Dictionary Committee lunch meetings, QWERTY Movie Screening, Tag Team Tourney

Wednesday, August 15, 2012

Rounds 29–31, Prize Ceremony
The Rose Award
Bob Schoenman's Protiles honors Rose Kreiswirth's memory. Rose was an expert Scrabble® player for over 30 years and cherished the game for its educational values. An accomplished player, Rose was as well known for her sense of fairness and her congeniality as she was for her competitiveness. The Rose Award will be awarded each year at the National SCRABBLE Championship to a female player who, in the opinion of the judges, best exemplifies the fierce competitiveness and compassion that we remember Rose for. Thank you, Bob and Andi Schoenman!
Other Donors
Winning Moves Games
Merriam Webster
Sam Kantimathi - 2 round SamBoards and 20 sets of SmoothTiles
Paul McCarthy - 2 copies of Letterati
Mike Baron - 1 copy of the Scrabble Wordbook and 20 copies of the Cheat Sheet
If you are interested in donating prizes to events at the championship, please email us at nsc@scrabbleplayers.org.
For information about sponsorship opportunities at the championship, please contact Chris Cree.
Prizes
This section will be updated when the initial event budget is prepared.
For full details on cash prizes, see the prize table.
Collins Prize Pool
In the Collins division, half of the entry fees collected will be returned in its prize fund. If 40 players pay $175 each for a total of $7,000, the $3,500 prize fund will be paid out as follows: $1,500 (1st), $600 (2nd), $500 (3rd), $400 (class prize, middle third), $300 (class prize, bottom third), $200 (miscellaneous prizes, such as high game).
Best Strategic Play Award
NASPA is pleased to announce the Best Strategic Play Award at the 2012 National Scrabble Championship in Orlando, Florida. Sponsored by Sam Kantimathi (who was a recipient of the award at the 1998 NSC in Chicago), the Award recognizes the best play in a position. The play must be an actual play made in the 2012 NSC, must be one among several reasonable options, and must not be an obvious play, but a move representing clever, thorough, creative and/or inspired reasoning. All divisions, including Collins, are eligible for the award – one winner will be named. Submission forms will be available at each division's resource table. Submissions may be turned in to your Division Leader or other tournament staff. The winner will be selected by a panel of experts nominated by the NASPA Championship Committee. The award will be made well after the conclusion of the NSC and announced in a future edition of the NASPA Bulletin. NASPA thanks Sam Kantimathi for sponsoring this award, and is grateful for Sam's expression of interest in sponsoring the award going forward on an annual basis.
Format
The NSC will be paired using tsh along the lines of past events. In each round, the top contenders are paired with each other, and everyone else is paired Swiss. These two groups, contenders and noncontenders, are paired with minimal repeats. For example, if there is no way to pair the contenders without at least one repeat, then they will be paired with one repeat.
The maximum number of contenders is 12 in Rounds 1-28, 8 in Round 29, 4 in Round 30 and 2 in Round 31. The contenders are further divided into a subgroup of leaders and non-leaders, if this can be done without increasing the number of required repeats while maintaining at least four players among the leaders. Leaders are paired by repeatedly having the top unpaired player play the lowest-ranked player that can catch up to them. Non-leaders are paired Swiss.
For further information about this pairing system, please refer to the section on Chew pairings in the tsh documentation. tsh configuration files for each division will be found at this website: Division 1, Division 2, Division 3 and Division 4.
Staff
Organizer

Director

Assistant to the Director

Sue Grogan-Johnson

Master of Ceremonies

Activity Director

Division leaders

Division 1: John Robertson
Division 2: Bryan Pepper
Division 3: Dan Stock
Division 4: Cornelia Guest
Collins: Jason Idalski

Division assistants

Division 1: TBA
Division 2: TBA
Division 3: TBA
Division 4: TBA
Collins: TBA

Webmaster

Data Entry

Tim Crotty (Division 1)
Reese Daniel (Division 2 and Collins)
Tina Totten King (Divisions 3 and 4)

Internet reporters

Patty Hocker

Annotators

Kate Watson
Pete Zeigler
Other Volunteers
Thursday, August 9
Volunteers are needed to help prepare the playing room for the tournament.
Friday, August 10
Volunteers are needed to help with registration and check-in.
10:00 A.M.-12:30 P.M.
Lila Crotty (10:00 a.m. - noon)
Ginger White
12:30 P.M.-3:00 P.M.
Judy Newhouse
Becky Davis
Mike Gincel
3:00 P.M.-5:30 P.M.
Lila Crotty (4:00 - 6 p.m.)
Tim Bottorff
Kerri Bottorff
5:30 P.M. -8:00 P.M.
Cheryl Melvin
Carolyn Easter
8:00 P.M. - 10:00 P.M.
Saturday to Wednesday: Game Days
Tidy-People
Tidy-people will help straighten up and dispose of trash at the end of their sessions.
Div 1: Mary Rhoades
Div 2: Caesar Jaramillo
Div 3: Lila Crotty
Div 4: Peggy Altazan
Collins: James Curley
Laptops for Adjudication
We will need at least 10 laptops for adjudications. The laptops will need the latest version of ZYZZYVA. Please be sure the correct word list is in operation and disable your screensaver in the playing area during games.
Art Moore
Dan Horowitz
Tim Kwan
Stephen Henney
Mary Rhoades
Cedric Lewis
Michael Donegan
Brian Miller
Reese Daniel
Kate Watson
Clean and Pack
We need about 15 Clean and Pack volunteers to help collect and box NASPA tournament supplies to be shipped back to the storage facility after the awards ceremony on Wed., Aug. 15.
Unassigned Volunteers
Following is a list of those who have volunteered, but do not yet have a specific assignment:
Michael Ludin
Art Moore
Asif Ali
Kate Fukawa-Connelly
Vendors
If you have a product to sell to SCRABBLE players, this is the place to do it. Hundreds of the most avid fans of the game will be in one place with money ready to spend at your table. To become an NSC vendor, print out, date and sign two (2) copies of the 2012 NSC Vendor Agreement and send both executed copies to Dallas Johnson, 4880 Heights Drive, Stow, OH 44224, along with the required payment for extra tables, if you wish to exhibit on more than one table.
If you have questions about becoming an NSC vendor, please contact Dallas Johnson.
Vendors whose Vendor Agreement has been received and approved by NASPA (with payment made, where applicable) are listed below:
Sam Kantimathi - game boards, tiles, digital game timers, and other items
Gene Tyszka - digital game timers, game boards, tile racks, Protiles agent
Brian Miller - Tilecans (tile bags), Tilecouches (tile racks), and related accessories
Randy Taylor - Brain Grains
Intentional Films - QWERTY the movie
Darya Hrybava
Further Information
This page will be updated as the event draws nearer. If you have urgent questions about the event, please email us at nsc@scrabbleplayers.org.