Back to NSC Home Page
Player Profile: Jim Geary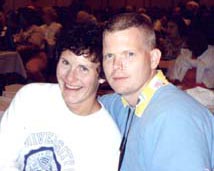 Photo at left: Jim and Jane Geary in Dallas, 1996.
In addition to a job as a computer programer at Honeywell Commuter Aviation Division, expert SCRABBLE® player Jim Geary <http://www.primenet.com/~jaygee/> is also pursing a master's degree in systems engineering at night. Add to that his newlywed status and that he is expecting a baby daughter on November 15th and he is one busy man.
Jim started playing competitive SCRABBLE® in 1992 at Club #123 <http://www.primenet.com/~jaygee/PHXSCRAB.HTM>. He even did a stint as director of the Phoenix, AZ, club. A short three years later found him waxing prolific about the joys of SCRABBLE® on Good Morning Arizona! Not one for mincing his words, Jim gave an interview to a writer during NSC '96. With pride Jim says, "I am the only person in the history of Sports Illustrated to threaten to kick someone's ass for rattling his SCRABBLE® tiles on my time."
At NSC '92 in Atlanta, Jim, an unheralded 1200-something with less than six months experience playing in just his third tournament, destroyed the under-1600 field, winning $2,000 with a record of 22-5 +1476. At NSC '94 in Los Angeles, he was in good position going into the last day, drew no blanks and got swept out of the money. NSC '96 in Dallas found Jim in great (3rd) position going into the last day, needing only to win 2 out of 3 for $10,000. Unfortunately, he drew no blanks and ended up in 11th place ($600). His game plan for Chicago includes a new lucky shirt on the last day of play! Rated 2010, Jim is the 4th highest-rated person playing in Chicago.
In his copious amount of spare time Jim is writing a book on gambling. His stint as the editor of a well-loved alternative SCRABBLE® newsletter was short, but appreciated. He claims he learned the Official SCRABBLE Players Dictionary (OSPD) by flashcarding every word he didn't already know (approx 50,000). He credits having learned strategic aspects of the game through work with computer simulation and playing against Brian Cappelletto, the highest-rated player in Chicago.
In a game against Darrell Day in Euless, TX, in June 1995, Jim was behind 256 - 346 with this rack: BEEIORW. Knowing what tiles were left in the bag, and hoping to get the 1 in 68 shot at AT, Jim played BE. The gamble paid off when his new rack--AEIORTW-- in combination with a Z and an O on the board, yielded WATERZOOI for 92 points. His opponent challenged (the word is acceptable), lost a turn, and permitted Jim to end the game with an outplay of INK. These two plays combined with the tiles left on Darrell's rack and Jim won the game.
When asked for a list of his outstanding tournament accomplishments, Jim came through with flying colors. Although he failed to mention his 3rd place hall monitor award, he did manage to include his superlatives outside of the world of SCRABBLE®. And since I said, if you send them, I will post them, here they are:

 1992 Tucson 1st place novice
 1992 Reno 2nd place intermediate
 1992 Atlanta NSC 1st place recreational
 1993 Durango 3rd place expert
 1994 Tucson 1st place expert
 1994 Durango 1st place expert
 1994 Reno 4th place expert
 1994 LA NSC 36th place expert
 1995 Phoenix 2nd place expert
 1995 Orange County 1st place expert
 1995 Reno 2nd place expert
 1995 Houston 1st place expert
 1995 Albuquerque 3rd place expert
 1996 Phoenix 2nd place expert
 1996 San Antonio 1st place expert
 1996 San Jose Spring 2nd place expert
 1996 Dallas NSC 11th place expert
 1996 Reno 2nd place expert
 1996 San Jose Fall 1st place expert
 1996 Scottsdale 1st place expert
 1997 Phoenix 3rd place expert
 1997 San Diego 3rd place expert
 1997 Orange County 2nd place expert
 1997 Los Gatos 1st place expert
 1997 Cincinnatti Masters 1st place
 1997 World Championship US Team member
 1998 Reno Winter 2nd place expert
 1998 Phoenix 3rd place expert
 1998 Southwest Invitational 2nd place expert


Other milestones:

 1982 Northwest Phoenix Frogger Champion
 1983 AZ High School Chess 2nd place
 1984 Arizona State University Chess Champion
 1985 Arizona State University Chess Champion
 1986 Arizona State University Chess Champion
 1989 University of Arizona Chess Champion
 1990 Western Region ACU-I Inter-University Chess Champion
 1998 Roshambo World Championship, Las Vegas NV, 2nd place
 Winner of numerous small to medium stakes poker tournaments


-- Sherrie Saint John, Internet Reporter, NSC98
---
Copyright © 2016 North American SCRABBLE Players Association. All rights reserved. HASBRO is the owner of the registered SCRABBLE® trademark in the United States and Canada. The SCRABBLE® trademark is owned by J.W. Spear and Sons, PLC, a subsidiary of Mattel, Inc. outside of the United States and Canada. For more information about SCRABBLE® or NASPA, or to comment on or correct the contents of this page, please e-mail: info@scrabbleplayers.org. To report technical difficulties in reading this page, please contact webmaster John Chew at: jjchew@math.utoronto.ca. See also: our Privacy Policy.